Hans A. Myhre
15th Wisconsin Volunteer Infantry
The Scandinavian Regiment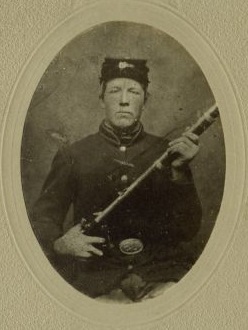 Database Record Change Request
| | |
| --- | --- |
| Name at Enlist | Hans A. Myhre |
| Birth Name | Hans Andersen Myre |
| Other Names | Anderson Myre |
| Lived | 17 Mar 1840 – 29 Oct 1922 |
| Birth Place | Ringebu, Oppland fylke |
| Birth Country | Norway |
| Resident of Muster-In | St. Lawrence, Waupaca County, WI |
| Company at Enlistment | I |
| Rank at Enlistment | Private |
| Muster Date | 20 Dec 1861 |
| Death Location | Northland, Iola, Waupaca County, WI |
| Burial Location | Northland Lutheran Cemetery, Northland, Waupaca County, WI |
| Mother | Synnøve Svensdatter Lunde |
| Mother Lived | 1798 – 28 Nov 1862 |
| Father | Anders Engebretsen Myre |
| Father Lived | 1796 – 5 Jan 1864 |
| Immigration | 10 Apr 1861 |
| Spouse | Annie Erlandson Guttu |
| Spouse Lived | 29 Sep 1834- 24 Jun 1924 |
| Married On | 3 Dec 1867 |
| Marriage Location | Scandinavia Lutheran Church, Scandinavia, Waupaca County, WI |
Hans A. Myhre was born on March 17, 1840 at the Myre farm in Ringebu, Oppland fylke Norway. He came to America in 1861, along with his brother Simon Myhre at St. Lawrence. His brother Peter Myhre came a few years earlier in 1857. Myhre joined WI 15th Infantry, Company I. The men of the company called themselves the "Scandinavian Mountaineers" but were also known as the "Waupaca Company" because so many of them were living in that WI county when they enlisted.
The army listed Myhre as living in St. Lawrence, Waupaca County, WI, age 21, and unmarried. He enlisted on December 9, 1861 at Scandinavia, WI, and mustered at Madison, WI on December 20, 1861 as a Private (Menig). He was with the provision transport from Stevenson, AL in October 1863. On May 29, 1864, he was sick in Camp hospital and then sick in June, July and August 1864. He mustered out with Company I at Chattanooga, TN on February 10, 1865.
After the war, he married widow Annie Erlandson Mortenson on December 3, 1867 at Scandinavia Lutheran Church, Scandinavia, Waupaca County, WI.  He worked as a farmer and they lived in Iola, Waupaca County. Together, they had ten children: Matilda (1860), Martin (1861), Amelia (1864), Serena (1869), Andrew (1870), Maria (1871), Gena (1874), Henry (1878), Edward (1881), and Olga (1895).
He died on October 29, 1922 and was buried in Northland Lutheran Cemetery, Northland, Waupaca County, WI. Anne died on June 24, 1924 and is buried in the same cemetery.
Sources: Series 1200: Records of Civil War Regiments, 1861-1900, Wisconsin Adjutant General's Office, box 76-11; Regimental muster and descriptive rolls, 1861-1865, Wisconsin Adjutant General's Office, vol.20, p.132; Det Femtende Regiment, Wisconsin Frivillige [The Fifteenth Regiment, Wisconsin Volunteers], Ole A. Buslett (Decorah, IA, 1894), p.598, p.599 photo; Nordmaendene i Amerika, Martin Ulvestad, 1907, History Book Co., Minneapolis, MN, p.311; Oberst Heg og hans gutter, Waldemar Ager, 1916, Fremad Pub. Co., Eau Claire, WI, p.282 photo, p.312, p.315, e51; Lars Gjertveit, Bodo,Norway; Wisconsin Cemetery Records; "Commemorative Biographical Record of the Upper Wisconsin Counties: Waupaca, Portage, Wood, Marathon, Oneida, Vilas, Langlade and Shawano", publ. 1895. "Slekter fra Ringebu og Gudbrandsdalen" onhus.no, accessed 1 July 2015; 1880 Census, Roll: 1451, Family History Film: 1255451, Page: 74A, Enumeration District: 168; 1910 Census, Roll: T624_1743, Page: 1A, Enumeration District: 0075, FHL microfilm: 1375756; findagrave.com; U.S. Evangelical Lutheran Church of America, p.521; Ringebu parish register #5, born and baptised, p. 10, digitalarkivet.no.
When publishing material contained in this website (www.nagcnl.org) you are required to credit Norwegian American Genealogical Center (415 West Main Street, Madison, WI 53703-3116) as the source.