Professor GERHARD B. NAESETH
The core of the Genealogical Center research collection was assembled by Gerhard B. Naeseth (1913-1994), who was internationally renowned in the field of Norwegian and Norwegian-American genealogy and immigration.
A former University of Wisconsin professor, Naeseth served as associate director for the libraries of the University of Wisconsin from 1948-1978. During his tenure at the University of Wisconsin, he helped build one of the largest collections of Norwegian local & genealogical history in the United States.
Following his retirement, he administered the Genealogical Center, beginning in his home and later in the present quarters. In 1990, the genealogical research library was named in his honor. In 1993, he completed and published volume one of his massive research, "Norwegian Immigrants to the United States: A Biographical Guide, 1825-1850."
In 2001, the Genealogical Center established the Gerhard B. Naeseth Chair for Genealogical Research and Publication as a tribute to his lifetime accomplishments in the field of Norwegian and Norwegian-American genealogy.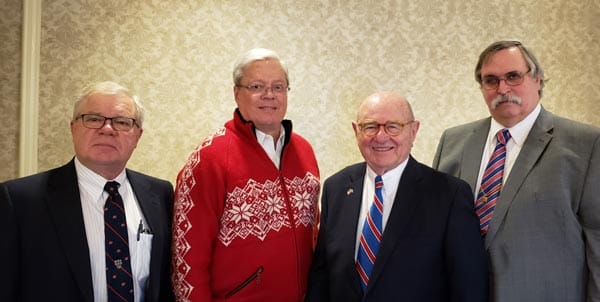 2020 Board of Directors Officers
(L-R): Gary Smithback (Vice Chairman), John W. Thompson (Chairman), Paul M. Berge (Treasurer) and Ken Larson (Secretary)
Board of Directors
John W. Thompson

Chairman – Madison, Wisconsin

Ann Leon

Madison, Wisconsin

Gary Smithback

Vice Chairman – Stoughton, Wisconsin

Marg Listug

Stoughton, Wisconsin

Paul M. Berge

Treasurer – Middleton, Wisconsin

Christine Milligan-Ciha

Stoughton, Wisconsin

Ken Larson

Secretary – Batavia, Illinois

Peder Moren

Madison, Wisconsin

Robert M. Fossum

Chetek, Wisconsin

Tom Solheim

Madison, Wisconsin

Craig Gjerde

Madison, Wisconsin

Ellen Smithback

Stoughton, Wisconsin

Scott R. Johnson

Madison, Wisconsin

Paul Larson

Chairman Emeritus – Waunakee, Wisconsin

Rolf Killingstad

Madison, Wisconsin

Lowell Olberg

Chairman Emeritus – Wheaton, Illinois