Knud Gullickson
15th Wisconsin Volunteer Infantry
The Scandinavian Regiment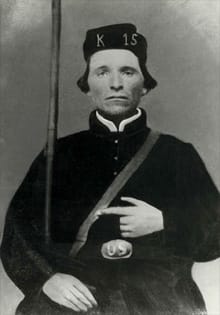 Database Record Change Request
| | |
| --- | --- |
| Name at Enlist | Knud Gullickson |
| Birth Name | Knud Gulleiksen Skjerveggen |
| Other Names | Gulliksen Skjærvæggen |
| Lived | 4 or 30 Dec 1828 – 25 Dec 1916 |
| Birth Place | Evanger, Voss, Hordaland fylke |
| Birth Country | Norway |
| Resident of Muster-In | Mitchell County, IA |
| Company at Enlistment | K |
| Rank at Enlistment | Private |
| Muster Date | 11 Feb 1862 |
| Death Location | Village of Lyle, Mower County, MN |
| Burial Location | Pleasant Hill Cemetery, Mona, Mitchell County, IA |
| Mother | Mari Gulleiksdtr Fadness |
| Mother Lived | 1790- 1870 |
| Father | Gulleik Anderseon Skjervæggen |
| Father Lived | 1789- 1835 |
| Immigration | 29 Jun 1848 |
| Spouse | Ranvei Gulleiksdtr |
| Spouse Lived | 1827- 1898 |
| Married On | 15 Oct 1849 |
| Marriage Location | Spring Prairie, Columbia County, WI |
| 2nd Spouse | Mary S. Sheldy Olsen |
| 2nd Spouse Lived | 1853- 1937 |
| 2nd Marriage Date | 21 Nov 1883 |
| 2nd Marriage Location | Northwood |
Knud Gullikson was born "Knut Gulleiksen Skjerveggen (Knud Gulliksen Skjærvæggen?)" on December 4, 1828 at Voss, Hordaland, Norway, the son of Gulleik Andersen Skjerveggen and Mari Gulliksdatter Fadnes. He came to America with his mother and two brothers, Anders and Gullik. They sailed on "Augusta", out of Bergen, which arrived in NY on June 29, 1848. They came to the Spring Prairie settlement in Columbia County, WI. Knud married Ranvei Gulleksdatter Bergstad. He then moved to IA.
Knud Gullickson was enlisted in Company K of the 15th WI by 2nd Lieutenant Ole Peterson as second-in-command, and 2nd Lieutenant Olaus Solberg as third-in-command. The company called itself "Clausen's Guards" in honor of the 15th's first Chaplain, Claus L. Clausen. Most of the company was recruited from Scandinavian communities in MN and IA, with the rest from WI.
Knud was mustered into Federal service at the rank of Private (Menig) on February 11, 1862 at Camp Randall near Madison, Dane County, WI. He was listed by the army as being a 33 year old married resident of Mitchell County, IA. He is believed to have been farming near Osage in Mitchell County. At the time of his enlistment Knud and his then wife Ranvei had had 4 children: Maria K, born 1851 (died within 1 year of birth); Gullick Knutson, born 1852 (died within 1 year of birth); Mari Johanna, born August 30, 1855; Gullick Knutson, born February 2, 1858; and Mary Knutson, born September 25, 1861.
After only 3 weeks at Camp Randall learning to be a soldier, Private Gullickson left there on March 2, 1862, with his company and regiment to join the war. From then until June 1862, he was listed as "present" with the 15th. As such he may have participated in the surprise raid on Confederate Cavalry forces at Union City, Obion County, TN, in late March 1862. He may also have taken part in the successful siege during March and early April 1862, of Island No. 10 on the Mississippi River in TN.
After the surrender of Island No. 10 on April 7, 1862, Companies A, F, H, I, and K were sent to occupy the island. There was much hard, physical work to be done on the island, and quickly. The slave-built fortifications contained many cannons, which the Confederates had installed to defend against a Union attack coming down the Mississippi River from the north. These had to be moved and the fortifications changed so they could be used to defend the island against a possible Confederate assault coming up the river from the south. This task was made even more difficult due to the unhealthy nature of the island, and with problems getting an adequate supply of rations. These conditions caused many complaints, sickness, and even death amongst the soldiers there. It apparently had its effect on Private Gullickson, who was recorded as being "Sick in his quarters" for at least part of this time.
On June 11, 1862, Private Gullickson departed Island No. 10 by steamboat along with his company and regiment to go on summer campaign through TN, MS, and AL. However, starting June 20, 1862, he was listed as being "Sick in the hospital" at Union City, TN. It is believed that he caught up with the 15th after it left Union City and marched south to Jacinto, MS. On July 27, 1862, Private Gullickson was transferred from Jacinto to the General Hospital in Farmington, near Corinth, MS, where he was admitted suffering from "Phthisis Pulmonalis" [tuberculous]. On July 30, 1862, he was transferred north to Camp Dennison, near Cincinnati, OH where he was admitted to the General Hospital on August 5, 1862.
Despite nearly 6 months spent recuperating in Army hospitals, Private Gullickson had been unable to recover his health. As a result the Army gave him an honorable discharge due to "disability" on December 9, 1862, at Camp Dennison. His Certificate of Disability for Discharge listed him as being "thirty three years of age, five feet four inches high, light complexion, blue eyes, sandy hair, and by occupation when enlisted a Farmer." The certificate stated he was incapable of performing the duties of a soldier because of "Chronic derangement of Kidneys & Incontinence of Urine."
It is said that Knud then returned to his home in Mitchell County, IA. Knud and his wife Ranvei had 2 more children at Osage, IA: Andrina Korina, born October 25, 1864; and Gustav Adolph Knutson, born August 20, 1868. In 1874 Knud moved his family to Burnett County, WI, where he farmed. There in 1878 he applied for and received an Invalid's Pension based on the following incident.
"…in the line of his duty at New Madrid Island No. 10, in the State of Tennessee on or about the 13th day of June, 1862, he was just relieved of Guard [duty] when a wagon hub in passing crashed his side that a rib was broken from which he was disabled for 9 days; 2 weeks after he layed 14 days in Hospital at Union City Tenn. on Cholera Morbus [Cholera] was layed up in [Jacinto at] Camp Erickson 3 days[;] also was sick in Gen'l Hospital at Camp Dennison, Ohio 2 months from which he was discharged on Surgeons Certificate of Disability."
Around 1880, Knud moved back to Mitchell County, IA. On April 20, 1882, he and Ranvei were divorced at Grantsburg, Burnett County, WI. In 1883, Knud married Mary Olson in Worth County, IA. They had one child: Klara Sofia, born May 16, 1884, at Mona, Mitchell County, IA (who died within 2 years).
In 1886 Knud applied for an increase in his pension. As part of this he submitted an affidavit sworn in Mitchell County that stated "…on the march from Hickman [Kentucky] to Union City he contracted the Piles…" [Hemorrhoids]. In February 1907, he applied for a Veterans Pension. At the time he was living in Lyle, Mower County, MN. Sixteen years later Knud passed away there at the home of his daughter Maria Gulickson. His death was ruled as being due to "Paralysis" and "Senility."
To see an image of Knud taken just before he passed away at age 88, click HERE.
Sources: Genealogical data from Jack J. Hunt and from Mark Ashely, Great Great Great Grandnephew of Johannes Martinson of Co. K; Civil War Compiled Military Service Records, Office of Adjutant General of the United States (Washington, DC); Civil War Compiled Veteran Pension Records, Pension Office, Dept. of the Interior (Washington, DC); Det Femtende Regiment, Wisconsin Frivillige [The Fifteenth Regiment, Wisconsin Volunteers] Ole A. Buslett (Decorah, Iowa, 1894); Regimental Descriptive Rolls, Volume 20, Office of the Adjutant General State of Wisconsin (Madison, Wisconsin, 1885); Roster of Wisconsin Volunteers, War of the Rebellion, 1861-1865, Volume I, Office of the Adjutant General State of Wisconsin (Madison, Wisconsin, 1886).
When publishing material contained in this website (www.nagcnl.org) you are required to credit Norwegian American Genealogical Center (415 West Main Street, Madison, WI 53703-3116) as the source.