Niels J. Gilbert
15th Wisconsin Volunteer Infantry
The Scandinavian Regiment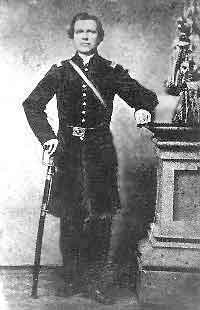 Database Record Change Request
| | |
| --- | --- |
| Name at Enlist | Niels J. Gilbert |
| Birth Name | |
| Other Names | Nils Iversen Vaarum |
| Lived | ca. 1842 – 1919 |
| Birth Place | Engen farm, Østre Slidre, Oppland fylke |
| Birth Country | Norway |
| Resident of Muster-In | Manitowoc, Manitowoc County, WI |
| Company at Enlistment | A |
| 2nd Company | F |
| Rank at Enlistment | Private |
| Muster Date | 12 Dec 1861 |
| Burial Location | Eleva Cemetery, Eleva, Trempealeau County, WI |
| Father | Iver Gulbrandsen |
| Father Lived | -1857 |
| Immigration | 1857 |
| Spouse | Anne Olia |
| Spouse Lived | Apr 1847- 1927 |
| Married On | 1866 |
Nils J. Gilbert was born circa 1842 in Norway. He immigrated in 1857. He was enlisted in Company F of the 15th WI by Captain Charles Gustafson. Nils joined up at Manitowoc, Manitowoc County, WI on October 2 or 20, 1861 for a 3-year term of service. The men of his company called themselves "K.K.'s Protectors" in honor of the 15th's first Lieutenant Colonel, Kiler K. Jones. They were also known as the "Valdres Company" because a large number of them hailed from that area of Norway. Nils was mustered into Federal service as a Private (Menig) on December 12, 1861 at Camp Randall near Madison, Dane County, WI. The next day he was appointed to the rank Sergeant (Sersjant) in F Company. At the time he was listed as 19 years old and not married. His residence was recorded as Manitowoc, WI.
On January 14, 1862, the soldiers of the 15th were issued Belgian rifle muskets. After several months at Camp Randall learning to be a soldier, Sergeant Gilbert left there in early March 1862, with his company and regiment to join the war. From then until December 1862, he was listed as "present" with the 15th. As such he would have participated in the successful siege of Island No. 10 on the Mississippi River in TN and the surprise raid on Union City, TN in March and April 1862. Here is an incident at Island No. 10 that he related in Buslett's 1895 history of the 15th WI:
"The day we captured Island No. 10, I got command over a Rebel hospital ship that lay on the Tennessee bank. I had twelve men with me to look after the boat, which was full of Rebels — 96 sick, drunken, noisy pigs…With loaded weapons and bayonets set, and with pistols, we forced the Rebels to disarm. While we were doing that, some of the prisoners had set the boat free and before we knew it we were floating far out in the river, going with the current, and quickly…A Rebel yelled, "We fooled you after all! We'll soon be out of your claws and go down to Memphis; I can engineer the boat." "Good," I said, "so get the engine running or you'll get a bullet." He evidently thought then that it would be best for him to get the engine running, and two of my boys stood next to him with bayonets pointed at him while Corporal Brown took the wheel and got the boat turned against the current…While I was acting as boat captain I forgot everything else, and meanwhile the Rebels had broken open a whole barrel of liquor and drank like _____. Some of my men also got drunk so they had to be sent ashore, and those of us who were sober had to fight like tigers with the drunken Rebels — we had to send two of them off into the long hereafter, and they were easily buried in the Mississippi."
 That summer Sergeant Gilbert would have been with the 15th on campaign through TN, MS, and AL. In August and September he would have participated in the grueling 400-mile retreat with General Buell up to Louisville, KY, with the last 2 weeks being on half rations and short of water. He would have been present at the October 8, 1862 fighting at Perryville, Boyle County, KY, which is also called the Battle of Chaplin Hills. While this was the 15th's first big battle, it emerged without any fatalities. On December 26, 1862, Sergeant Gilbert would have participated in the 15th's desperate charge upon a Confederate artillery battery at Knob Gap, TN, just south of Nashville. There the 15th captured a brass cannon. He fought at the long, cold, wet, and bloody Battle of Stone River, TN, also called the Battle of Murfreesboro, on December 30-31, 1862. It is there that the 15th first suffered serious battle casualties, and was cited for bravery. Here is what is said in Buslett about Sergeant Gilbert's conduct during the battle:
"He is one of the men who, pursuant to orders from General Rosecrans, was entered on the Roll of Honor because on the night of 30 December 1862 he and three comrades sneaked behind the Rebel lines to recover a wounded soldier who had been left lying on the battlefield that day."
The next morning Sergeant Gilbert was wounded in action. On January 23, 1863, he wrote this letter about it:
"Dear Friend Harald Torrison! On 31 December 1862 we were attacked before daybreak, and the right flank withdrew. I was wounded in the right hip when the regiment and the 25th Illinois and 101st Ohio fell back over a large cotton field, and I was left behind between our lines and the Rebels', exposed to bullets and shells from both sides; I was expecting a bullet with tidings of death, 'double quick,' to end both my suffering and my life. I couldn't see any escape from the fire, since the loss of blood had made it impossible for me to move. After awhile I recovered enough so that I could stand up, and I hopped between the lines on one leg towards our line. As soon as some of them saw me, they came to my aid. I fainted and was put into an ambulance with other wounded men, driven back about a mile, and laid on the ground. Soon the order came that the wounded had to be removed from there since our right side had been flanked and was falling back. I heard the order and hopped on one leg towards a wagon, but when I got close I fainted again. This was around 10 o'clock in the morning, and from now until after dark I lay as if I were dead. I was then moved three or four miles and put in a hay barn. I came to again when a man stepped on my chest as he walked over me in the dark. I felt then that my right leg and side had been frozen solid with the blood in my clothes and the rain; it had rained and snowed the whole night and I was lying next to the door, so it poured in on me. One man from the 25th Illinois, who knew me, heard my groans and came and rolled me in a wool blanket, dragged me into a corner, and left me there with my pain. I cannot describe that night. In the meantime I gradually thawed out, and when daylight came we wounded were taken to a building called White House Hospital on the Nashville and Murfreesboro Pike. On the third day we got some hard-tack, which tasted good after the three-day fast without anything to eat and drink; but my digestive organs were so weak that for several days I couldn't keep any of my food down. I must stop here. God knows if I will survive; I am not living, but existing. Farewell!"
But survive he did, in part with the help of a wounded comrade, Private Svend Samuelson.
1st Sergeant Gilbert was again listed as "present" with the regiment from sometime in March or April 1863 until October 1863. The 15th was camped in the Murfreesboro area until June 23, 1863 when the regiment left to take part in General Rosecrans' Tullahoma campaign. On July 3, 1863, the 15th went into camp at Winchester, Franklin County, TN for 6 weeks.
On August 17, 1863, the 15th left Winchester to participate in General Rosecrans' Chickamauga campaign. 1st Sergeant Gilbert would have been present at the daring early morning crossing of the Tennessee River on August 28th, which the 15th led. He would also have been present at the September 19-20, 1863 fighting at Chickamauga, GA — the second bloodiest battle of the Civil War. He survived the vicious fighting around Viniard's Farm on the first afternoon, as well as the near capture of the regiment around midday on the 20th during Longstreet's Breakthrough. Some 63% of the 15th's soldiers who were at Chickamauga were killed, wounded, or taken prisoner.
1st Sergeant Gilbert then served with the regiment during the Confederate siege of Chattanooga, TN, which began right after the battle. The siege caused severe shortages of medicine, food, and firewood. Starting October 13, 1863, he was temporarily detailed to guard the Army supply wagon train that went from Chattanooga over the mountains to the Federal supply base at Stevenson, AL and back. This was a physically challenging and dangerous assignment. 1st Sergeant Gilbert was back with the 15th in time to be assigned to recruiting duty back in WI starting November 21, 1863. He is recorded as having been in Manitowoc, WI on December 30, 1863.
1st Sergeant Gilbert remained in WI until sometime in March or April of 1864. He was then listed as "present" with the 15th until December 1864. Starting in May 1864, the 15th participated in the famous Atlanta Campaign led by U.S. Major General William T. Sherman to capture Atlanta, GA. This campaign was marked by almost daily marching and/or combat for 4 months. He and the 15th took part in the fighting at Rocky Face Ridge, GA in early May; the bloody Battle of Resaca, GA on May 14-15; and the disastrous Battle of Pickett's Mill (often called Dallas or New Hope Church), GA on May 27, 1864. It was there that the 15th suffered fearful casualties, including some 25 men taken prisoner, many of who died in the infamous Andersonville Prison Camp in GA. The 15th also fought at Kenesaw Mountain, GA on June 23; Atlanta on July 22; Jonesboro, GA on September 1; and Lovejoy Station, GA on September 4, 1864.
After a rest following the capture of Atlanta in early September 1864, the 15th was briefly assigned to Provost (police) duty in Chattanooga at the beginning of October 1864. On October 8, 1864 1st Sergeant Gilbert was transferred from Company F to Company A. At the recommendation of the 15th's commander, Lieutenant Colonel Ole C. Johnson, 1st Sergeant Gilbert was then commissioned on October 19, 1864 by the Governor of WI as the 1st Lieutenant (second-in-command) of Company A. He filled the vacancy created when 1st Lieutenant Henry Siegel was commissioned by the Governor that same day as the new Captain of Company A.
1st Lieutenant Gilbert spent the remainder of his Army service guarding a railroad bridge at Whitesides, TN, with the rest of the regiment. The period at Whitesides was considered by many of the 15th's soldiers to have been the easiest duty of their 3-year term of service. 1st Lieutenant Gilbert was mustered out of Federal service along with most of the other surviving members of Company A on December 20, 1864 at Chattanooga upon the end of his 3-year term of service. Nils was officially mustered out at the rank of 1st Sergeant because he had not yet been mustered in at the rank of 1st Lieutenant by the Army. After being mustered out the men of Company A were sent to Madison, WI where they were paid off and the company disbanded. Buslett says this about Nils J. Gilbert's later life:
"Since the war he has been a postmaster, a merchant, etc. He lived for a time in Montana and for awhile in Warner, South Dakota, but in 1893 he moved to Blair, Wisconsin, to join his brother's business there."
On December 2, 1886, the Army retroactively mustered Nils in as a 1st Lieutenant as of October 19, 1864, with an honorable discharge at that rank effective December 20, 1864.
After the war, he married Anne Olia in 1866. She was born in 1847 in Norway and immigrated in 1850. Their children were: Edward (1865), Andrew (1869), Anna (1870), Nellie (1871), Oluf (1874), Emil (1875), Gustav (1876), Nils (1880), Joseph (1882), and Emma (1885). In 1880, they were living in Baldwin, WI and he was a general merchant. By 1900, they were living in Trempeleau County, WI and he worked as a landlord.
In 1917, he attended a reunion of the Scandinavian Veterans Association where he was photographed with the attendees under the Civil War memorial arch at Camp Randall.
Sources: Civil War Compiled Military Service Records by Office of Adjutant General of the United States (Washington, DC); Det Femtende Regiment, Wisconsin Frivillige [The Fifteenth Regiment, Wisconsin Volunteers] by Ole A. Buslett (Decorah, Iowa, 1894); Oberst Heg og hans gutter [Colonel Heg and His Boys] by Waldemar Ager (Eau Claire, WI, 1916); Regimental Descriptive Rolls, Volume 20, Office of the Adjutant General State of Wisconsin (Madison, WI, 1885); and, Roster of Wisconsin Volunteers, War of the Rebellion, 1861-1865, Volume I, Office of the Adjutant General State of Wisconsin (Madison, WI, 1886); Genealogical data from Peg Currie; Genealogical data from Dee Anna Grimsrud, MLIS, CGRS; Civil War Pension Index, Roll #T288_175; 1870 Census, Roll: M593_1723, Page: 245A, Image: 493, Family History Library Film: 553222; 1880 Census, Roll: 1445, Family History Film: 1255445, Page: 277D, Enumeration District: 228; 1900 Census, Roll: 1819, Page: 5B, Enumeration District: 0119, FHL microfilm: 1241819; 1910 Census, Roll: T624_1739, Page: 3A, Enumeration District: 0155, FHL microfilm: 1375752; findagrave.com.
When publishing material contained in this website (www.nagcnl.org) you are required to credit Norwegian American Genealogical Center (415 West Main Street, Madison, WI 53703-3116) as the source.