Michael Thompson
15th Wisconsin Volunteer Infantry
The Scandinavian Regiment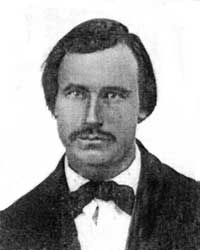 Database Record Change Request
| | |
| --- | --- |
| Name at Enlist | Michael Thompson |
| Birth Name | Mikkel Tostensen Elgeraas (Eilerås) |
| Lived | 23 Feb 1835 – 28 Nov 1917 |
| Birth Place | Eilerås, Sveio, Finnås parish, Hordaland fylke |
| Birth Country | Norway |
| Resident of Muster-In | Scandinavia, Waupaca County, WI |
| Company at Enlistment | I |
| Rank at Enlistment | Private |
| Muster Date | 20 Dec 1861 |
| Cause of Death | bladder cancer |
| Death Location | St. Ansgar, Mitchell County, IA |
| Burial Location | Plot 3, Lot 81, First Lutheran Cemetery, St. Ansgar, IA |
| Mother | Kari Mikkelsdatter Li |
| Mother Lived | 1807- 1887 |
| Father | Torstein Ingebriktson Kalleland |
| Father Lived | 1806- 1895 |
| Immigration | 1855 |
| Spouse | Andrine Hermundsdatter (Amundson) |
| Spouse Lived | 9 Sep 1851- 23 Jun 1936 |
| Married On | 28 Nov 1871 |
| Marriage Location | IA |
Michael Thompson enlisted under Captain August Gasman in Company I of the 15th WI. He joined on November 18, 1861 at Scandinavia, Waupaca County, WI for a 3-year term of service. The men of Company I called themselves the "Scandinavian Mountaineers."
Michael received his uniform and was mustered into Federal service at the rank of Private (Menig) on December 20, 1861 at Camp Randall near Madison, Dane County, WI. At the time he was recorded as being 25 years old and not married. His residence was listed as Scandinavia, WI. In Norway he had been a teacher for 2 years, but at his enlistment he is believed to have been a logger.
On January 14, 1862, the men of the 15th WI were issued Belgian rifled muskets. On February 1, 1862, Private Thompson was appointed as a Corporal (Korporal) in Company I. After nearly 10 weeks at Camp Randall learning to be a soldier, he left there on March 2, 1862 with his company and regiment to join the war. Michael described their departure in his diary:
"In the morning at 9 o'clock we left camp and in the evening we arrived in Chicago where we had an uncomfortable ride though many of our countrymen showed up to say farewell and wish us a good journey. We were presented by our Scandinavian society Nora a very pretty flag. In our own language we shouted a cheer for God and our country. After we received the flag the regiment said 3 hurrahs as a thank you."
From the beginning of March 1862 until October 1863, Corporal Thompson was listed as "present" with the 15th. As such he would have participated in the successful siege of Island No. 10 on the Mississippi River in TN and the surprise raid on Union City, TN in March and April 1862. In June when 8 companies of the regiment left Island No. 10, he remained behind with Company G and I on extended guard duty. These 2 companies would not rejoin the rest of the regiment for 15 months. During that time the other 8 companies participated in several campaigns as well as big battles at Perryville, KY; Murfreesboro (Stone River), TN; and Chickamauga, GA.
Initially Companies G and I were camped across from Island No. 10 on the TN side at what was called New Madrid Bend. There they engaged in capturing Confederate soldiers who had escaped when the island was captured, and hunting down, sometimes on horseback, local groups of rebel guerrillas who were resisting the Union occupation. The area around Island No. 10 was considered to be unhealthy and many of the 15th soldiers became ill there, with several dying of disease.
In early October 1862, their camp, which consisted of 150 men, was attacked just before dawn by 300 Confederate Cavalry. The attack was poorly managed and quickly repulsed with virtually no loss, but afterwards the Union camp was moved over to Island No. 10. A drawing of the 15th's camp on the island can be viewed by clicking HERE. On the island they were safe from attack behind the Confederate-built fortifications, which had some 80 cannons. However in December 1862, a curious incident threatened their safety and caused the 15th's soldiers to repeatedly refuse orders. Michael describes it thus:
"Dec. 1st, we had orders to set up some cannons on the top of the highest point of the island but the 25th we had orders to nail up [spike to make unusable] and destroy the cannons. Everyone was furious about this and decided not to obey orders. After 3 times of disobedience we were all ordered to get up in the middle of the night the 27th to go and nail up all the cannons. We were about 80 men. The next morning we had to destroy wagons and gun powder. Many ugly words were said by almost every man and then soon the coward [General Thomas E.] Davis [Davies, who had ordered these things destroyed] was fired from his command of the District."
The 15th soldiers managed to save a great deal of the ammunition and destroyed the cannons in such a way that they could still be repaired, though for 3 days afterward the island was almost completely defenseless. Once U.S. Major General U. S. Grant heard of these strange orders he relieved General Davies of command and life returned to normal at the island. That summer Michael recorded in his diary how the garrison celebrated Independence Day:
"July 4th, 1863, we spent in a very nice way. The officers had beforehand made a collection of money to buy the needed stuff for a dinner. At 10 a.m. the troops gathered (sailors and soldiers) with weapons at the celebration place they presented arms to honor the American flag. After this ceremony we went inside and Captain J. [John A.] Gordon [of Co. G] (Command[er of the] Post) stood up and introduced Chaplain Thommas who said a prayer and read the Declaration of Independence. Capt. Gordon stood up and said that Capt. W. [William] A. Montgomery [of Co. I] would be the speaker of the day and he stood up and presented a good speech. Thereafter 3 gunshots were fired in honor of him and we gave 3 hurrahs. At 3 p.m. we found the table set with an outstanding good dinner which everyone took part in and enjoyed. [That morning at sunrise we had] …fire from the gunboats, at noon from the land batteries, and in the afternoon from the gunboats again. In the afternoon we were also going to have dancing but due to a lack of women it didn't happen."
On August 19, 1863, Companies G and I exchanged their old Belgian weapons for new British Enfield .58 caliber rifled muskets. On September 2, 1863, the 2 companies were ordered to rejoin the rest of the 15th. After a 3-week trip by steamboat, railroad train, and on foot they were reunited with the remnants of the regiment on the morning after the September 19-20, 1863 fighting at Chickamauga, GA — the second bloodiest battle of the Civil War. Some 63% of the 15th's soldiers who were at Chickamauga had been killed, wounded, or taken prisoner. In fact, together the 2 companies had more men in ranks than answered roll call that morning in all the other 8 companies combined.
Corporal Thompson served with the reunited regiment during the Confederate siege of Chattanooga, TN, which began right after the battle. The siege caused severe shortages of food and firewood which, together with cold, wet weather, caused much suffering and sickness. Starting October 13, 1863, he was one of 120 men from the 15th who were detached to go with a vital supply wagon train from Chattanooga over the mountains to the Federal supply base at Stevenson, AL and back. By all accounts the 3-week round trip was a physically challenging and dangerous assignment. It was not until the Union Army's victorious charge up Mission[ary] Ridge on November 25, 1863, which the 15th took part in, that the siege was finally broken. Below is Michael's description of its end:
"The 25th at 10 [a.m.] the pickets were signaled to advance which they did and threw the rebels back to their entrenchment. At 2 p.m. the signal was given to the whole army to advance which it did and drove the enemy from Missionary Ridge in about a half an hour…"
Starting right after this important victory the 15th was engaged in almost non-stop marching and counter-marching all over eastern TN for some 6 weeks. By many original accounts, this was the worst period of the regiment's 3-year term of service. Poor rations, inadequate clothing and shelter, and unseasonably cold weather made this period nearly unbearable. Starting December 16, 1863, Corporal Thompson was recorded as "Absent sick at Knoxville, Tenn." He returned to the regiment sometime in January or February 1864, and was then recorded as "present" until July 1864.
Starting in May 1864, the 15th participated in the famous campaign to capture Atlanta, GA, which was led by U.S. Major General William T. Sherman. This campaign was marked by almost daily marching and/or combat for 4 months. The 15th's part in it included fighting at Rocky Face Ridge, GA in early May; and the bloody Battle of Resaca, GA on May 14-15, which Michael described in his diary:
"…we started the march at noon and we started hearing the skirmish. We formed a battle line and advanced through the thick forest and at once we could hear explosions above our heads. Our regiment was ordered up front and soon we were in battle as long as we had cartridges [ammunition] which was about an hour. We retreated to the rear guard and slept through the night. The next morning May 15th, we went straight away to the line and laid there til that night. During the night the enemy tried to break through our line but they were unsuccessful."
On May 27, 1864, the 15th also participated in the disastrous Battle of Pickett's Mill (often called Dallas or New Hope Church), GA, where it suffered 50% casualties. Michael recorded this about it:
"The 27th was a day to remember because the 15th as well as many other regiments stormed up to the rebel breastworks and laid there and fought until dark. About 9 o'clock [p.m. after the 15th was out of ammunition] the rebels stormed us and drove us back and quite a few of us were taken as prisoners. On my way back I got lost [in the dark] and ended up laying between the two pickets." [between the armies].
Unlike 29 of his comrades, Corporal Thompson escaped capture at Pickett's Mill. The next serious fighting took place at Kenesaw Mountain, GA on June 23, 1864. However, starting July 20, 1864, Corporal Thompson was listed as "absent sick." For a time he was treated in his Division's field hospital. From there he was sent to Federal hospitals at Vining Station, GA, and at Chattanooga and Nashville, TN. Starting August 24, 1864, he was recorded as having been admitted to Jefferson General Hospital, Jeffersonville, IN. While there he was assigned to Bed 40 in Ward 6 and treated for "Scorbutus" (scurvy). Hospital records indicate that he listed his nearest relative as "Michael Johnson" of "Mount Spring, Wisconsin."
After being discharged from the hospital at Jeffersonville on September 21, 1864, Corporal Thompson was detailed to guard a herd of beef cattle being delivered south to the army. It was not until November 8, 1864 that he was once again listed as "present" with the 15th. At that time the regiment was on duty guarding a railroad bridge at Whitesides, TN. Some of the 15th's soldiers felt was this was their easiest duty of the war.
On January 1, 1865, Corporal Thompson was appointed to the rank of Sergeant (Sersjant) in Company I. On February 8, 1865, Company I handed in its weapons. At 4:00 a.m. on February 10th the company started by railroad train to Chattanooga, where at 9 a.m. that morning Sergeant Thompson was mustered out of Federal service upon the end of his 3-year term of service. At muster out the Army noted that he had drawn clothing worth $123.68 since his clothing account had last been settled on October 31, 1862. It also recorded that he had not been paid since August 31, 1864, and was also due $100 in bounty money.
The men who had been mustered out of Company I then departed by railroad train to Nashville, TN, where they arrived the next day at 11 a.m. and departed there the same day at 3 p.m. by train for Louisville, KY. They arrived there at 3 p.m. on the 13th and were sent across the Ohio River to Jeffersonville, IN, where they were paid off and sent by train to Indianapolis, IN that afternoon. They reached Chicago, IL the next day and were finally back in WI on February 15, 1865, when the men were finally released to return to their individual homes. Michael's diary noted that he "arrived Scandinavia midnight the 17th."
In 1868, Michael relocated to a farm about a mile south of Toeterville, Mitchell County, IA. On a visit to Six Mile Grove, MN he met the sister of fellow 15th veteran Knud Amundson of Co. K; she later became his wife. They had 6 children. Some of their names were: Caroline (1873), Theodore A. (1876), Hannah E. (1880), and Henry G. (1881). In 1895, Michael joined Vanderpoel Post No. 479 of the Grand Army of the Republic (GAR) in West Mitchell, IA. The GAR was the veteran's organization for Union soldiers. In 1905, Michael and his wife retired to St. Ansgar in Mitchell County, IA. Beginning in 1912, he received a pension for his Army service. He died on November 28, 1917 and is buried in the First Lutheran Cemetery in St. Ansgar. His wife is buried next to him.
Sources:  Civil War Compiled Military Service Records by Office of Adjutant General of the United States (Washington, DC); Det Femtende Regiment, Wisconsin Frivillige [The Fifteenth Regiment, Wisconsin Volunteers] by Ole A. Buslett, 1894, Decorah, IA; Roster of Wisconsin Volunteers, War of the Rebellion, 1861-1865, Volume I, Office of the Adjutant General State of Wisconsin (Madison, Wisconsin, 1886); 1880 Census, Roll: 356, Family History Film: 1254356, Page: 563D, Enumeration District: 313, Image: 0644; 1900 Census, Roll: 448, Page: 9A, Enumeration District: 0120, FHL microfilm: 1240448; findagrave.com; genealogical data from his great granddaughters Valerie Saltou Heidbrier and Iris Saltou Hemmingson; Michael Thompson's Civil War Diary edited by Valerie Saltou Heidbroer and Iris Saltou Hemmingson (2000); genealogical data from Tove D. Johansen; Gards- og ættesoge for Sveio. Volume 3 (1987).
When publishing material contained in this website (www.nagcnl.org) you are required to credit Norwegian American Genealogical Center (415 West Main Street, Madison, WI 53703-3116) as the source.