Gulbrand Gilbert
15th Wisconsin Volunteer Infantry
The Scandinavian Regiment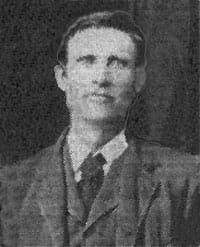 Database Record Change Request
| | |
| --- | --- |
| Name at Enlist | Gulbrand Gilbert |
| Birth Name | Gulbrand Gulbrandsen Lyseng |
| Other Names | Gilbert G. Lyseng |
| Lived | 20 Jul 1843 – 02 May 1920 |
| Birth Place | Skrudvolds Annex, Nord-Aurdal, Oppland fylke |
| Birth Country | Norway |
| Resident of Muster-In | Manitowoc County, WI |
| Company at Enlistment | F |
| Rank at Enlistment | Private |
| Muster Date | 12 Dec 1861 |
| Cause of Death | stomach cancer |
| Death Location | Dale, Highland Grove Township, Clay County, MN |
| Burial Location | Salem East Cemetery, Hitterdal, Highland Grove Township, Clay County, MN |
| Mother | Anne Knudson |
| Mother Lived | 1801- |
| Father | Gulbrand Johnson |
| Father Lived | 1802- |
| Immigration | 1861 |
| Spouse | Marit |
| Spouse Lived | 1845-1906 |
| Married On | 18 Apr 1869 |
| Marriage Location | Redwing, Goodhue County, MN |
Gulbrand Gulbrandsen Lyseng was born on July 20, 1843 in Skrudvolds Annex, Nord-Aurdal, Oppland fylke, Norway. His parents were Gulbrand Johnson and Anne Knudson. He immigrated to the U.S. in 1861.
After being in America less than a year, he enlisted under the name Gulbrand Gilbert in Company F of the 15th WI on October 17, 1861, for a 3-year term of service. The men of the company called themselves "K.K.'s Protector's" after the regiment's first Lieutenant Colonel, Kiler K. Jones. It was also known as the "Valdres Company" because of the large number of its members who were from that region of Norway.
Gulbrand was mustered into Federal service at the rank of Private (Menig) in Camp Randall near Madison, Dane County, WI, on December 12, 1861. At the time the Army recorded him as being a 19 year old unmarried farmer whose residence was Manitowoc County, WI. It also noted that he was "5 feet 6 inches" tall with "light" colored hair and complexion and "blue" eyes.
On January 1, 1862, Private Gilbert was injured "in the line of duty." The following description of the incident was contained in a signed affidavit he submitted to the U.S. Pension Office after the war:
"I fell backward on the sidewalk outside of the barracks at camp Randal, Madison, Wis, and brock my leg by the reason that my left heel fastened to the edge of the sidewalk planks."
On January 14, 1862, the men of the 15th WI were issued Belgian rifled muskets. After several months at Camp Randall learning to be a soldier, Private Gilbert left there on March 2, 1862 with his company and regiment to join the war. From then until June 1862, he was listed as "present" with the 15th. As such he would have participated in the successful siege of Island No. 10 on the Mississippi River in TN, and the surprise raid on Union City, TN in March and April 1862.
After the Confederate surrender of Island No. 10 on April 8, 1862, F Company was one of 5 companies from the 15th that was ordered to occupy and defend it. The island's fortifications were originally constructed to repulse an attack by Union forces coming down the Mississippi River. The 5 companies had to quickly re-construct the defenses to defeat an anticipated counterattack by Confederate forces coming up the river. This involved much hard labor building new earthworks and moving heavy cannon.
The soldiers assigned to Island No. 10 considered it a very unhealthy place to be, and not just because of the workload, bad water, fevers, and heat. 1st Lieutenant Andrew A. Brown of Company H wrote the following on April 22, 1862, in a letter to his mother:
"…a detachment of five companies viz: A, F, H, I, K, are on the Island suffering greatly on account of the tough Quartermaster's concern which obtains the rations from the Government [and] trades them for something else and leaves the boys on the Island to get along as best they can… I almost thank God that there is a Hell to receive all such men."
All of this took a toll on the men, including Private Gilbert. On June 11, 1862, F Company was one of 8 of the 15th's 10 companies that departed Island No. 10 by steamboat to take part in a summer campaign through TN, MS, and AL (the other 2 companies remained at Island No. 10 on extended guard duty). Company F left without Private Gilbert, who was recorded as being "left sick."
At some point in late June or early July, Private Gilbert left Island No. 10 by steamboat and ended up in an Army hospital in Cincinnati, OH. From July 15 to August 11, 1862, he was treated for "Diarrhea." On August 18, 1862, Private Gilbert was given a "Certificate of Disability for Discharge" due to his poor health. The certificate was signed by U.S. Army Acting Assistant Surgeon John A. Murphy. The next day, Private Gilbert was honorably discharged from the Army due to disability and sent home after serving less than a year of his 3-year term.
What happened next would erroneously dishonor Gulbrand's good name for a long time to come: the Army failed to get news of his discharge to the 15th. As a result, on March 31, 1863, his regiment officially list him as a "deserter" and dropped him from its rolls after some 10 months of not knowing where he was. And as a result of this, Wisconsin also recorded him as a deserter, and in its official Roster of Wisconsin Volunteers published in 1886. The document, which is now posted online, still contains this error.
After his discharge, Gulbrand lived near Clark's Mill, Manitowoc County, WI, and in Dane County, WI. In 1865 or 1866, he moved to Goodhue County, MN. On April 18, 1869, he married Marit "Mary" Endresdatter Beito in Redwing. In 1871, they moved to near Hitterdal in Highland Grove Township, Clay County, MN. There they homesteaded and raised a family, and is believed to have spent the remaining years of their lives. He was known there as Gulbrand Lyseng, although some census records list him as Gilbert G. Lyseng.
Gulbrand and Marit had 12 children: Annie Maria, born September 10, 1870; Edward, born September 16, 1872 (died young); Gustav, born July 14, 1874; Charolina, born September 27, 1875; Maria, born May 4, 1878 (died young); Christine, born February 13, 1879; Johan, born March 16, 1881 (died young); Bertha, born March 15, 1882 (died young); Edward, born March 15, 1884 (died young); Martin, born April 17, 1886; Ellen Maria, born December 22, 1887; and Maria, born December 22, 1889.
In 1891, Gulbrand applied for an invalid's pension and submitted a "Claimant's Affidavit" in which he swore that the following was a correct description of the ailments resulting from his Civil War service:
"He is most all the time afected by chronic diarhea and piles with more and less pain in backbone and in the fracture leg besides occasionaly vomiting. He considers himself disabled more than 1/2 of an ordinary laboring man because there is time that he can not work at all and is confined to the bed."
Fortunately for Gulbrand, the U.S. War Department was able to provide the U.S. Pension Bureau with a confirmation of his disability discharge, and he was eventually granted a small pension.
In January 1902, a former comrade, Nils J. Gilbert, made a sworn statement in support of Gulbrand's pension. It contained the following description of him:
"…he was always very quiet and orderly as a soldier."
Some 4 years later, Marit died. Gulbrand lived 13 years as a widower before passing away due to stomach cancer at age 76. They are both buried in Salem East Cemetery, Hitterdal, Highland Grove Township, Clay County, MN.
Sources: Genealogical data from his great granddaughter Vivian Radi and her husband Ed Radi, and from Tove D. Johansen; Migrants from Valdres 1816-67 digital archive; Civil War Compiled Veteran Pension Records, by Pension Office, Dept. of the Interior (Washington, DC); and, Roster of Wisconsin Volunteers, War of the Rebellion, 1861-1865, Volume I, Office of the Adjutant General State of Wisconsin (Madison, Wisconsin, 1886); findagrave.com; MN 1885 Census, MNSC_23, Line 24; 1900 Census, Roll: 760, Page: 6B, Enumeration District: 0302, FHL microfilm: 1240760; U.S. and International Marriage Records, p.1.
When publishing material contained in this website (www.nagcnl.org) you are required to credit Norwegian American Genealogical Center (415 West Main Street, Madison, WI 53703-3116) as the source.