Edward Toreson
15th Wisconsin Volunteer Infantry
The Scandinavian Regiment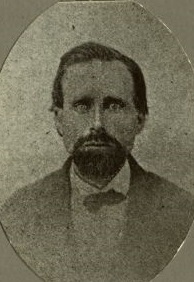 Database Record Change Request
| | |
| --- | --- |
| Name at Enlist | Edward Toreson |
| Birth Name | Edvard Martinius Thoresen Selnæs |
| Other Names | Thorson; Thoreson; Selness |
| Lived | 10 Oct 1835 – 4 Apr 1913 |
| Birth Place | Selnæs, Sævig parish, Overhalla, Nord-Trøndelag fylke |
| Birth Country | Norway |
| Resident of Muster-In | Pepin, Pepin County, WI |
| Company at Enlistment | I |
| Rank at Enlistment | Private |
| Muster Date | 20 Dec 1861 |
| Death Location | Highland Township, Winneshiek County, IA |
| Burial Location | Highland Cem, Decorah, Winneshiek Co, IA |
| Mother | Karen Nielsdatter Selnæs |
| Mother Lived | 1799-7 Oct 1875 |
| Father | Thore Olsen Selnæs |
| Father Lived | 1799-23 Dec 1863 |
| Immigration | 1861 |
| Spouse | Anna T Thorsen/Anne Paulsdatter Hovet |
| Spouse Lived | 15 Jul 1849-2 Oct 1927 |
| Married On | 26 Jul 1872 |
| Marriage Location | Winneshiek Co, IA |
Edvard Martinius was born on the Selnæs farm and left the parish in 1861 with his brother, John Andreas. Edward Toreson joined the WI 15th Infantry, Company I. The men of the company called themselves the "Scandinavian Mountaineers" but were also known as the "Waupaca Company" because so many of them were living in that Wisconsin county when they enlisted.
The army listed him as living in Pepin, Pepin County, WI, age 26, unmarried, and from Trøndelagen, Norway. He enlisted for three years on December 10, 1861, at Pepin and mustered at Madison, WI, on December 20, 1861, as a Private (Menig).  Thorson was sick in Division Hospital in Knoxville, TN, on 6th, 16th and 18th of December 1863. He mustered out with Company I at Chattanooga, TN, on February 10, 1865.
After the war, Edward lived in Winneshiek County, IA, and married Anna Thorsen. Their children were all born in Iowa: Thomas (1873-1959), Tilda Kristina (1875-1882), Petra Nikoline (1877-1952), Martin Albert (1879-1955), Julia (1881-1979), and Tilda Clara (1884-1941), Thea Josefine (1886-1952), Edgar Olaf (1889-1889), and Edgar Julius (1892-1941). He was a farmer. He died in Highland Township, Winneshiek County, IA, and is buried in Highland Cem, Decorah, Winneshiek Co., WI.
Sources: Series 1200: Records of Civil War Regiments, 1861-1900, Wisconsin Adjutant General's Office, box 76-11; Regimental Muster and Descriptive Rolls, 1861-1865, Wisconsin Adjutant General's Office, vol. 20, p. 134; Det Femtende Regiment, Wisconsin Frivillige [The Fifteenth Regiment, Wisconsin Volunteers] Ole A. Buslett, 1894, B. Anundsen, Decorah, IA, p. 369 photo, p. 609;  Oberst Heg og hans gutter, Waldemar Ager, 1916, Fremad Pub. Co., Eau Claire, WI, p. 281, photo, p. 316, e. 51; William L Alexander, List of Ex-Soldiers, Sailors and Marines, living in Iowa, Des Moines, IA, 1886, p. 705; 1880 Census, Roll: 370, Family History Film: 1254370, Page: 154B, Enumeration District: 348, Image: 0498; 1885 IA Census, p. 145; ancestry.com, findagrave.com; "Norwegian Immigrants 1850 and later", database, NAGCNL, #64034, #19787.
When publishing material contained in this website (www.nagcnl.org) you are required to credit Norwegian American Genealogical Center (415 West Main Street, Madison, WI 53703-3116) as the source.