Amos Johnson
15th Wisconsin Volunteer Infantry
The Scandinavian Regiment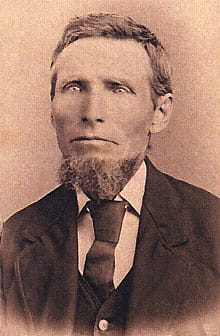 Database Record Change Request
| | |
| --- | --- |
| Name at Enlist | Amos Johnson |
| Birth Name | Ingebrigt Johannesen Thorstad |
| Lived | 8 May 1831 – 30 Jan 1913 |
| Birth Place | Thorstad Farm, Sogndal, Sogn and Fjordane |
| Birth Country | Norway |
| Resident of Muster-In | Waushara County, WI |
| Company at Enlistment | I |
| Rank at Enlistment | Private |
| Muster Date | 18 Jan 1862 |
| Death Location | Elk Lake Township, Grant County, MN |
| Burial Location | St. Petri Lutheran Church Cemetery, Urness Township, Douglas County, MN |
| Mother | Ragnilde Johannesdotter Thorstad |
| Mother Lived | 1792- 1837 |
| Father | Johannes Ingebrigtson |
| Father Lived | 1792- |
| Immigration | 1850 |
| Spouse | Kristi Urness |
| Spouse Lived | 1848- 1909 |
| Married On | 17 Sep 1867 |
| Marriage Location | Holmes City, Douglas County, MN |
Ingebrigt Johanneson Thorstad used the name  Amos Johnson when he enlisted under Captain August Gasman in Company I of the 15th WI. Amos joined up for a 3-year term of service on January 14, 1862 at Camp Randall near Madison, Dane County, WI. The men of the company called themselves the "Scandinavian Mountaineers" but were also known as the "Waupaca Company" because so many of them were living in that WI county when they enlisted. Amos was mustered into Federal service at the rank of Private (Menig) on January 18, 1862. At the time the Army listed him as being 29 years old and not married. His residence was recorded as Waushara County, WI.
After just 6 weeks at Camp Randall learning to be a soldier, Private Johnson left there on March 2, 1862 with his company and regiment to join the war. From then until August 1863, he was listed as "present" with his company. As such he would have participated in the successful siege of Island No. 10 on the Mississippi River in TN and the surprise raid on Union City, TN in March and April 1862. That summer when 8 companies of the regiment left Island No. 10, he remained behind with Companies I and G on extended guard duty. These 2 companies would not rejoin the rest of the regiment for 15 months. During that time the other 8 companies participated in several campaigns as well as the battles at Perryville, Kentucky, at Murfreesboro (Stone River), TN, and at Chickamauga, GA.
Initially the 15th soldiers were camped across the Mississippi River from Island No. 10 on the TN side near Isler's Landing at what was called New Madrid Bend. There they were engaged in capturing Confederate soldiers who had escaped when the island was surrendered, as well as hunting down, sometimes on horseback, local groups of rebel guerrillas who were resisting the Union occupation. The area around Island No. 10 was considered to be unhealthy and many of the 15th soldiers became ill there, with a number of them dying of disease.
In early October 1862, their camp, which consisted of 150 men, was attacked just before dawn by 300 Confederate Cavalry. The attack was badly managed and quickly repulsed with virtually no Federal losses, but afterwards the Union camp was moved over to Island No. 10 as a precaution. There the 15th soldiers were safe from attack behind the Confederate-built fortifications with their 80 cannons. A drawing of the 15th's camp on the island can be viewed by clicking Anders J. Urness, Ole J. Urness, and Peter Urness, who had served with him in the 15th. Anders Urness witnessed the marriage and was himself married that same day. In 1871, Amos was responsible for changing the name of Red Rock Township to Urness Township. On October 4, 1871, Amos Johnson became a naturalized citizen of the USA.
Amos and his wife had 12 children at their home in Urness Township: Carrie, born March 14, 1869; Rachael Ragnild, born June 7, 1870; Johannes, born October 16, 1871; Elena, born January 14, 1873 (died 1874); Elena, born March 17, 1875; Ole, born September 3, 1876; Johanna, born April 26, 1878; Inger, born December 22, 1879; Peter, born February 11, 1882 (died same year); unnamed baby who died at birth on August 15, 1883; Peder, born February 5, 1884; and Martin, born June 4, 1888.
In 1890 Amos was involved in building the St. Petri Lutheran Church in Urness Township. In 1909, after 42 years of marriage, Amos' wife died of diabetes. He then went to live with his daughter, Mrs. Elling (Elena) Ellingson, in Grant County, MN. After 3 years of poor health, Amos passed away and was buried next to his wife at the church he had helped to build.
Sources: Genealogical data from Amos Johnson's great grandson, Harland Hanson, and his wife Darlene Hanson; Civil War Compiled Military Service Records, Wisconsin Adjutant General's Office (Washington, DC); Ole A. Buslett, Det Femtende Regiment, Wisconsin Frivillage [The Fifteenth Regiment, Wisconsin Volunteers] (Decorah, Iowa, 1895); Regimental Descriptive Rolls, Volume 20,Wisconsin Adjutant General's Office, (Madison, Wisconsin, 1885); Roster of Wisconsin Volunteers, War of the Rebellion, 1861-1865, Volume I, Wisconsin Adjutant General's Office (Madison, Wisconsin, 1886).
When publishing material contained in this website (www.nagcnl.org) you are required to credit Norwegian American Genealogical Center (415 West Main Street, Madison, WI 53703-3116) as the source.