George Wilson
15th Wisconsin Volunteer Infantry
The Scandinavian Regiment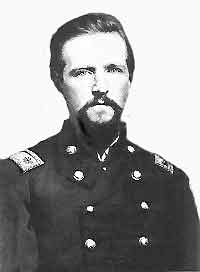 Database Record Change Request
| | |
| --- | --- |
| Name at Enlist | George Wilson |
| Birth Name | |
| Lived | 18 Dec 1836 – |
| Birth Place | Hamburg |
| Birth Country | Germany |
| Resident of Muster-In | Madison, Dane County, WI |
| Company at Enlistment | B |
| 2nd Company | E |
| 3rd Company | H |
| Rank at Enlistment | Second Lieutenant |
| Muster Date | 12 Nov 1861 |
| Immigration | 1858 |
| Spouse | Mary Madson |
| Married On | 1863 |
George Wilson immigrated to Norway at age 13 where he learned to read, write, and speak Norwegian. His parents were from England. At age 15 he went to sea, but soon gave it up due to family objections and went to work as an assistant grocer. At age 21 he came to America with his friends Henry Hauff and Samuel Thodberg. After arriving in Madison, Dane County, WI in August 1858, Jurgen Wilson worked as a clerk in a drug store.  He worked as an acountant. In December 1859, Wilson took a trip down the Mississippi River with Hauff and Thodberg to New Orleans and then traveled west to TX. The 1860 census lists a Norwegian seaman named George Wilson as residing in Galveston, TX. Wilson and Hauff left for Chicago before the Civil War started, but Thodberg stayed in TX. After several months working in Chicago, Wilson and Hauff returned to Dane County, WI, where Wilson again found work in a drug store in Madison.
At the recommendation of Colonel Hans C. Heg, commander of the 15th, George Wilson was commissioned as 2nd Lieutenant (Secondløitnant) of Company B by WI Governor Randall on November 12, 1861. The men of the company called themselves the Wergeland Guards in honor of Henrik Wergeland, the famous Norwegian poet and writer. At the time George was 25 years old and not married. He was recorded as having blue eyes, sandy colored hair, light complexion, and standing 5 feet 5 inches tall. He was working as a bookkeeper and residing in Madison, WI. George was fluent in Norwegian, English, and German, and had no prior military experience. His friend Henry Hauff had already enlisted in the 15th as a Private (Menig), but a few months later was commissioned by the Governor as the 2nd Lieutenant of Company E at the recommendation of Colonel Heg. Their friend Samuel Thodberg ended up serving in the Confederate Army.
During his subsequent 3 years of military service, George Wilson fought in 26 engagements, the first 2 of which were the siege of Island No. 10, TN and the raid on Union City, TN, in March and April 1862 respectively. At the recommendation of Colonel Heg, the Governor commissioned 2nd Lieutenant Wilson as the new Captain (Kaptein) of Company H, with rank from May 14, 1862. This was a double jump up in rank, which placed him over 1st Lieutenant Andrew A. Brown, the existing second-in-command of Company H. Captain Wilson replaced Captain Knud J. Sime, who had resigned. The men of Company H called themselves Heg's Rifles, but were also known as the Voss Company because it had so many members from that area of Norway.
That summer Captain Wilson led Company H on campaign through TN, MS, and AL with the 15th. In August and September he would have led them through the grueling 400-mile retreat with General Buell up to Louisville, KY, with the last 2 weeks being on half rations and short of water. He led them at the October 8, 1862 Battle of Perryville, KY, which is also called the Battle of Chaplin Hills. While this was the first big battle the 15th was in, it emerged without any fatalities.
On December 26, 1862, he would have led them during the 15th's desperate charge upon a Confederate artillery battery at Knob Gap, TN, just south of Nashville. There the 15th captured a brass cannon. He would have also fought at the long, cold, wet, and bloody Battle of Stones River, TN, also called the Battle of Murfreesboro, on December 30-31, 1862. It was there that the 15th was cited for bravery and first suffered serious battle casualties. One of the casualties was Captain Wilson, who was wounded in action on December 30, 1862, but was back with his company within a day.
The 15th camped in the Murfreesboro area for the next 6 months, except for 2 weeks in February when it was sent to Franklin, TN. Again at the recommendation of Colonel Heg, the Governor commissioned Captain Wilson as the 15th's Major (Major) on March 24, 1863, with rank from March 11, 1863. He replaced Major Charles M. Reese who had resigned in June 1862.
Starting June 23, 1863, the regiment took part in General Rosecrans' Tullahoma campaign. On July 3, 1863, it camped at Winchester, TN. On August 17, 1863, the 15th left there to participate in General Rosecrans' Chickamauga campaign. Major Wilson is believed to have been present at the daring early morning crossing of the Tennessee River on August 28th, which the 15th led. He was present at the September 19-20, 1863 fighting at Chickamauga, GA — the second bloodiest battle of the Civil War. On the afternoon of the first day Major Wilson was wounded twice during the vicious fighting around Viniard's Farm, a minor wound in his left chest and the loss of his left thumb. Nevertheless, he remained with the regiment. On the second day Major Wilson was severely wounded in his left side around midday near Brotherton Field during what is now called Longstreet's Breakthrough. Some 63% of the 15th's soldiers who were present at Chickamauga were killed, wounded, or missing (captured), including every one of its field officers.
Major Wilson was initially treated in the regiment's Field Hospital at Crawfish Springs, GA and then at Chattanooga, TN where Surgeon Steven O. Himoe operated on him. Starting in October 1863, Major Wilson received a leave of absence to go home to recuperate from his wounds. While at home he got married. Major Wilson returned to the 15th at Chattanooga in late November 1863, just after its part in the wildly successful capture of Missionary Ridge, which ended the Confederate siege of Chattanooga.
With Colonel Heg having been killed at Chickamauga, and Lieutenant Colonel Ole C. Johnson captured there, Major Wilson assumed command of what was left of the 15th WI from Captain John Gordan of Company I. Starting right after Mission Ridge the 15th was engaged in almost non-stop marching and counter-marching all over eastern TN throughout the winter of 1863/1864. By many original accounts, this was the worst period of the regiment's 3-year term of service. Poor rations, inadequate clothing and shelter, and unseasonably cold weather made these months nearly unbearable.
Starting in May 1864, the 15th participated in General William T. Sherman's famous campaign to capture Atlanta, GA. This campaign was marked by almost daily marching and/or combat for 4 months straight. Major Wilson led the 15th in its successful charge up Rocky Face Ridge, GA in early May, 1864; the Battle of Resaca, GA on May 14-15, 1864; and the disastrous fighting at Pickett's Mill, GA on May 27, 1864, which is often referred to as the Battle of New Hope Church or Dallas. Here the 15th again suffered very serious casualties, with at least one company reduced to only 4 men after the fighting ended. Major Wilson also led the regiment during the fighting at Kenesaw Mountain, GA on June 23, 1864.
In mid-July 1864, Lieutenant Colonel Johnson returned to the 15th and resumed command after having made a daring escape from a Confederate prison train. Major Wilson served as second-in-command of the 15th when it fought before Atlanta, GA on July 22, 1864; Jonesboro, GA on September 1, 1864; and Lovejoy Station, GA on September 4, 1864. After a rest following the capture of Atlanta in early September, the 15th was briefly assigned to Provost (police) duty in Chattanooga at the beginning of October 1864. This was followed by several months of guarding a railroad bridge at Whitesides, TN, which some of the 15th's soldiers felt was the easiest duty of their war service.
Major Wilson mustered out of the Army at expiration of his 3-year term of service on January 9, 1865 at Chattanooga, TN. On February 25, 1867, he was commissioned by the Governor of WI as Lieutenant Colonel (Oberstløitnant), with rank from February 21, 1865, but was never mustered-into the Army at that rank.
After the war Wilson and his wife, Mary, had five children: Ida (1865), George (1867), Clara (1869), Harry (1871), and Bessie (1873).
He owned a prosperous business in Black Earth, Dane County, WI, which he sold in 1872 and moved to La Crosse, La Crosse County, WI. There he opened a steamship, trade, and bank business (Wilson & Jurgens) and was a partner in Kiene & Wilson, a meat salting company. In 1874, he took his family on a trip to Europe, where they visited Norway. The following is from Buslett's 1895 history of the 15th:
"He and his family traveled from Kristiana [now Oslo] by train to Gjøvik, by horse through Valders to Lærdalsøren, and by the steamboat Fjalid with Captain Frøchen to Bergen. Just outside of "Vik" a woman fell overboard. He immediately tore off his hat and coat and was in the water holding the woman's head by the hair before anybody else on board knew what was happening. He held her above the water like this until a boat came to help."
Unfortunately, back in La Crosse, Wilson's businesses were not going well. In 1878, he pulled out of both and became a traveling salesman for 4 years with a Chicago-based wholesale clothing firm. In 1882, Wilson settled Grand Forks, ND. In 1885, he was one of a number of veterans hired by WI Governor Rusk to write histories of Wisconsin's Civil War regiments. Buslett contains this about George Wilson:
"In passing one can say he was as "Norwegian a Norwegian from Norway" as anyone."
Sources:  Det Femtende Regiment, Wisconsin Frivillige [The Fifteenth Regiment, Wisconsin Volunteers] by Ole A. Buslett (Decorah, Iowa, 1894); Oberst Heg og hans gutter [Colonel Heg and His Boys] by Waldemar Ager (Eau Claire, Wisconsin, 1916); Regimental Descriptive Rolls, Volume 20, Office of the Adjutant General State of Wisconsin (Madison, Wisconsin, 1885); and, Roster of Wisconsin Volunteers, War of the Rebellion, 1861-1865, Volume 1, Office of the Adjutant General State of Wisconsin (Madison, Wisconsin, 1886); 1880 Census, Roll: 1432, Family History Film: 1255432, Page: 557C, Enumeration District: 057; genealogical data provided by Derwood Johnson.
When publishing material contained in this website (www.nagcnl.org) you are required to credit Norwegian American Genealogical Center (415 West Main Street, Madison, WI 53703-3116) as the source.