Jens Hanson
15th Wisconsin Volunteer Infantry
The Scandinavian Regiment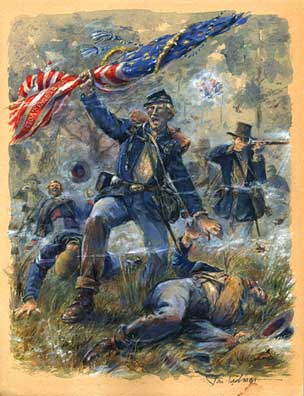 Database Record Change Request
| | |
| --- | --- |
| Name at Enlist | Jens Hanson |
| Birth Name | |
| Lived | ca. 1827 – 23 Jun 1864 |
| Birth Place | Rannestad |
| Birth Country | Norway |
| Resident of Muster-In | Calumet County, WI |
| Company at Enlistment | K |
| Rank at Enlistment | Private |
| Muster Date | 11 Feb 1862 |
| Death Location | Andersonville Prison, GA |
| Burial Location | Grave 2385, National Cemetery, Andersonville, GA |
Jens Hanson was enlisted by Colonel Claus L. Clausen. Jens was mustered into Federal service as a Private (Menig) on February 11, 1862 at Camp Randall near Madison, Dane County, WI. At the time he was 35 years old and married. His residence was listed as Calumet County, WI.
After less than 3 weeks at Camp Randall learning to be a soldier, Private Hanson left there on March 2, 1862 with his company and regiment to join the war. From then until December 1862, he was listed as "present" with the 15th. As such he would have participated in the successful siege of Island No. 10 on the Mississippi River in TN, and the surprise raid on Union City, TN in March and April 1862. That summer he would have been with the 15th on campaign through TN, MS, and AL. In August and September he would have participated in the grueling 400-mile retreat with General Don Carlos Buell up to Louisville, KY, with the last 2 weeks being on half rations and short of water.
Private Hanson would have been present at the October 8, 1862 fighting at the Perryville, Boyle County, KY, which was also called the Battle of Chaplin Hills. While this was the 15th's first big battle, it emerged from it without any fatalities. On December 26, 1862, Private Hanson was listed as "absent sick" in Nashville, TN. It is thus unlikely he participated in the 15th's desperate charge upon a Confederate artillery battery at Knob Gap, TN that same day, or in the long, cold, wet, and bloody Battle of Stones River, TN, also known as the Battle of Murfreesboro, that started a few days later. It was at Stone River that the 15th first suffered serious battle casualties and was cited for bravery.
The 15th camped in the Murfreesboro area for the next 6 months, except for 2 weeks in February when it was sent to Franklin, TN. It is not clear when Private Hanson returned to the regiment. Starting June 23, 1863, the 15th took part in General Rosecrans' Tullahoma campaign. Starting July 1, 1863, Private Hanson was listed as "absent sick" at Manchester, TN. On July 3, 1863, the 15th went into camp at Winchester, Franklin County, TN for 6 weeks.
On August 17, 1863, the 15th left Winchester to participate in General Rosecrans' Chickamauga campaign. Private Hanson is believed to have been present with the regiment at the daring early morning crossing of the Tennessee River on August 28th, which the 15th led. Private Hanson was present at the September 19-20, 1863 fighting at Chickamauga, GA — the second bloodiest battle of the Civil War. There he saved the regiment's flag during the vicious fighting around Viniard's Farm on the first afternoon of the battle, when Color Sergeant Anders J. Urness was wounded. However, around midday on the second day of fighting he was taken prisoner near Brotherton Field during the near capture of the regiment during Longstreet's Breakthrough. Some 63% of the 15th's soldiers who were at Chickamauga were killed, wounded, or taken prisoner.
Private Hanson was one of 25 officers and men from the 15th, including its commanding officer, Lieutenant Colonel Ole C. Johnson, who were captured during Longstreet's Breakthrough. That afternoon they were marched under guard some 16 miles to a railroad station beyond Ringgold, GA. The next morning they were marched 4 miles to Tunnel Hill, GA, where they were put in box cars that had 2-3 inches of manure on their floors. The cars were part of a railroad train that took them south to Atlanta. A few days later they were transported from there by railroad train to Richmond, VA, the Confederate Capital. In Richmond they were incarcerated in various places, including the notorious Libby Prison.
In December 1863, many of the 15th's enlisted prisoners were transported by railroad train to prisons in Danville, VA, and eventually on to the infamous Andersonville Prison Camp in GA. When Company K mustered-out of the Army on February 10, 1865, Private Hanson was officially recorded as "absent prisoner of war." In actuality he had died of some 8 months earlier at Andersonville of "chronic diarrhea."
After the war Jens Hanson was formally recognized for his actions at Chickamauga. In 1867, WI Governor Lucius Fairchild, himself a distinguished Civil War veteran, honored Jens with a retroactive promotion to Brevet Captain. His award citation reads as follows:
"In recognition of conspicuous gallantry manifested by him at the battle of Chickamauga at that date under the following circumstances: A charge was made by the rebels and the Brigade to which the 15″ Regt. was attached was outflanked and compelled to retreat a short distance. In this retreat the color bearer was severely wounded and dropped the colors, when Jens Hanson noticed it and exposing himself to a deadly fire advanced to the front and picked them up thereby preventing their falling into the enemys hands. Hanson was afterwards captured and died a prisoner at Andersonville Ga."
Sources: Det Femtende Regiment, Wisconsin Frivillige [The Fifteenth Regiment, Wisconsin Volunteers], Ole A. Buslett (Decorah, Iowa, 1894); Register of Commissions by Brevet 1864-1870 (Madison, Wisconsin); Oberst Heg og hans gutter [Colonel Heg and His Boys], Waldemar Ager (Eau Claire, Wisconsin, 1916); Regimental Descriptive Rolls, Volume 20, Office of the Adjutant General State of Wisconsin (Madison, Wisconsin, 1885); Roster of Wisconsin Volunteers, War of the Rebellion, 1861-1865, Volume 1, Office of the Adjutant General State of Wisconsin (Madison, Wisconsin, 1886).
When publishing material contained in this website (www.nagcnl.org) you are required to credit Norwegian American Genealogical Center (415 West Main Street, Madison, WI 53703-3116) as the source.