Anders Hansen
15th Wisconsin Volunteer Infantry
The Scandinavian Regiment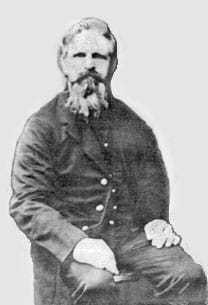 Database Record Change Request
| | |
| --- | --- |
| Name at Enlist | Anders Hansen |
| Birth Name | Anders Hansen Dvergsteen |
| Other Names | Andrew Hansen Kvænrud/Kvænerud/Kvamrud |
| Lived | 7 Dec 1834 – 10 Apr 1902 |
| Birth Place | Gran parish, Hadeland, Oppland fylke |
| Birth Country | Norway |
| Resident of Muster-In | Freeborn County, MN |
| Company at Enlistment | E |
| Rank at Enlistment | Corporal |
| Muster Date | 10 Dec 1861 |
| Cause of Death | Suicide |
| Death Location | Decorah, Winneshiek County, IA |
| Burial Location | Phelps Cemetery, Winneshiek County, IA |
| Mother | Kari Torstensdatter Dvergsten |
| Mother Lived | 14 Jul 1805- 25 Dec 1891 |
| Father | Hans Pedersen Rosendahl |
| Father Lived | 1799- 17 Oct 1866 |
| Immigration | 1861 |
| Spouse | Gunilde (Cornelia) Nielsdatter Bjørager |
| Spouse Lived | 1 Nov 1845- 1864 |
| Married On | 27 Apr 1864 |
| 2nd Spouse | Kirsti (Christina) Johnsdatter Dalen (Blegeneiet) |
| 2nd Spouse Lived | 5 Mar 1837- 19 Feb 1910 |
| 2nd Marriage Date | 30 Jan 1865 |
| 2nd Marriage Location | Decorah, Winneshiek County, IA |
Anders Hansen is said to have served 4 years in the artillery branch of the Norwegian Army before coming to America. He had only been in America a few months before he was enlisted in Company E of the 15th WI by Captain John A. Ingmundsen. Anders Hansen joined up on November 27, 1861, at La Crosse, La Crosse County, WI, for a 3-year term of service. The men of the company called themselves "Odin's Rifles." Anders was mustered into Federal service at the rank of Corporal on December 10, 1861, at Camp Randall near Madison, Dane County, WI. At the time the Army recorded him as being a 27 year old unmarried farmer. His residence was listed as Freeborn County, MN.
On January 14, 1862, the men of Company E were issued Belgian rifle muskets. On March 2, 1862, after nearly 3 months at Camp Randall learning to be a soldier, Corporal Hansen left there with his company and regiment to join the war. From then until November 1862, he was present with the regiment. As such he would have participated in the successful siege of Island No. 10 on the Mississippi River in TN, and the surprise raid on Union City, TN, in March and April 1862. According to sworn statements made after the war, Corporal Hansen suffered a "severe rupture" moving heavy cannons while at Island No. 10.
That summer, Corporal Hansen would have been with the 15th on campaign through the states of TN, MS, and AL. In August and September he would have participated in the grueling 400-mile retreat led by U.S. Major General Don Carlos Buell up to Louisville, KY, with the last 2 weeks being on half rations and short of water. At some point between Island No. 10 and Louisville, Corporal Hansen contracted rheumatism and varicose veins in his legs.
Corporal Hansen would also have been present at the October 8, 1862, fighting at Perryville, Boyle County, KY, which is also called the Battle of Chaplin Hills. While this was the 15th's first big battle, it emerged without any fatalities. Beginning on November 26, 1862, Corporal Hansen was listed as being "absent sick" in a hospital at Nashville, TN. From that point on he was never again with the regiment.
After being hospitalized in Nashville during January and February 1863, Corporal Hansen was honorably mustered out of Federal service on March 9 or 11, 1863, at Hospital No. 16 in Nashville, TN. His Certificate of Disability for Discharge listed him as being 5 feet 9 inches tall, with blue eyes, brown hair, and a light complexion. The Surgeon who signed the certificate noted that Corporal Hansen was "…incapable of performing the duties of a soldier because of chronic diarrhea of three months standing."
After returning from the Army, Anders married in 1864 to Gunilde (Cornelia) Nielsdatter Bjørager. However, he became a widower within a month. The next year he remarried about the time the 15th was mustering out of the Army at the end of its 3-year term of service. His wife was named Kirsti (Christina) Johnsdatter Dalen (Blegeneiet). Between 1865 and 1879, Anders and his second wife had 7 children. This included: Henry (1866), Matilda (1869), Josephine (1868), Oscar C. (1871), Spicer (1874), Holda (1876), and Adolph (1879).
In 1877, he applied for an Invalid's Pension, signing the application with an "x". At the time he was living in Bridgewater, Clay County, IA. The government eventually granted him a pension of $12 per month. In 1897 he was living in Decorah, IA, and attempting to get an increase in his pension. His application included the following sworn statement from his attending physician.
"He is confined to his bed and his condition is such that in my opinion he is totally unable to leave his home to go before an Examining Board without endangering his life. And will be unable to leave his home for some time to come if at all."
The end came 5 years later. The following is from his obituary in the Decorah Journal newspaper.
"…Mr. Hanson placed the muzzle of the rifle in his mouth and shot himself, death resulting almost instantly…The deceased was about 67 years old, an old soldier, and was well known in the county. He had been suffering a great deal of late, and there seems little doubt that he was out of his mind when the deed was committed."
According to his widow, Anders took his life because of "despondency from mental and physical disease and weakness."
Sources:  Decorah Journal newspaper (Decorah, Iowa, April 16, 1902); Det Femtende Regiment, Wisconsin Frivillige [The Fifteenth Regiment, Wisconsin Volunteers], Ole A. Buslett, 1894, Decorah, IA; Regimental Descriptive Rolls, Volume 20, Office of the Adjutant General State of Wisconsin (Madison, Wisconsin, 1885); Roster of Wisconsin Volunteers, War of the Rebellion, 1861-1865, Volume I, Office of the Adjutant General State of Wisconsin (Madison, Wisconsin, 1886); 1870 Census, Roll: M593_426, Page: 271A, Image: 545, Family History Library Film: 545924; 1880 Census, Roll: 333, Family History Film: 1254333, Page: 218B, Enumeration District: 056, Image: 0078; Genealogical data from his great granddaughters, Jane Austin and Sherry Berg; Genealogical data from John Quanrud; Civil War Pension Index, Roll # T288_198.
When publishing material contained in this website (www.nagcnl.org) you are required to credit Norwegian American Genealogical Center (415 West Main Street, Madison, WI 53703-3116) as the source.