David McKee
15th Wisconsin Volunteer Infantry
The Scandinavian Regiment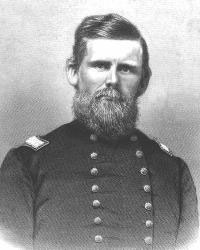 Database Record Change Request
| | |
| --- | --- |
| Name at Enlist | David McKee |
| Birth Name | David McKee |
| Lived | 20 Dec 1828 – 31 Dec 1862 |
| Birth Place | St Louis, MO |
| Birth Country | USA |
| Resident of Muster-In | Lancaster, Grant County, WI |
| Rank at Enlistment | Lieutenant Colonel |
| Muster Date | 24 Mar 1862 |
| Cause of Death | Killed in action, bullet to forehead |
| Death Location | Battle of Stones River, TN |
| Burial Location | Hillside Cemetery, Lancaster, Grant County, WI |
| Father | Stewart McKee |
| Father Lived | – ca. 1870 |
| Spouse | Pamela |
| Spouse Lived | ca. 1833- |
| Married On | ca. 1850 |
| Marriage Location | Wisconsin |
David McKee was born in St. Louis, MO on December 20, 1828 to Stewart McKee and his wife. His parents were Irish immigrants. He had several siblings, including William (1825), Henry (1831), and Stewart (1833). Their father, Stewart Sr., worked as a millwright for Gratiots and other companies in the St. Louis area, but moved his family to the lead mining area of WI in 1832. There, Stewart established what would be known as the McKee Mills. He first visited Platteville to find a mill site, the then established a sawmill near Harrison Township. His wife became ill in the late 1830s, returned to St. Louis, and died there. He lived in WI until his death about 1870.
David's parents sent him back to St. Louis for law school. He returned to WI and served as the representative for Potosi in the 1850 state legislature. While in WI in 1850, David lived with three of his siblings and his wife, Pamela. She was born about 1833 in IL. They lived near their father, Stewart, in the Eastern District of Grant County, WI. He set up his own law practice in 1859, and in 1860, he was living in Lancaster with his wife and working as an attorney.
When the war broke out, McKee became active right away. According to the WI Historical Society, "As a strong abolitionist, McKee understood slavery was at the heart of the rebellion and promptly enlisted in the Union Army." He helped recruit men from Grant County, and formed C Company of the WI 2nd Infantry and was promoted to serve as its captain. On July 21, 1861, he and his company fought in the First Battle of Bull Run.
On March 24, 1862, the Governor assigned him to the WI 15th, even though he had no Scandinavian connections. He served as Lieutenant Colonel (Oberstløytnant), succeeding Kiler K. Jones. He joined the troops at Island No. 10.  He first took part in the Battle of Perryville on October 8, 1862. He then led an expedition down the Cumberland River in which they "traveled 100 miles in 5 days, captured 46 prisoners, and returned without casualties." Unfortunately, McKee only served in one other major battle- Stones River on December 31, 1862. As he charged into battle, leading his troops, a bullet struck him in the forehead and he died instantly. McKee is described as capable and brave and well-liked by his men. According to his brigade commander, "No more daring officer was in the army."
Sources: Series 1200: Records of Civil War Regiments, 1861-1900, Wisconsin Adjutant General's Office, box 78-1; Regimental muster and descriptive rolls, 1861-1865, Wisconsin Adjutant General's Office, vol.20, p.2; Det Femtende Regiment, Wisconsin Frivillige [The Fifteenth Regiment, Wisconsin Volunteers], Ole A. Buslett (Decorah, IA, 1894), p.318; The Military History of Wisconsin: A Record of the Civil and Military Patriotism of the State, in the War for the Union, E. B. Quiner, Chicago, IL, 1866, pp 1012-1014; Lars Gjertveit, Bodo, Norway; 1850 Census, Roll: M432_998, Page: 120B, Image: 155; 1860 Census, Roll: M653_1409, Page: 132, Image: 136, Family History Library Film: 805409; findagrave.com; Wisconsin Historical Society, "McKee, Lt. Col. David (1828-1862)"; History of Grant County, Wisconsin (Chicago, 1881), p.719-720; The Military History of Wisconsin (Chicago, 1866), p.1014.
When publishing material contained in this website (www.nagcnl.org) you are required to credit Norwegian American Genealogical Center (415 West Main Street, Madison, WI 53703-3116) as the source.