Mons Grinager
15th Wisconsin Volunteer Infantry
The Scandinavian Regiment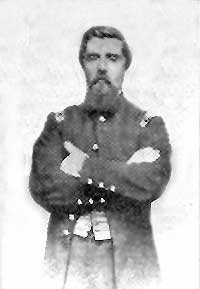 Database Record Change Request
| | |
| --- | --- |
| Name at Enlist | Mons Grinager |
| Birth Name | Mons Hansen Grinager |
| Other Names | Mons Hansen |
| Lived | 7 Oct 1832 – 30 Jan 1889 |
| Birth Place | Grinager farm, Gran, Oppland fylke |
| Birth Country | Norway |
| Resident of Muster-In | Bath township, Freeborn County, MN |
| Company at Enlistment | K |
| Rank at Enlistment | Captain |
| Muster Date | 30 Jan 1862 |
| Cause of Death | Heart and brain diseases |
| Death Location | Minneapolis, Hennepin County, MN |
| Burial Location | Lakewood Cemetery, Minneapolis, MN |
| Mother | Marthe Hansdatter |
| Father | Hans Pedersen |
| Immigration | 1853 |
| Spouse | Anne Egge |
| Married On | ca. 1854 |
Mons Grinager came to America from Brandbu, Hadeland, in 1853. His father, Hans, was a farmer. Mons received some high school education before immigrating. Once in America, he worked on a farm. He later went to Decorah, Winneshiek County, IA, where he worked in a mercantile business for about three years. In 1859, he moved to Freeborn County and became a farmer. He was the 3rd settler to the county.
Mons Grinager was responsible for recruiting what became Company K of the 15th, which called itself "Clausen's Guards" in honor of the 15th's first Chaplain, Claus L. Clausen. Captain Grinager's commission was dated January 31, 1862, with rank from January 30, 1862.
Captain Grinager was mustered into Federal service at that rank on February 11, 1862, at Madison, WI. At the time he was 29 years old and married. His residence was listed as Freeborn County, MN. He had been a farmer prior to being commissioned. As the Captain of Company K he was its commander. His second-in-command was 1st Lieutenant John Irgens. In a May 1862, letter to his family Captain Grinager describes his trip to Madison and what life was like at Camp Randall.
"I started out January 1. You can imagine that leaving was not a pleasant experience. We volunteers went by wagon 150 miles over the western prairies. This experience was not particularly enjoyable either. From Prairie du Chien [WI], we went by rail about 100 miles to Madison, arriving on January 6th. We found about 500 members of the regiment assembled there. As new recruits arrived daily, my company was filled by January 30th. Then we elected officers, who are selected by the volunteers from among the men in the company. I was unanimously chosen captain, a position I have filled to the best of my ability. We remained in Madison until March 1st, receiving officers' instruction and engaging in drills whenever the weather permitted. We had a lot to do, especialy those of us who were absolutely ignorant of military matters. A great effort was made to organize everything. Never in my life have I been so busy as I was during the two month we were there. Several days before our departure from Madison, we marched from the barracks up into the town, where the governor in person handed our Colonel Heg two standards [a national flag and a state regimental flag], which we are to defend with our lives."
 With less than 2 months time at Camp Randall to train his company and learn to be an officer, Captain Grinager left Madison in early March 1862, with his company and the rest of the regiment to join the war. During a brief period in mid-March 1862, when he was stationed at Bird's Point, MO, where the Ohio River joins the Mississippi River, Captain Grinager visited several nearby plantations and wrote home about the slaves he saw there.
"They are shabbily dressed, as they are seldom given more than one cheap outfit each year. They speak broken English and are generally very ignorant. They are strongly built, and many of them are rather light complexioned, being of mixed blood. But this fact makes no difference: Be they ever so light, with scarcely a trace of African blood, if they are born slaves, slaves they must remain. The owners sell them as we sell our animals, no attention being paid to family relationships. Not infrequently it happens that plantation owners sell children who they themselves have begotten with female slaves…They are whipped for the least shortcoming. When they are at work, the overseer always goes armed with a large blacksnake whip, which is frequently used when the slaves fail to exert themselves to the utmost…the abhorrence I have always felt toward slavery is considerably stronger now than ever before because of these firsthand observations."
 Captain Grinager then participated in the successful siege of Island No. 10 on the Mississippi River in TN, and the surprise raid on Union City, TN, in March and April 1862. At the beginning of May 1862, 2nd Lieutenant Solberg resigned his commission and left the Army. This vacancy was filled in early June 1862, by promoting 1st Sergeant Irgens. That summer Captain Grinager was with the 15th on campaign through TN, MS, and AL.
In August and September Captain Grinager led Company K through the grueling 400-mile retreat with General Buell up to Louisville, KY, with the last 2 weeks being on half rations and short of water. At the end of August 1862, 1st Lieutenant Peterson resigned his commission and left the Army. Three days later 2nd Lieutenant Irgens resigned too, leaving Captain Grinager as the company's only officer. On October 8, 1862, Captain Grinager led his company in the fighting at Perryville, Boyle County, KY, which is also called the Battle of Chaplin Hills. While this was the 15th's first big battle, it emerged without any fatalities. A few days later Sergeant John P. Strommer was appointed as its new 2nd Lieutenant.
On December 26, 1862, Captain Grinager participated in the 15th's desperate charge upon a Confederate artillery battery at Knob Gap, TN, just south of Nashville. There the 15th captured a brass cannon. Captain Grinager then led his company in the long, cold, wet, and bloody Battle of Stone River, TN, also called the Battle of Murfreesboro, on December 30-31, 1862. It is there that the 15th first suffered serious battle casualties, and was cited for bravery. One of the casualties was Captain Grinager, who was also cited for bravery. Colonel Heg wrote the following in his official after action report on the battle.
"In this engagement Capt. Grinager was shot through the leg, but stayed with his company like a hero till he fainted from loss of blood."
After passing out, Captain Grinager was removed to a nearby Union hospital where he was taken prisoner when it was captured. A short time later when the Confederate Army abandoned Murfreesboro, he successfully hide from his captors and was discovered by Federal troops when they occupied the town. Captain Grinager was then granted a 20 day leave of absence starting January 23, 1863, to recover from his wounds at home. This left 1st Lieutenant Clement in command of the company. Captain Grinager stayed away 3 months and was listed as "absent without leave" in March 1863.
The 15th was still camped in the Murfreesboro area when Captain Grinager returned and resumed command of Company K. In early May 1863, 2nd Lieutenant Strommer was tricked into resigning his commission and in early June 1863, Sergeant Ellend Errickson became the new 2nd Lieutenant. Starting June 23, 1863, the regiment took part in General Rosecrans' Tullahoma campaign. On July 3, 1863, it went into camp at Winchester, Franklin County, TN.
On August 17, 1863, the 15th left Winchester to participate in General Rosecrans' Chickamauga campaign. Captain Grinager led his company during the daring early morning crossing of the Tennessee River on August 28th, which the 15th led. And he commanded it during most of the September 19-20, 1863, fighting at Chickamauga, GA — the second bloodiest battle of the Civil War. He survived the vicious fighting around Viniard's Farm on the first afternoon, as well as the near capture of the regiment around midday on the 20th near Brotherton Field during Longstreet's Breakthrough. Some 63% of the 15th's soldiers who were at Chickamauga were killed, wounded, or taken prisoner, including all the regiment's field officers. As the most senior surviving officer, Captain Grinager took temporary command of the 15th, leaving 1st Lieutenant Clement in command of the company. On September 28, 1863, he turned command over to Captain John A. Gordan of Company G and rejoined the remnants of Company K. The next day he submitted the regiment's official after action report describing the 15th's role in the battle.
Captain Grinager led Company K during the Confederate siege of Chattanooga, TN, which began right after the battle. The siege caused severe shortages of medicine, food, and firewood. On October 8, 1863, 1st Lieutenant Clement was taken prisoner by Confederates. On November 21, 1863, he turned command of the company over to 2nd Lieutenant Errickson, and left for WI on recruiting duty. As a result he missed participating in the Union Army's victorious charge up Mission Ridge on November 25, 1863, which finally broke the siege. He also missed the almost non-stop marching and counter-marching all over Eastern TN that the 15th did throughout the winter of 1863/1864. By many original accounts, this was the worst period of the regiment's 3 year term of service. Poor rations, inadequate clothing and shelter, and unseasonably cold weather made these months nearly unbearable.
Captain Grinager returned and resumed command of Company K in May 1864, when the 15th began its' participation in General Sherman's famous campaign to capture Atlanta, GA. This campaign was marked by almost daily marching and/or combat for 4 months. Captain Grinager and the 15th took part in the fighting at Rocky Face Ridge, GA in early May; at the bloody Battle of Resaca, GA on May 14-15; and at the disastrous Battle of Pickett's Mill (often called Dallas or New Hope Church), GA on May 27, 1864. There the 15th suffered fearful casualties, including some 25 men captured, most of whom ended up in the infamous Andersonville Prison Camp — many permanently. One of those captured was 2nd Lieutenant Errickson, leaving Captain Grinager as the company's only officer.
Captain Grinager and the 15th also took part in the fighting at Kenesaw Mountain, GA, on June 23; before Atlanta on July 22; at Jonesboro, GA on September 1; and at Lovejoy Station, GA on September 4, 1864. After a rest following the capture of Atlanta in early September 1864, the 15th was briefly assigned to Provost (police) duty in Chattanooga beginning in early October 1864. It was about this time that news was received of the death of 1st Lieutenant Clement and of the release of 2nd Lieutenant Errickson. The 15th then spent several months duty guarding a railroad bridge at Whitesides, TN, near Chattanooga, which some of the 15th's soldiers felt was the easiest duty of their entire war service. In November 2nd Lieutenant Errickson was promoted to be the new 1st Lieutenant, but became sick, was sent home to recuperate, and did not return to the company until January 1865.
Captain Grinager was mustered out of Federal service along with most of the other surviving members of his company on February 10, 1865, at Chattanooga, TN, upon the end of their 3-year term of service. The men of Company K were then paid off, sent back to WI, and the company disbanded.
After the war Mons Grinager returned home to MN and farming. He became active in the Republican party. He served for two terms as Freeborn County Commissioner. He was then revenue assessor of the MN 1st district until 1873. He then ran unsuccessfully for State Treasurer in 1873. Instead, he was the MN vice president of the National Republican League. President U.S. Grant also appointed him to head the Federal Land Office in Worthington, Nobles County, MN, which he ran from 1874 until 1882. Mons Grinager eventually became vice-president of the Scandia Bank in Minneapolis. He also was the president of the Pioneer Paint Manufacturing Company in Albert Lea, MN.
He is described in Buslett's 1894 history of the 15th WI as follows.
"During the war — as well as later — he was a respected and popular man…a real gentleman with a sunny nature."
In his personal life, he and his wife, Anne had six children: Maren (1856), Henry (1858), Caroline (1861), Alexander (1865), Willie (1868), and Norman (1874).
Sources: Genealogical profile provided by Norman P. Grinager (Millersville, PA, 1999); Genealogical data by Tove J. Johansen; "The Letters of Mons Grinager: Pioneer and Soldier," Norwegian-American Studies, Volume 24 (Northfield, MN, 1970); Successful Scandinavians in the United States by O. N. Nelson, Decorah-Posten (Decorah, Iowa, February 6, 1889); The Civil War Letters of Colonel Hans Christian Heg Theodore C. Blegen (Northfield, MN, 1936); Det Femtende Regiment, Wisconsin Frivillige [The Fifteenth Regiment, Wisconsin Volunteers], Ole A. Buslett (Decorah, IA, 1894); Oberst Heg og Hans gutter [Colonel Heg and His Boys], Waldemar Ager (Eau Claire, WI, 1916); Civil War Compiled Military Service Records, Office of Adjutant General of the United States (Washington, DC); Regimental Descriptive Rolls, Volume 20, Office of the Adjutant General State of Wisconsin (Madison, WI, 1885); Roster of Wisconsin Volunteers, War of the Rebellion, 1861-1865, Volume 1, Office of the Adjutant General State of Wisconsin (Madison, WI, 1886).; Oppland fylke, Gran, Ministerialbok nr. 10 (1824-1842), Fødte og døpte [Births and baptisms] 1832, side 204-205; findagrave; Albert Lea Freeborn County Standard, Feb. 7, 1889; 1875 MN Census, Roll # MNSC_7, Line 21.
When publishing material contained in this website (www.nagcnl.org) you are required to credit Norwegian American Genealogical Center (415 West Main Street, Madison, WI 53703-3116) as the source.