Ole Evenson
15th Wisconsin Volunteer Infantry
The Scandinavian Regiment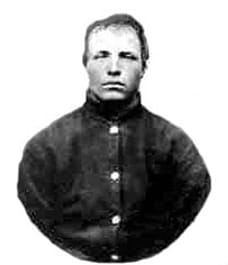 Database Record Change Request
| | |
| --- | --- |
| Name at Enlist | Ole Evenson |
| Birth Name | |
| Other Names | Ole Evanson, Ole E. Luten |
| Lived | ca. 1843 – 1894 |
| Resident of Muster-In | Stoughton, Dane County, WI |
| Company at Enlistment | H |
| Rank at Enlistment | Private |
| Muster Date | 13 Feb 1862 |
| Death Location | near Stoughton, Dane County, WI |
| Burial Location | West Koshkonong Churchyard, WI |
| Spouse | Souneva |
Ole Evenson was born about 1843. He enlisted in Company H of the 15th WI on November 26, 1861 at Madison, WI by Captain Ole C. Johnson for a 3-year term of service. The men of Company H called themselves "Heg's Rifles" but they were also known as the "Voss Company" because a large number of its members were from that area of Norway. Ole was mustered into Federal service as a Private (Menig) on February 13, 1862 at Camp Randall near Madison, Dane County, WI. At the time he was 18 years old and not married. His residence was listed as Stoughton, WI.
After less than a month at Camp Randall learning to be a soldier, Private Evenson left there in early March 1862, with his company and regiment to join the war. From then until May 1863, he was recorded as "present" with the 15th. As such he would have been at the successful siege of Island No. 10 on the Mississippi River in TN, and the surprise raid on Union City, TN, in March and April 1862. That summer he would have been on the campaign through TN, MS, and AL. In August and September 1863, he would have been on the grueling 400-mile retreat with from Iuka, MS, up to Louisville, KY. The last half of the forced march was led by US Major General Don Carlos Buell, and the 15th surviving on half rations and little water.
On October 8, 1862, Private Evenson would have taken part in the fighting at Perryville, Boyle County, KY, which was also called the Battle of Chaplin Hills. While this was the first large battle that the 15th fought in, it suffered no fatalities.
On December 26, 1862, he participated in the 15th's desperate charge upon a Confederate artillery battery at Knob Gap, TN, just south of Nashville. There the 15th captured a brass cannon. He then fought at the long, cold, wet, and bloody Battle of Stone River, TN, also called the Battle of Murfreesboro, at the end of December 1862. It is there that the 15th first suffered serious battle casualties, and was cited for bravery. One of those cited was Private Evenson. The following is from Buslett's 1895 history of the 15th WI.
"After the battle General Rosecrans issued an order to the various regiments' commanders to submit to headquarters a list of one sergeant, two corporals and four or five privates in each company (altogether no more than six from each company), who had shown the greatest courage and ability during the battle. These would be entered on the Roll of Honor."
The 15th's commander, Colonel Hans C. Heg, submitted Private Evenson's name to headquarters and he was subsequently entered on the Roll of Honor for the 2nd Brigade, 1st Division, 20th Army Corps for his bravery at the Battle of Stone River.
The 15th camped in the Murfreesboro area for the next 6 months, except for 2 weeks in February when it was sent to Franklin, TN. Starting May 17, 1863, Private Evenson was absent sick in a convalescent camp near the Murfreesboro, TN until early August 1863. From August 5, 1863 until sometime in October 1863, Ole was absent serving as a teamster with the 1st Division supply wagon train. During this period, the division took part in the September 19-20, 1863, fighting at Chickamauga, GA — the second bloodiest battle of the Civil War. Some 63% of the 15th's soldiers who were at Chickamauga were killed, wounded, or taken prisoner.
Starting right after the Battle of Chickamauga, the victorious Confederates laid siege to the Federal Army holed up at Chattanooga, TN. The siege resulted in severe shortages of medicine, food, and firewood which, together with cold, wet weather, caused much suffering, sickness, and death. As a teamster, Private Evenson may have driven a horse or mule drawn transport in the Army supply wagon train from Chattanooga, over the mountains to the Federal depot at Stevenson, AL. It started out October 13, 1863, and was by all accounts a physically challenging and dangerous 3-week trip. The 15th's soldiers assigned to the wagon train were back in Chattanooga by early November 1863.
The Confederate siege of Chattanooga was finally broken by the Union Army's victorious charge up Mission Ridge on November 25, 1863, which the 15th took part in. Starting November 28, 1863, and until sometime in December 1863, Private Evenson was reported as being "sick" in Chattanooga.
Starting right after Mission Ridge the 15th was engaged in almost non-stop marching and counter-marching all over Eastern TN throughout the winter of 1863/1864. By many original accounts, this was the worst period of the regiment's 3-year term of service. Poor rations, inadequate clothing and shelter, and unseasonably cold weather made these months nearly unbearable. On January 31, 1864, at Maryville, TN, Private Evenson and a number of other 15th soldiers were transferred by their Brigade Commander to the 68th IN Volunteer Infantry Regiment. The remainder of the 15th's soldiers had agreed to re-enlist for the remainder of the war and were to be sent home for a 30-day furlough as a reward. However, the Army cancelled the furlough and the 15th soldiers then cancelled their re-enlistments. Ole and the others rejoined the rest of the 15th on April 1, 1864, at Strawberry Plains, Jefferson County, TN at the order of the War Department.
From April 29 through August 1864, Private Evenson was again listed as "absent" from the 15th, this time serving in the Ambulance Corps. During this period he took part in the famous Atlanta campaign led by US Major General William T. Sherman to capture Atlanta, GA. The 15th also fought in this campaign. On June 27, 1864, at the Battle of Kenesaw Mountain, GA, Private Evenson rescued a wounded comrade while under heavy fire. After his stint in the Ambulance Corps, Private Evenson rejoined the 15th in September 1864 after Sherman's army captured of Atlanta. The fall of Atlanta is credited by historians as resulting in the re-election of US President Abraham Lincoln to a second term in office, which resulted in the North continuing the war until the South unconditionally surrendered.
After a rest following the capture of Atlanta, the 15th was briefly assigned to Provost (police) duty in Chattanooga beginning in early October. This was followed by several months of guarding a railroad bridge at Whitesides, TN, near Chattanooga. Some of the 15th's soldiers felt that this was the easiest duty of their entire war service.
Private Evenson was mustered out of Federal service along with most of the other surviving members of Company H on February 13, 1865, at Chattanooga, upon the end of his 3-year term of service. At muster out the Army noted that he was due $100 in bounty money. The men of Company H were then sent to Madison, WI, where they were paid off and the company disbanded.
After the war Ole Evenson was formally recognized for his actions at Kenesaw Mountain. On August 27, 1867, WI Governor Lucius Fairchild, himself a distinguished Civil War veteran, honored Ole with a promotion to the rank of Brevet Captain, retroactive to June 27, 1864. His award citation reads as follows:
"In recognition of distinguished gallantry displayed by him at the battle of Kenesaw Mountain where amidst a perfect shower of bullets he rushed out beyond the works and carried in out of harms way a wounded comrade."
After the war, he went by Ole E. Luten. He married a woman named Souneva. In 1890, he was living in Pleasant, Dane County, WI. Souneva filed a pension in his name on August 6, 1909.
Sources: Det Femtende Regiment, Wisconsin Frivillige [The Fifteenth Regiment, Wisconsin Volunteers], Ole A. Buslett (Decorah, Iowa, 1894); Register of Commissions by Brevet 1864-1870 (Madison, Wisconsin); Regimental Descriptive Rolls, Volume 20, Office of the Adjutant General State of Wisconsin (Madison, Wisconsin, 1885); Roster of Wisconsin Volunteers, War of the Rebellion, 1861-1865, Volume 1, Office of the Adjutant General State of Wisconsin (Madison, Wisconsin, 1886); Civil War Pension Index, Roll # T288_291; 1890 Veterans Schedules, Roll: 113, Page: 1, Enumeration District: 44.
When publishing material contained in this website (www.nagcnl.org) you are required to credit Norwegian American Genealogical Center (415 West Main Street, Madison, WI 53703-3116) as the source.