Henry Knudson
15th Wisconsin Volunteer Infantry
The Scandinavian Regiment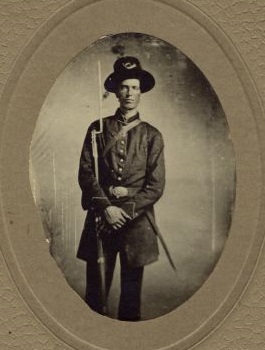 Database Record Change Request
| | |
| --- | --- |
| Name at Enlist | Henry Knudson |
| Birth Name | |
| Other Names | Klevegaard; Henrick |
| Lived | 26 Sep 1843 – 19 Dec 1928 |
| Birth Place | Klevegaard, North Aurdal, Oppland |
| Birth Country | Norway |
| Resident of Muster-In | Moscow, Iowa County, WI |
| Company at Enlistment | E |
| Rank at Enlistment | Private |
| Muster Date | 8 Dec 1861 |
| Death Location | Jackson County, MN |
| Mother | Anne Henriksdatter |
| Father | Knud Christiensen |
| Immigration | 1853 |
| Spouse | Christina Tollefson |
| Spouse Lived | 1861- ca. 1882 |
| Married On | 28 Dec 1876 |
| Marriage Location | Weilder Station, Jackson County, MN |
| 2nd Spouse | Jennie Olson |
| 2nd Spouse Lived | Feb 1859- 16 Feb 1927 |
| 2nd Marriage Date | 18 Jun 1882 |
| 2nd Marriage Location | Lakefield, Jackson County, MN |
Henry Knudson was born at Klevegaard, North Aurdal, Valders, Norway on September 26, 1843. His parents were Knud Christensen and Anne Henriksdatter. He came to America with his parents in 1853. Knudson joined WI 15th Infantry, Company E. The men of the company called themselves "Odin's Rifles."
The army listed him as living in Moscow, Iowa County, WI, age 19, and unmarried. He enlisted for three years on December 2, 1861 in Iowa County, and mustered on December 8, 1861 at Madison, WI as a Private (Menig). He took part in all Company E's skirmishes during his enlistment.
Knudson was discharged from the Company at Edgefield, TN on November 24, 1862 so he could enlist in 4th Regiment of the U. S. Cavalry. He was assigned to Company K and served as a bodyguard for General Rosecrans, and as an orderly for General Otis. He was at the Battle of Stones River, during which his unit, the 4th Cavalry, saved the Army's ammunition train. He was wounded, shot through his right lung, on February 19, 1863 during a skirmish between Auburn and Liberty, about 29 miles from Murfreesboro, TN. He became unfit for service and was discharged on July 18, 1863.
After the war, he moved to Goodhue County, MN, where he operated a farm, a wheat business, and was also a store clerk in Red Wing. Knudson moved to Jackson County, MN in 1870, became deputy sheriff in 1871, and sheriff in 1872. He was granted a pension of $12 a month because of a gun shot wound to his chest, which resulted in a disability of his lungs. From 1874 to 1878, he was Jackson County Treasurer, then became a Judge of Probate, serving until 1891. Other positions he held were as Chairman of the County Board of Supervisors, Justice of the Peace, Postmaster in Lakefield, and a town alderman, judge and town clerk in Heron Lake, MN.
In his personal life, Knudson married Christina Tollefson on December 28, 1876 in Weilder Station, Jackson County, MN. Together, they lived in Heron Lake, MN and had at least one child named Ida A. (1879). After Christina died, Knudson married Jennie Olson on June 18, 1882 in Lakefield, Jackson County, MN. They had a child named Emma in 1883.  They continued to live in Heron Lake, MN. Between 1910 and 1920, Henry and Jennie moved to Los Angeles, CA. Jennie died in Los Angeles on February 16, 1927. Henry moved back to MN and died on December 19, 1928 in Jackson County, MN.
Sources: Series 1200: Records of Civil War Regiments, 1861-1900, Wisconsin Adjutant General's Office, box 76-7; Regimental muster and descriptive rolls, 1861-1865, Wisconsin Adjutant General's Office, vol.20, p.76; Payroll muster rolls of WI 15th Co E, saved by Captain T. A. Rossing; Det Femtende Regiment, Wisconsin Frivillige [The Fifteenth Regiment, Wisconsin Volunteers], Ole A. Buslett (Decorah, Iowa, 1894), p.485; Oberst Heg og hans gutter, Waldemar Ager, 1916, Fremad Pub. Co., Eau Claire, WI, p.189, photo, p.304; Nordmaendene i Amerika, Martin Ulvestad, 1907, History Book Co., Minneapolis, MN, p.302; Pensioners on the Roll as of January 1, 1883, living in Minnesota, publ. 1994, Park Genealogical Books, Brooklyn Park, Minnesota; MN Marriages Index, FHL Film #1403137; MN Marriages Index, FHL Film #1403137; 1880 Census, Roll: 624, Family History Film: 1254624, Page: 503B, Enumeration District: 121, Image: 0249; 1900 Census, Roll: 771, Page: 5A, Enumeration District: 0109, FHL microfilm: 1240771; 1910 Census, Roll: T624_697, Page: 10A, Enumeration District: 0107, FHL microfilm: 1374710; 1920 Census, Roll: T625_115, Page: 2B, Enumeration District: 424, Image: 44; MN Death Index, State File #006324, Certificate #006324, Record #525131; California Death Index, State File #7794; Norway Digital Archives, Nord-Aurdal, Oppland Ministerialbok, no. 5 1842-1863, p.5.
When publishing material contained in this website (www.nagcnl.org) you are required to credit Norwegian American Genealogical Center (415 West Main Street, Madison, WI 53703-3116) as the source.