John Ingmundsen
15th Wisconsin Volunteer Infantry
The Scandinavian Regiment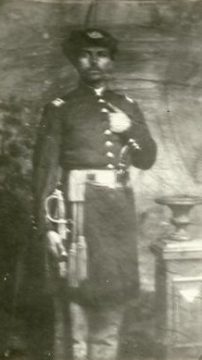 Database Record Change Request
| | |
| --- | --- |
| Name at Enlist | John Ingmundsen |
| Birth Name | John Anthon Johannesen |
| Other Names | John Ingemundsen, Ingmunson, Ingmundson |
| Lived | 28 Oct 1832 – 30 Dec 1862 |
| Birth Place | Gathue farm in Rygge parish, Smaalenene |
| Birth Country | Norway |
| Resident of Muster-In | Neshonoc, La Crosse County, WI |
| Company at Enlistment | E |
| Rank at Enlistment | Captain |
| Muster Date | 9 Dec 1861 |
| Cause of Death | killed in action |
| Death Location | Battle of Stones River, TN |
| Burial Location | Buried in an unmarked grave |
| Mother | Nicholine Andersdtr. Wendelboe |
| Father | Johannes Ingmundsen |
| Immigration | 1853 |
| Spouse | Elina Simenson |
| Married On | 27 Feb 1856 |
| Marriage Location | Neshonoc, La Crosse County, WI |
John Anthon Ingmundson was born on October 28, 1832 on the Gathue farm in Rygge parish, Smaalenene, Norway. His parents were Johannes Ingmundsen and Nicholine Andersdtr. Wendelboe. He came to America in 1853, and operated a farm in Allamakee County, IA. He moved to Neshonoc, WI in 1858.
Ingmundson joined the WI 15th Infantry, Company E. The men of the company called themselves "Odin's Rifles."
The army listed Ingmundson as living in Neshonoc, La Crosse County, WI, age 29, and married. He had married Elina Simenson on February 27, 1856 in Neshonoc. Ingmundson accepted a commission as Captain (Kaptein) on December 10, 1861 at La Crosse with rank from the 9th. He mustered on December 20, 1861, at Madison, WI.
He was killed in the Battle of Stones River, TN on December 30, 1862. He was the first of the WI 15th Regimental Officers to be killed. He stood up to give orders to his men in an area of boulders and underbrush in which rebel soldiers were hidden and was shot down. His men carried his body to the rear where he was buried, but in the fighting the site was not marked and later could never be identified. He was buried in an unmarked grave.
Sources: Series 1200: Records of Civil War Regiments, 1861-1900, Wisconsin Adjutant General's Office, box 76-7; Regimental Muster and Descriptive Rolls, 1861-1865, Wisconsin Adjutant General's Office, vol.20, p.70; Det Femtende Regiment. Wisconsin Frivillige [The Fifteenth Regiment, Wisconsin Volunteers], Ole A. Buslett, Decorah, IA, 1894, p.461; Payroll muster rolls of WI 15th Co E, saved by Captain T. A. Rossing; Foreigners in the Union Army and Navy, Ella Lonn, Louisiana State University Press, 1951, p.160; The Military History of Wisconsin in the War for the Union, Edwin B. Quiner, 1866, Clarke & Co., Chicago, pp.613, 619, 621; Nordmændene i Amerika, Martin Ulvestad, 1907, History Book Co., Minneapolis, MN, p.254; Oberst Heg og hans gutter, Waldemar Ager, 1916, Fremad Publ. Co., Eau Claire, WI, p.185 (photo), p.302; Wisconsin Marriage Records, Batch #M01092-6, GS Film #1292003; Ref. ID #02999; Norway Digital Archives, kirkebøker for Rygge, Østfold, p.148.
When publishing material contained in this website (www.nagcnl.org) you are required to credit Norwegian American Genealogical Center (415 West Main Street, Madison, WI 53703-3116) as the source.