Claus L. Clausen
15th Wisconsin Volunteer Infantry
The Scandinavian Regiment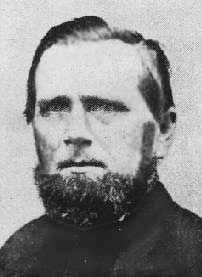 Database Record Change Request
| | |
| --- | --- |
| Name at Enlist | Claus L. Clausen |
| Birth Name | Claus Lauritz Clausen |
| Lived | 3 Nov 1820 – 20 Feb 1892 |
| Birth Place | Borgnaes, Tranderup, Svendborg |
| Birth Country | Denmark |
| Resident of Muster-In | Saint Ansgar, Mitchell County, IA |
| Company at Enlistment | Field Officers & Staff |
| Rank at Enlistment | Chaplain |
| Muster Date | 13 Feb 1862 |
| Death Location | Poulsbo, Kitsap County, WA |
| Burial Location | Oakwood Cemetery, Austin, Mower County, MN |
| Mother | Karen Pedersdtr |
| Father | Erik Clausen |
| Immigration | Jul 1843 |
| Spouse | Marthe (Martha) F. Rasmussen |
| Spouse Lived | 19 Sep 1815- 15 Nov 1846 |
| Married On | 25 Nov 1842 |
| Marriage Location | Den Danske Folkekirke, Simmerbølle, Svendborg, Denmark |
| 2nd Spouse | Birgitte (Bergetha) L. Pedersen |
| 2nd Spouse Lived | 29 May 1819- 2 Dec 1887 |
| 2nd Marriage Date | 1847 |
| 2nd Marriage Location | Wisconsin |
Claus Clausen was born on November 3, 1820 in Borgnaes, Tranderup, Svendborg, Denmark to Erik Clausen and Karen Pedersdtr. He married Marthe F. Rasmussen on November 25, 1842 in Den Danske Folkekirke, Simmerbølle, Svendborg, Denmark. They immigrated to the U.S. and arrived in NY in July 1843.
Reverend Claus L. Clausen was pastor of the Norwegian Evangelical Lutheran Church of America founded in 1844 on the shore of Whitewater Lake in Heart Prairie near the present day city of Whitewater, Walworth County, WI.  In 1845 he moved to the Koshkonong settlement in Dane County, WI. Marthe died on November 15, 1846, in Rock County, WI, shortly after the birth of their son Martin.
In 1847, Claus married his second wife, Birgitte (Bergetha) L. Pedersen. Together, they had four children: Edward (1853), Lauritz (1857), Birger (1860), and Gunnild (1861).
In 1851 he co-founded the Norwegian Evangelical Lutheran Synod at Rock Prairie, WI. That same year he became the editor of the first Norwegian Lutheran Church newspaper in America, which was published in Racine, Racine County, WI. In 1852 he became the first editor of Emigranten, the first Norwegian language secular newspaper in America, published in Inmansville, WI. He and his paper crusaded against slavery and for the preservation of the United States. Due to ill health he moved west to IA in 1853 where he founded the village of Saint Ansgar, near the Cedar River in Mitchell County. From 1856-57 he represented that area in the IA legislature.
At the recommendation of the 15th's Colonel Hans C. Heg, WI Governor Randall commissioned Reverend Clausen as the 15th's Chaplain. The commission was dated December 11, 1861, with rank from the same date, and was for a 3-year term of service. Chaplain Clausen was mustered into Federal service at that rank on February 28, 1862, to date from February 13, 1862, at Camp Randall near Madison, Dane County, WI. At the time he was 43 years old and not married. His residence was listed as St. Ansgar, IA.
Chaplain Clausen was very popular with the 15th's soldiers. In his honor, the men of Company K named themselves "Clausen's Guards." In Buslett's 1895 history of the 15th WI, Chaplain Clausen wrote the following about the regiment's first few months of existence:
"As long as the Regiment remained in Camp Randall, the men were exposed to the worst kinds of temptations. There were, in fact, several other regiments in the camp at the same time; discipline was very poor and many of the soldiers got permission to roam about town. Under such circumstances one cannot be surprised that some members of the Scandinavian Regiment also went astray, went to drinking houses, got drunk, etc., but this was certainly the exception; most of the Regiment's men were respectable and sober. After the Regiment left Camp Randall, and especially after some of the less-sober among the officers were forced to leave, its condition in this regard became significantly better and could now equal, if not exceed, any other regiment in the service."
In early March 1862, the 15th departed Camp Randall and left WI for the war. The regiment then participated in the successful siege of Island No. 10 on the Mississippi River in TN, and the surprise raid on Union City, TN in March and April 1862. It was after the 15th took possession of Island No. 10 that the following incident, recounted in Buslett's book, took place:
"Field Chaplain Clausen was no scared rabbit. We were on Island Number 10. One dark night there was a storm, and the alarm was sounded. There was confusion: the calls of the officers could not be heard above the noise of the wind and the heavy rain. They tried to organize their men, but in that kind of weather and darkness there was plenty of opportunity to sneak away, and there were always some who were afraid. Clausen met one of them behind a shed and tried to persuade the man to stay, but it didn't do any good. So then he shamed him, but that didn't help either. "So go with your rifle," said the Chaplain and he immediately joined the ranks, determined to fight to the death in this man's place. This time it was a false alarm, but no one knew that at the time."
Island No. 10 was considered by the 15th's soldiers to be an unhealthy place. This was due to its low, swampy nature which, together with Mississippi River drinking water and poor quality rations, caused a number of the 15th's soldiers to become sick and die. In Buslett, Chaplain Clausen described a typical burial ceremony.
"The dead were buried in the best possible manner, considering the circumstances. The corpse was laid in a simple coffin and accompanied to the grave with music and a fitting procession. After prayers were said by the pastor, the coffin was lowered, the grave filled, and a farewell salute fired over it. Then a simple grave marker was raised, which consisted of a piece of wood on which the deceased's name was carved, along with his company and regiment and the time he died. On behalf of the deceased's relatives the pastor now thanked his comrades for this last proof of their friendship, whereupon the procession returned to the camp with muted drums."
Chaplain Clausen was often entrusted with letters and money from the 15th's soldiers to take back home for them. On June 5, 1862, he was granted 40 days leave by Major General Halleck to attend a meeting of his Synod on June 12th in Goodhue County, MN and to take care of pressing financial matters. He returned in time to be listed as "absent on detached duty at Iuka" MS, starting August 21, 1862. It is believed he was attending to the 15th soldiers who had been left there sick. Chaplain Clausen discussed ministering to the sick in this passage from Buslett:
"I always found my most fertile ground in the hospital, and I often felt strengthened by the conversations I had with the sick. Many times I found great ignorance of and a lack of interest in those things that do not belong to this life, but in no case, as far as I can remember, did I find open ungodliness or hardness. On the contrary, the sick received me with joy shining on their faces and listened with eagerness when I explained God's word to them."
On October 30, 1862, Chaplain Clausen was listed as "in attendence on Colonel Heg" who had been injured by the fall of his horse during the October 8, 1862, fighting in Perryville, Boyle County, KY, which was also known as the Battle of Chaplin Hills, KY.
Chaplain Clausen's military career came to an end after only 11 months when he resigned his commission. In his resignation letter to Major General Rosecrans, commander of the 14th Army Corps, Clausen gave as his reasons as the unmet needs of eight church congregations back at home who were asking for his return, and a marked decline in his health due to the hardships of active military service. His resignation was accepted, effective November 26, 1862. Chaplain Clausen made the following remarks in Buslett about the 15th's religious and moral condition:
"Besides our regular Sunday meetings, we also had prayer meetings in the evenings when the circumstances allowed. Attendance at services was completely voluntary for both the officers and soldiers, except on certain occasions such as when the whole army unit was ordered out, and a few times when the Regiment was drawn up in formation. If attendance had been forced, we naturally could not have drawn any conclusions about the moral and religious state of the Regiment from the numbers attending, but as it was, since each could follow his own desire in this regard and it was evident that most of the Regiment attended services and followed them with deep interest, one can be led to draw the most favorable conclusion. Certainly there were many among both officers and enlisted men who seldom or never attended religious services, but this is without doubt the case in all regiments in all armies throughout the world."
After the war, Pastor Clausen visited Norway and served as the IA Commissioner to the Paris Exposition in 1867. In 1868 he resigned from the Norwegian Evangelical Lutheran Synod over theological differences. He helped organize the Norwegian-Danish Evangelical Lutheran Conference two years later, becoming its first president. Later in life he moved to VA, and then to Philadelphia, PA, before moving to Austin, MN, in 1878. He joined Carl Martin Bergh in encouraging Norweigans to re-migrate to Norge, VA. His last few years were spent living with his son in Poulsbo, Kitsap County, WA, where he died. American Lutheran Biographies says the following about Pastor Clausen:
"Since his arrival in Muskego, in 1843, Rev. Clausen's name is woven into the principal events of the history of the Norwegian Lutherans of this country, down to recent years. Zealously and faithfully he administered to the spiritual want of the pioneers travelling continually between the small and scattering settlements…"
Claus is buried next to Bergethe in Oakwood Cemetery, Austin, MN. She died on December 2, 1887 and Claus on February 20, 1892.
Sources: Genealogical data from Tove D. Johansen; Successful Scandinavians in the U.S.; Det Femtende Regiment, Wisconsin Frivillige [The Fifteenth Regiment, Wisconsin Volunteers], Ole A. Buslett (Decorah, Iowa, 1894); Oberst Heg og hans gutter [Colonel Heg and His Boys], Waldemar Ager (Eau Claire, Wisconsin, 1916); Danske I Kamp i og for Amerika, P. S. Vig (Omaha, Nebraska, 1917) with the Clausen biography translated by Anders Rasmussen; Civil War Compiled Military Service Records, Office of Adjutant General of the United States (Washington, DC); Regimental Descriptive Rolls, Volume 20, Office of the Adjutant General State of Wisconsin (Madison, Wisconsin, 1885); Roster of Wisconsin Volunteers, War of the Rebellion, 1861-1865, Volume 1, Office of the Adjutant General State of Wisconsin (Madison, Wisconsin, 1886); U.S. Naturalization Record Indexes, 1791-1992, p# 5314; findagrave.com; Denmark, Select Marriages 1635-1916, FHL Film #52904, Ref ID: bk4 p135; 1860 Census, Roll: M653_336, Page: 217, Image: 219, Family History Library Film: 803336; 1870 Census, Roll: M593_411, Page: 227B, Image: 456, Family History Library Film: 545910.
When publishing material contained in this website (www.nagcnl.org) you are required to credit Norwegian American Genealogical Center (415 West Main Street, Madison, WI 53703-3116) as the source.