Ellend Olson
15th Wisconsin Volunteer Infantry
The Scandinavian Regiment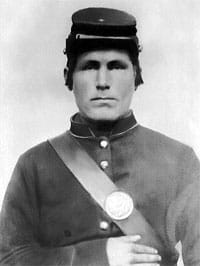 Database Record Change Request
| | |
| --- | --- |
| Name at Enlist | Ellend Olson |
| Birth Name | Ellen Olsen Christiansmoen |
| Other Names | Erland Brager, Ellen, Allen |
| Lived | 25 Jan 1835 – 16 July 1890 |
| Birth Place | Chrsitainsmoen, Hedal parish in Sør-Aurdal parish, Oppland fylke |
| Birth Country | Norway |
| Resident of Muster-In | Black Earth, Dane County, WI |
| Company at Enlistment | B |
| Rank at Enlistment | Private |
| Muster Date | 16 Nov 1861 |
| Burial Location | Vermont Lutheran Church Cemetery, Vermont Township, Dane County, WI |
| Mother | Kari Olsdatter |
| Mother Lived | 10 Apr 1814-31 Oct 1882 |
| Father | Ole Ellensen Brager |
| Father Lived | 12 Apr 1806-16 Jul 1887 |
| Immigration | 1861 |
| Spouse | Johane M Pederson/Johanna Mathea Amundsdatter |
| Spouse Lived | 20 Sep 1848- 31 Oct 1931 |
| Married On | 14 Feb 1870 |
| Marriage Location | Vermont Township, Dane County, WI |
Ellen Olsen was born on January 25, 1835 in the Christianmoen farm, Hedalen parish, Sør-Aurdal, Oppland fylke, Norway. His parents were Ole Ellendsen and Kari Olsdatter. He left Hedalen parish in April 1861 with his brother, Knud and sister, Kari.  His parents and other siblings left Hedalen for America several years later.
He enlisted under the name Ellend Olson in Company B of the 15th WI by Captain Ole C. Johnson on October 17, 1861, in Madison, Dane County, WI, for a three-year term of service and mustered into Federal service as a Private (Menig) on November 16, 1861, at Camp Randall, near Madison.  At the time the Army recorded him as being 26 years old and not married. His residence was listed as Black Earth, WI. The men of the company called themselves the "Wergeland Guards" in honor of Henrik Wergeland, the famous Norwegian writer and poet. His brother, Knud Olson also joined the Wisconsin 15th.
After several months at Camp Randall learning to be a soldier, Private Olson left there in early March 1862 with his company and regiment to join the war. From then until December 1862 he was listed as "present" with the 15th. He participated in the successful siege of Island No. 10 on the Mississippi River in Tennessee, and the surprise raid on Union City, TN, in March and April 1862. Starting that June he was on campaign with the 15th through the states of Tennessee, Mississippi, and Alabama. In August and September he participated in the grueling 400-mile retreat with General Buell up to Louisville, KY, with the last two weeks being on half rations and short of water. Private Olson was present at the October 8, 1862, Battle of Perryville, KY, which is also called the Battle of Chaplin Hills. While this was the 15th's first big battle, it did not suffer any fatalities.
From December 1862 until August 1863, Private Olson was absent from the 15th on duty with his division's Provost Guard (military police). On December 30, 1862, he was a guard with the Division wagon train when it was attacked by Confederate General Wheeler's Cavalry during the long, cold, wet, and bloody Battle of Stones River, TN, also called the Battle of Murfreesboro.
The Division remained in the Murfreesboro area until June 23, 1863, when it left there to take part in General Rosecrans' Tullahoma campaign. On July 3, 1863, the Division was camped at Winchester, TN. It is believed that Private Olson was back with the 15th on or before August 17, 1863, when it left Winchester to participate in General Rosecrans' Chickamauga campaign. Private Olson was present at the daring early morning crossing of the Tennessee River on August 28th, which the 15th led. He was also present at the September 19-20, 1863, fighting at Chickamauga, GA — the second bloodiest battle of the Civil War. He survived the vicious fighting around Viniard's Farm on the first afternoon, as well as the near capture of the regiment near Brotherton Field around midday on the 20th during Longstreet's Breakthrough. Some 63% of the 15th's soldiers who were at Chickamauga were killed, wounded, or taken prisoner.
Private Olson then served with the regiment during the Confederate siege of Chattanooga, TN, which began right after the battle. The siege caused severe shortages of medicine, food, and firewood which, combined with cold, wet weather, caused much suffering, disease, and death. Starting October 13, 1863, Private Olson was one of about 120 soldiers from the 15th who were detailed as guards with the vital Army supply wagon train that was sent from Chattanooga over the mountains to the Federal supply base at Stevenson, AL, and back. By all accounts this three-week assignment was a dangerous and physically challenging trip. On November 25, 1863, Private Olson took part with the 15th in the Union Army's victorious charge up Mission Ridge near Chattanooga, which broke the siege and sent the Confederate Army into headlong retreat.
Starting right after Mission Ridge the 15th was engaged in almost non-stop marching and counter-marching all over Eastern Tennessee throughout December 1863, and January 1864. By many original accounts, this was the worst period of the regiment's entire three-year term of service. Poor rations, inadequate clothing and shelter, and unseasonably cold weather made these months nearly unbearable.
Starting in May 1864, the 15th participated in General William T. Sherman's famous campaign to capture Atlanta, GA. This campaign was marked by daily marching and/or combat for nearly 4 months straight. Private Olson was with the 15th when it fought at Rocky Face Ridge, GA, in early May, and at the bloody Battle of Resaca, GA, on May 14-15, 1864. He also fought at the disastrous Battle of Pickett's Mill (often called Dallas or New Hope Church), GA, on May 27, 1864, where the 15th suffered fearful casualties. He was also with the regiment for the fighting at Bald Knob, Pine Mountain, Lost Mountain, and at Kenesaw Mountain on June 23, 1864 — all in Georgia.
On July 4, 1864, Private Olson was injured by a fall into a hidden well. He was subsequently sent to the Army of the Cumberland 2nd Division Hospital in Nashville, TN. In August 1864, he was transferred to the Fulton Tolten Hospital in Louisville, KY. On September 23, 1864, Private Olson returned to the 15th, which was then camped near Atlanta, GA, which had fallen to the Union Army in early September. At the beginning of October 1864, the 15th was transported to Chattanooga, TN, where for a week it was assigned to Provost (police) duty. This was followed by several months spent guarding a railroad bridge at Whitesides, TN. Many of the 15th's soldiers considered the time spent at Whitesides to have been their easiest duty in the entire war.
Private Olson was mustered out of Federal service along with most of the other surviving members of Company B on December 2, 1864, at Chattanooga, TN, upon the end of his term of service. At muster out the Army noted that he was due $100 in bounty money. Confederate General Hood's Army had recently cut the railroad between Chattanooga and Nashville, so the men of Company B had to remain in Chattanooga until December 20, 1864, before they could start for home. Upon reaching Wisconsin, the men were paid off and the company formally disbanded.
After the war, Ellen Olson Brager returned to Black Earth, WI, and married Johane M. Pederson on February 14, 1870, in Vermont Township, Dane County, WI. Their children were:  Kari/Carrie (1870-1958), Albert Oswald (1872-1944), Joseph (1874-1939), Clara Sophie (1876-1938), Martha Johane (1878-1959), Peter (1881-1971), Gunborg Anna (1884-1884), Amund (1884-1961), Anna Mathia (1888-1978), and Alvin Oscar (1888-1958). Erland died July 16, 1890, and is buried in Vermont Lutheran Church Cemetery, Vermont Township, Dane County, WI.
Sources:  Civil War Compiled Military Service Records, Office of Adjutant General of the United States (Washington, DC); Det Femtende Regiment Wisconsin Frivillige [The Fifteenth Regiment, Wisconsin Volunteers], Ole A. Buslett, 1894, Decorah, IA;  Regimental Descriptive Rolls, Volume 20, Office of the Adjutant General State of Wisconsin (Madison, Wisconsin, 1885); Roster of Wisconsin Volunteers, War of the Rebellion, 1861-1865, Volume I, Office of the Adjutant General State of Wisconsin (Madison, Wisconsin, 1886); 1900 Census, Roll: 1784, Page: 3A, Enumeration District: 0072, FHL microfilm: 1241784; genealogical data from his great-granddaughter, Ellen Brager Chappell, his great-great-grandson, Mike Thorson, his great-grandniece, Ann Urness Gesme, and from Dee Anna Grimsrud, MLIS, CGRS; "Norwegian Immigrants 1850 and later", database, NAGCNL, #64056, #31116; digitalarkivet.no; ancestry.com; findagrave.com.
When publishing material contained in this website (www.nagcnl.org) you are required to credit Norwegian American Genealogical Center (415 West Main Street, Madison, WI 53703-3116) as the source.