Martin Anderson
15th Wisconsin Volunteer Infantry
The Scandinavian Regiment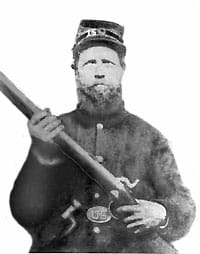 Database Record Change Request
| | |
| --- | --- |
| Name at Enlist | Martin Anderson |
| Birth Name | |
| Lived | 20 Jan 1809 – |
| Birth Place | Gulhaug, Botne, Vestfold |
| Birth Country | Norway |
| Company at Enlistment | D |
| Rank at Enlistment | Private |
| Muster Date | 13 Feb 1862 |
| Mother | Mari Tryggsdatter |
| Father | Anders Olsen |
| Father Lived | ca. 1809- |
| Immigration | ca. 1853 to 1860 |
| Spouse | Karen Marie Jacobsdtr |
| Spouse Lived | 1812- after 1860 |
| Married On | 18 Jan 1835 |
| Marriage Location | Botne, Vestfold fylke, Norway |
Martin Anderson was married and had 4 children, all of whom were born in Botne, Norway, and had an 80 acre farm when he joined the 15th WI. In the 1860 census, he is listed with his family in York, Green County, WI. He was enlisted in Company D on February 11, 1862, at Moscow Township, Iowa County, WI by Captain Charles Campbell for a 3 year term of service. The men of Company D called themselves the "Norway Wolf Hunters." They were also known as the "Waupun Company" because a number of them were residents from that WI town. Martin was mustered into Federal service as a Private (Menig) on February 13, 1862 at Camp Randall near Madison, Dane County, WI. At the time, his residence was recorded as Moscow Township, and his age as 45, though he was actually 52. Martin was one of the oldest men to serve in the regiment.
After only 2 weeks at Camp Randall learning to be a soldier, Private Anderson left there in early March 1862, with his company and regiment to join the war. From then until June 1862, he was listed as "present" with the 15th. As such, he would have participated in the successful siege of Island No. 10 on the Mississippi River in TN, and the surprise raid on Union City, TN, in March and April 1862. He was next listed as "sick at Island No. 10" on June 11, 1862. The next day his company departed the island with 7 other 15th companies, never to return.
According to Buslett's 1894 history of the 15th, Private Anderson "became unfit for service and was discharged" on July 15, 1862, at Island No. 10. It is believed that once back in Wisconsin, he enlisted in C Company of the 33rd WI on August 15, 1862, at Moscow, Iowa County, WI. It is said that he served with the 33rd until August 9, 1865, some 4 months after the war had ended, and then died 3 days after returning home. His wife filed a pension in his name on November 19, 1870.
Sources: Genealogical data from Karen Jeglum Kennedy;Birth record at Vestfold fylke, Botne, Ministerialbok nr. 3/1 (1792-1844), Kronologisk liste 1809, p.90-91; Botne Bygdebok, Første Bind, Gårds- og Slektshistorie, p.302, Sigurd H. Unneberg, 1953; Vestfold fylke, Botne, Ministerialbok nr. 5 (1814-1836), Ekteviede 1835, p.428-429; A History of the Town of Moscow, Ethelyn Thompson and Lucile Lauper, 1976; Det Femtende Regiment, Wisconsin Frivillige [The Fifteenth Regiment, Wisconsin Volunteers], Ole A. Buslett, 1894, B. Anundsen, Decorah, IA, p. 438;  Roster of Wisconsin Volunteers, War of the Rebellion, 1861-1865, Volume I, Office of the Adjutant General State of Wisconsin (Madison, Wisconsin, 1886); Series 1200: Records of Civil War Regiments, 1861-1900, Wisconsin Adjutant General's Office boxes 76-6, 78-3; Nordmaendene i Amerika; Martin Ulvestad, 1907, History Book Co., Minneapolis, MN, p. 268; Civil War Pension Index, Roll #T288_9 .
When publishing material contained in this website (www.nagcnl.org) you are required to credit Norwegian American Genealogical Center (415 West Main Street, Madison, WI 53703-3116) as the source.