Arne Arneson
15th Wisconsin Volunteer Infantry
The Scandinavian Regiment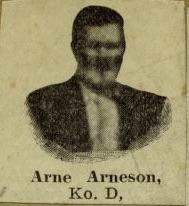 Database Record Change Request
| | |
| --- | --- |
| Name at Enlist | Arne Arneson |
| Birth Name | Arne Arnesen Sesterud |
| Other Names | Grøndalen, Grondal |
| Lived | 28 Dec 1839 – 26 Dec 1902 |
| Birth Place | Sesterudseie, Bagn parish, Sør-Aurdal, Oppland |
| Birth Country | Norway |
| Resident of Muster-In | Mt. Horeb, Dane County, WI |
| Company at Enlistment | D |
| Rank at Enlistment | Private |
| Muster Date | 16 Dec 1861 |
| Death Location | Houston County, MN |
| Burial Location | Saint Peters Cemetery, Houston, Houston County, MN |
| Mother | Margrethe Nielsdatter |
| Mother Lived | 31 May 1809-19 Feb 1860 |
| Father | Arne Arnesen |
| Father Lived | 17 Jan 1814-?15 Oct 1873 |
| Immigration | 1861 |
| Spouse | Gunild Olsdatter Grøndalen (born Røang) |
| Spouse Lived | 31 Dec 1822-2 Sep 1894 |
| Married On | 23 May 1860 |
| Marriage Location | Bagn parish, Sør-Aurdal, Norway |
| 2nd Spouse | Isobel Thompson/Ingeborg ?Throndsdatter |
| 2nd Spouse Lived | ca. 1841-1921 |
| 2nd Marriage Date | ca. 1879 |
| 2nd Marriage Location | ?Iowa |
Arne Arnesen was born Sesterudseie, Bagn parish, Sør-Aurdal, Norway. He married widow Gunild  Olsdatter Grøndalen and left Bagn parish in 1861 with her, her four children, and their son, Anthon (1860-1942).  Shortly after he arrived, he joined the WI 15th Infantry, Company D. The men of the company called themselves the "Norway Wolf Hunters." They were also known as the "Waupun Company" because so many of its members were from Waupun.
The army listed Arneson as living in Mt. Horeb, WI, age 22, and married. He enlisted for three years on December 15, 1861, at Mt. Horeb, and mustered at Madison, WI, on December 16, 1861, as a Private (Menig). He was wounded at Stones River, TN, taken prisoner, and later exchanged. He was sick in Chattanooga, TN, on November 28, 1863, and sick in Nashville, TN, on June 15, 1864. He mustered out with the company on February 13, 1865 at Chattanooga, TN.
After the war, Arneson and Gunhild had another child, John Gilbert (1866-1916).  By 1875 Gunhild and Arne had separated.  Anton and John Gilbert used Grøndahl or a variation as a last name.  Arne married Ingeborg, a widow with three children.  They lived in Hancock Co, IA, and then Houston Co, MN. Together she and Arne had at least four children:   Albert Martin (1879-1909), Marthe Marie/Mary (1880-1902), Theodor (1882-1904), and Anna Isabelle (1884-1887). He died on December 26, 1902 and is buried in Saint Peters Cemetery, Houston, Houston County, MN, with Ingebor and several of their children.
Sources: Series 1200: Records of Civil War Regiments, 1861-1900, Wisconsin Adjutant General's Office, Wisconsin Historical Society, Madison,  boxes 76-6, 78-3; Det Femtende Regiment, Wisconsin Frivillige [The Fifteenth Regiment, Wisconsin Volunteers], Ole A. Buslett, 1894, B. Anundsen, Decorah, IA, p. 438; Oberst Heg og hans gutter, Waldemar Ager, 1916, Fremad Publ. Co., Eau Claire, WI, pp. 277, 300; List of Ex-Soldiers, Sailors and Marines, Living in Iowa, William L. Alexander, 1886, Des Moines, IA, p. 705; Civil War Pension Index, Roll #T288_12; ancestry.com; findagrave.com; digitalarkivet.no; "Norwegian Immigrants 1850 and later", database, NAGCNL, #64063.
When publishing material contained in this website (www.nagcnl.org) you are required to credit Norwegian American Genealogical Center (415 West Main Street, Madison, WI 53703-3116) as the source.