John Heyer
15th Wisconsin Volunteer Infantry
The Scandinavian Regiment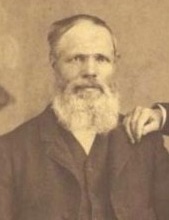 Database Record Change Request
| | |
| --- | --- |
| Name at Enlist | John Heyer |
| Birth Name | Johannes Halvorsen Medheyen |
| Other Names | Johannes Halvorson Heyer; Hyar; Hyer; Hoyer |
| Lived | 20 Sep 1827 – 6 Feb 1913 |
| Birth Place | Sandsvaer |
| Birth Country | Norway |
| Resident of Muster-In | Strong Prairie, Adams County, WI |
| Company at Enlistment | D |
| Rank at Enlistment | Private |
| Muster Date | 8 Dec 1861 |
| Burial Location | West Arkdale Cemetery, Arkdale, Adams, WI |
| Mother | Berte Marie Pedersdatter |
| Father | Halvor Johanneson Heia |
| Immigration | 7 Aug 1850 |
| Spouse | Karen |
| 2nd Spouse | Sunneva (Susan) Lassedtr |
| 2nd Spouse Lived | 16 Dec 1826- 11 Dec 1907 |
| 2nd Marriage Date | 11 Dec 1861 |
| 2nd Marriage Location | Arkdale, Strongs Prairie, Adams, WI |
John Heyer was born on September 20, 1827 in Norway to Halvor Johanneson Heia and Berte Marie Pedersdatter. He immigrated about 1850 to WI. He first married a woman named Karen and had at least 1 child named Inger Marie (Mary) in 1854. Inger was born in Milwaukee. The family soon resettled to Adams County, WI.
After Karen died, Heyer married a second time to Sunneva (Susan) Lassedtr. They married on December 11, 1861 in Arkdale, Strongs Prairie, Adams County, WI.
When the war started, Heyer was enlisted in Company D of the 15th WI by Captain Charles Campbell on October 28, 1861. The company called itself the "Norway Wolf Hunters," but was also called the "Waupun Company" because so many of its members were from Waupun. On December 8, 1861, John was mustered into Federal service at the rank of Private (Menig) for a 3-year term of service at Camp Randall near Madison, Dane County, WI. At the time the Army recorded him as being 34 years old and married. His residence was listed as Strong Prairie, WI.
On January 1, 1862, Private Heyer was appointed to the rank of Corporal (Korporal) in Company D. On January 14, 1862, the men of the company were issued Belgium rifle muskets. After nearly 3 months spent learning to be a soldier at Camp Randall, Corporal Heyer departed for the war with his company and regiment on March 2, 1862. He was then listed as being "present" with Company D during the time it participated in the Siege of Island No. 10, TN, and the Raid on Union City, TN in the spring of 1862.
Corporal Heyer was also listed as "present" during the long, hot summer campaign through TN, MS, and AL, including the grueling 400-mile retreat up to Louisville, KY with the army of U.S. Major General Don Carlos Buell in August and September. Corporal Heyer was also listed as "present" at the October 8, 1862 fighting at Perryville, Boyle County, KY, which was also called the Battle of Chaplin Hills. While this was the 15th's first big battle, it emerged without any fatalities.
On December 26, 1862, Corporal Heyer participated in the 15th's desperate charge upon a Confederate artillery battery at Knob Gap, TN, just south of Nashville. There the 15th captured a brass cannon. He then fought at the long, cold, wet, and bloody Battle of Stone River, TN, also called the Battle of Murfreesboro, on December 30-31, 1862. It is there that the 15th first suffered serious battle casualties, and was cited for bravery.
The 15th camped in the Murfreesboro area for the next 6 months, except for 2 weeks in February when it was sent to Franklin, Williamson County, TN. Starting June 23, 1863, the regiment took part in U.S. Major General William S. Rosecrans' Tullahoma campaign. On July 3, 1863, it went into camp at Winchester, Franklin County, TN for 6 weeks.
On August 17, 1863, the 15th left there to participate in General Rosecrans' Chickamauga campaign. Corporal Heyer was "present" at the daring early morning crossing of the Tennessee River on August 28th, which the 15th led. He was also present at the September 19-20, 1863 fighting at Chickamauga, GA — the second bloodiest battle of the Civil War. He survived the vicious fighting around Viniard's Farm on the first afternoon, as well as the near capture of the regiment around midday on the 20th during Longstreet's Breakthrough. Some 63% of the 15th's soldiers who were at Chickamauga were killed, wounded, or taken prisoner.
Corporal Heyer then served with the regiment during the Confederate siege of Chattanooga, TN, which began right after the battle. The siege resulted in severe shortages of medicine, food, and firewood which, together with cold, wet weather, caused much suffering, sickness, and death. The Confederate siege was finally broken by the Union Army's victorious charge up Mission Ridge on November 25, 1863, which the 15th took part in. Corporal Heyer was listed as being "absent sick" at Chattanooga, TN starting November 28, 1863.
Starting right after Mission Ridge, the 15th was engaged in almost non-stop marching and counter-marching all over Eastern TN throughout the winter of 1863/1864. By many original accounts, this was the worst period of the regiment's 3-year term of service. Poor rations, inadequate clothing and shelter, and unseasonably cold weather made these months nearly unbearable. Corporal Heyer's absence due to illness was relatively brief, and he ended up sharing much of these miserable months with his surviving comrades.
On February 1, 1863, Corporal Heyer and some of the other 15th soldiers were transferred to the 68th Indiana Infantry Regiment. Those transferred had declined to re-enlist and thereby extend their service commitment from 3 years to "for the duration of the war." The 15th's soldiers who agreed to re-enlist were to be sent home on a 30-day veterans furlough, but the Army kept delaying their departure and finally cancelled it altogether, at which point the soldiers almost as one decided to cancel their plans to re-enlist. When this happened Corporal Heyer and the other 15th soldiers were transferred back to the 15th on April 2, 1863, by order of the War Department.
Starting in May 1864, the 15th participated in the famous campaign of U.S. Major General William T. Sherman campaign to capture Atlanta, GA. This campaign was marked by almost daily marching and/or combat for 4 months. The 15th took part in the fighting at Rocky Face Ridge, GA in early May; at the bloody Battle of Resaca, GA on May 14-15; and at the disastrous Battle of Pickett's Mill (often called Dallas or New Hope Church), GA, on May 27, 1864. There the 15th suffered 50% casualties, including Corporal Heyer was "slightly wounded in head."
The 15th also took part in the fighting at Kenesaw Mountain, GA, on June 23; before Atlanta on July 22; at Jonesboro, GA on September 1; and at Lovejoy Station, GA on September 4, 1864. After a rest following the capture of Atlanta in early September 1864, the 15th was briefly assigned to Provost (police) duty in Chattanooga in early October. This was followed by several months of guarding a railroad bridge at Whitesides, TN, near Chattanooga. Some of the 15th's soldiers felt that this was the easiest duty of their war service.
Corporal Heyer recovered from his wound in time to be mustered out of Federal service with most of the rest of the survivors of Company D on February 13, 1865, at Chattanooga, TN, upon the expiration of his 3-year term of service. He and his surviving comrades were sent back to WI by railroad train, paid off, and released to their homes.
After the war, Heyer returned to Strongs Prairie, WI. Along with raising Inger, the couple had at least five children together, including: Karen Louise (1865), Brodef (1866), Bertha Helene (1868), Lars Henrick (1870), and Johan Sylvester (1872). Susan died in 1907 and John in 1913. Both are buried in West Arkdale Cemetery, Arkdale, Adams, WI. A gravestone marks his service in WI 15th.
Sources: Det Femtende Regiment, Wisconsin Frivillige [The Fifteenth Regiment, Wisconsin Volunteers], Ole A. Buslett (Decorah, Iowa, 1894); Civil War Compiled Military Service Records, Office of Adjutant General of the United States (Washington, DC); Regimental Descriptive Rolls, Volume 20, Office of the Adjutant General State of Wisconsin (Madison, Wisconsin, 1885); findagrave.com; "The Orwolls: Sylfest L. Orwoll Branch," by O.M. Hackett, Arlington, VA, 1994; 1870 Census, Roll: M593_1703, Page: 87B, Image: 161, Family History Library Film: 553202; 1900 Census, Roll: 1777, Page: 4A, Enumeration District: 0009, FHL microfilm: 1241777; 1890 Veterans Schedules, Roll: 114, Page: 1, Enumeration District: 14; Norwegian Immigrants to the United States. A Biographical Directory, 1825-1850. Volume Five 1850, Blaine Hedberg and Gerhard B. Naeseth, 2004, Anundsen Publishing Co., Decorah, IA, p. 150, ID 1716.
When publishing material contained in this website (www.nagcnl.org) you are required to credit Norwegian American Genealogical Center (415 West Main Street, Madison, WI 53703-3116) as the source.