Peder Helgeson
15th Wisconsin Volunteer Infantry
The Scandinavian Regiment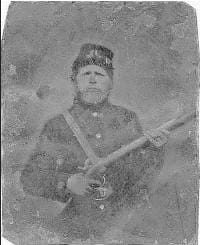 Database Record Change Request
| | |
| --- | --- |
| Name at Enlist | Peder Helgeson |
| Birth Name | Peder Helgesen Harestad |
| Other Names | Peter Helgsen, Peder H. Harestad |
| Lived | Apr 1815 – 05 or 07 Jun 1871 |
| Birth Place | Skjold Parish, Haugesund, Rogaland |
| Birth Country | Norway |
| Resident of Muster-In | Freeborn County, MN |
| Company at Enlistment | K |
| Rank at Enlistment | Private |
| Muster Date | 11 Feb 1862 |
| Cause of Death | Consumption |
| Death Location | Riceland Township, Freeborn County, MN |
| Burial Location | East Freeborn Lutheran Cemetery, Freeborn County, MN |
| Mother | Alberta |
| Father | Helge Helgeson |
| Immigration | 1850 |
| Spouse | Olive Thomasdter (Olena Thompson) |
| Married On | 07 Nov 1854 |
| Marriage Location | Decorah, Winneshiek County, IA |
Peder Helgeson Harestad was enlisted under the name Peder Helgeson by Captain Claus L. Clausen. Peder was mustered into Federal service at the rank of Private (Menig) on February 11, 1862 at Camp Randall near Madison, WI. At the time he was 44 years old and married. His residence was listed as Freeborn County, MN.
After less than a month at Camp Randall learning to be a soldier, Private Helgeson left there on March 2, 1862 with his company and regiment to join the war. He was recorded as being "present" with the 15th in March and April when it was involved in the siege of Island No. 10 on the Mississippi River in TN, and the raid on Union City, TN. About this time he wrote a letter home to his wife that contained the following description of the accidental death of a fellow soldier at Island No. 10:
"…somebody had come into the fortification. [The sentry] …called to him 2 times but got no answer — as was his duty, shot him and the bullet hit him good. It went through the left side of the chest close to the heart and out again below the shoulder. The wound was fatal. He died after 5 hours. The same evening was buried with military honor. The unfortunate man was Hendrik Eriksen — from Avrdals Parish in Valdres. He had enlisted of his own free will."
That summer Private Helgeson was listed as "absent sick in hospital at Island No. 10 since June 3, '62." For July and August 1862, he is recorded as "absent sick since June 12, '62." He is next listed as entering a Union Army hospital at Columbus, KY on August 5, 1862, and being present there on October 1, 1862.
Private Peder Helgeson was honorably discharged from the Army due to disability on October 16, 1862 at Columbus, KY. His discharge certificate states that he had blue eyes, sandy colored hair, a light complexion, stood 5 feet 4 inches tall, and was a farmer. Apparently the 15th did not receive official notice of Helgeson's discharge, because it listed him as a deserter starting March 31, 1863. The mistake was finally corrected in November 1864.
After being discharged, Peder returned to Freeborn County where his wife was living with their 3 children: Helga Pederson (later Mrs. A. Christopherson), Thomas Pederson, and Charles (Carl) Pederson. Peder passed away at age 56. According to pension documents filed by his widow, Peder Helgeson had contracted "Chronic Rheumatism at Island No. 10" and "consumption…by reason of being exposed and taking cold from such exposure" and had never fully regained his health. His death is officially attributed to consumption. His widow later married Jacob Olson, a widower who had served together with Peder in Company K.
Sources: Det Femtende Regiment, Wisconsin Frivillige [The Fifteenth Regiment, Wisconsin Volunteers], Ole A. Buslett (Decorah, Iowa, 1894); Civil War Compiled Military Service Records, Office of Adjutant General of the United States (Washington, DC); Regimental Descriptive Rolls, Volume 20, Office of the Adjutant General State of Wisconsin (Madison, Wisconsin, 1885); Roster of Wisconsin Volunteers, War of the Rebellion, 1861-1865, Volume 1, Office of the Adjutant General State of Wisconsin (Madison, Wisconsin, 1886); Genealogical information provided by Peder's great great granddaughter Connie Julien.
When publishing material contained in this website (www.nagcnl.org) you are required to credit Norwegian American Genealogical Center (415 West Main Street, Madison, WI 53703-3116) as the source.