Henry Hauff
15th Wisconsin Volunteer Infantry
The Scandinavian Regiment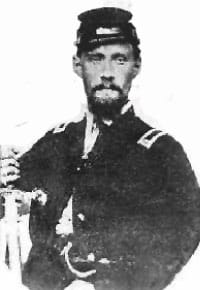 Database Record Change Request
| | |
| --- | --- |
| Name at Enlist | Henry Hauff |
| Birth Name | Henry Nicolay Hauff |
| Other Names | Henrik Nikolai Hauff |
| Lived | 10 Oct 1836 – 19 Sep 1863 |
| Birth Place | Sandefjord |
| Birth Country | Norway |
| Resident of Muster-In | Stoughton, Dane County, WI |
| Company at Enlistment | G |
| 2nd Company | E |
| Rank at Enlistment | Lieutenant |
| Muster Date | 20 Oct 1861 |
| Cause of Death | Killed in action |
| Death Location | Chickamauga, GA |
| Burial Location | Chickamauga battlefield in an unmarked grave |
| Mother | Marie Petrine Hedwig Pettersen |
| Mother Lived | 1801- 1884 |
| Father | Niels Frederik Hauff |
| Father Lived | 1803- 1887 |
| Immigration | 1858 |
Henrik Nikolai Hauff worked as a salesman and bookkeeper in a railroad freight office in Kristiania (now Oslo), Norway, before coming to America with his friends George Wilson and Samuel Thodberg. After arriving he worked as a hardware store clerk in Madison, Dane County, WI. In December 1859, Hauff took a trip down the Mississippi River with Wilson and Thodberg to New Orleans, and then traveled west to TX. The 1860 census lists Hauff as a 24 year old watch maker living in the household of Soren Kolstad who was also a watch maker from Norway. At the time, they were living in Palestine, Anderson County, TX. Hauff and Wilson left for Chicago before the Civil War started, but Thodberg stayed in TX. After several months working in Chicago, Hauff and Wilson returned to Madison, where Hauff found work as a bookkeeper in Stoughton, Dane County, WI.
On October 20, 1861, Henry Nicolay Hauff enlisted for a 3 year term of service in Company G of the 15th WI. The men of the company called themselves the"Rock River Rangers" after a river that flows through the counties that many of them were residents of. At the time Hauff was listed as being 25 years old and not married. His residence was recorded as Stoughton, Dane County, WI.
Based on a vote by company members, and with the recommendation of the 15th's commander, Colonel George Wilson as the 2nd Lieutenant (third-in-command) of Company B. Samuel Thodberg ended up serving in the Confederate Army.
On January 14, 1862, the men of Company G were issued Belgian rifled muskets. After about 2 months at Camp Randall learning to be an officer and getting his men trained, Lieutenant Hauff left there on March 2, 1862, with his company and regiment to join the war. He is believed to have participated in the successful siege of Island No. 10 on the Mississippi River in TN, and the surprise raid on Union City, TN, in March and April 1862. At Colonel Heg's recommendation, Lieutenant Hauff was appointed as acting Adjutant of the 15th WI on May 3, 1862.
That summer he would have been with the 15th on campaign through TN, MS, and AL. In August and September he would have participated in the grueling 400-mile retreat with General Buell up to Louisville, KY, with the last 2 weeks being on half rations and short of water. In a September 2, 1862, letter by Colonel Heg noted that he, Acting Adjutant Hauff, Lieutenant Colonel Selah Mathews had formed a mess (a group of soldiers who cooked and ate together) and had hired "a good negro woman for cook."
On October 1, 1862, Acting Adjutant Hauff was commissioned as the Adjutant of the 15th by the Governor of WI. He was then present at the October 8, 1862, fighting at Perryville, Boyle County, KY, which is also called the Battle of Chaplin Hills. While this was the 15th's first big battle, it emerged without any fatalities. In a December 11, 1862, letter written near Nashville, TN, Colonel Heg mentioned that Adjutant Hauff and Selah Mathews (now the regiment's Quartermaster) were tentmates.
On December 26, 1862, he would have participated in the 15th's desperate charge upon a Confederate artillery battery at Knob Gap, TN, just south of Nashville. There the 15th captured a brass cannon. He would have also fought at the long, cold, wet, and bloody Battle of Stone River, TN, also called the Battle of Murfreesboro, on December 30-31, 1862. It is there that the 15th first suffered serious battle casualties, and was cited for bravery. In his official after action report, Colonel Heg wrote that Adjutant Hauff was 1 of several officers who…
"…displayed more than ordinary courage and bravery, and deserve to be remembered"
The 15th camped in the Murfreesboro area for the next 6 months, except for 2 weeks in February when it was sent to Franklin, TN. On May 8, 1863, Adjutant Hauff was commissioned as the new Captain (commander) of Company E by the Governor at the recommendation of Colonel Heg. On that same date he was appointed Acting Assistant Adjutant-General (AAAG) of the 3rd Brigade, 1st Division, 20th Army Corps (Army of the Cumberland) when Colonel Heg was given command of that newly formed brigade. It is said that Captain Hauff had a powerful voice which could be heard across the entire brigade. Captain Hauff worked closely with several other 15th soldiers who Colonel Heg had elevated to brigade positions, including: Captain Thor P. Sloan serving as Brigade Headquarters Clerk.
Starting June 23, 1863, Heg's brigade (with the 15th) took part in General Rosecrans' Tullahoma campaign. In a June 29, 1863, letter to his wife, Colonel Heg wrote about the qualifications of various officers to someday command the 15th, saying "My Adjutant, Capt. Hauff, is a splindid man for that post…" On July 3, 1863, the brigade went into camp at Winchester, Franklin County, TN, for 6 weeks.
On August 17, 1863, Heg's Brigade left Winchester to participate in General Rosecrans' Chickamauga campaign. Captain Hauff is believed to have been present at the daring early morning crossing of the Tennessee River on August 28th, which the brigade led. He was also present at the September 19-20, 1863, fighting at Chickamauga, GA — the second bloodiest battle of the Civil War. Some 63% of the 15th's soldiers who were at Chickamauga were killed, wounded, or taken prisoner.
There, during the vicious fighting around Viniard's Farm on the afternoon of the 19th, Captain Hauff was killed in action in front of the Confederate 4th TX Volunteer Infantry Regiment. His "beautifully mounted and engraved sword" was recovered by John West, a soldier in E Company of the 4th, who later described Hauff as "a gallant Wisconsin officer." Buslett's 1895 history of the 15th WI includes this assessment of Henry Hauff:
"He was a clever soldier and would have gone far if he had lived."
Sources: Slægten Hauff 1648-1908, Johannes K. Bergwitz (1908); The Civil War Letters of Colonel Hans Christian Heg, edited by Theodore C. Blegen (Northfield, Minnesota, 1936); A Texan in Search of a Fight, John C. West (Waco, Texas, 1901); Det Femtende Regiment, Wisconsin Frivillige [The Fifteenth Regiment, Wisconsin Volunteers], Ole A. Buslett (Decorah, Iowa, 1894); Regimental Descriptive Rolls, Volume 20, Office of the Adjutant General State of Wisconsin (Madison, Wisconsin, 1885); Roster of Wisconsin Volunteers, War of the Rebellion, 1861-1865, Volume 1, Office of the Adjutant General State of Wisconsin (Madison, Wisconsin, 1886); Genealogical data provided by Derwood Johnson, from Dee Anna Grimsrud, MLIS, CGRS, and from Tove D. Johansen.
When publishing material contained in this website (www.nagcnl.org) you are required to credit Norwegian American Genealogical Center (415 West Main Street, Madison, WI 53703-3116) as the source.