Lewis G. Nelson
15th Wisconsin Volunteer Infantry
The Scandinavian Regiment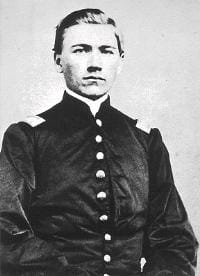 Database Record Change Request
| | |
| --- | --- |
| Name at Enlist | Lewis G. Nelson |
| Birth Name | Lars Gundersen Noas |
| Other Names | Lars Gunnarsen Naas |
| Lived | 09 May 1841 – 21 Aug 1906 |
| Birth Place | Drangedal, near Kragerø, Telemark |
| Birth Country | Norway |
| Resident of Muster-In | Oconomowoc, Waukesha County, WI |
| Company at Enlistment | D |
| Rank at Enlistment | Private |
| Muster Date | 8 Dec 1861 |
| Cause of Death | heart disease |
| Death Location | Owatonna, Steele County, MN |
| Burial Location | Maple Grove Cemetery, Kasson, Dodge County, MN |
| Mother | Asborg Oline Tykesdotter |
| Mother Lived | 1819-1912 |
| Father | Gunnar Nilsson Naas |
| Father Lived | 1802-1872 |
| Immigration | 1845 |
| Spouse | Mary Ellen (Nellie) See |
| Spouse Lived | 1852-1884 |
| Married On | Dec 1870 |
| Marriage Location | Kasson, Dodge County, MN |
| 2nd Spouse | Hattie Eliza Barlow |
| 2nd Spouse Lived | 1851-1888 |
| 2nd Marriage Date | 27 Oct 1886 |
| 3rd Spouse | Etta (Esther) M. Dibble |
| 3rd Spouse Lived | 1859-1939 |
When Lars and his family came to America they settled on a farm near Oconomowoc in Waukesha County, WI. Lars farmed, went to common school, and worked as a store clerk there until he joined the 15th WI. He was enlisted at Oconomowoc as Lewis G. Nelson in Company D of the 15th by Captain Charles Campbell for a 3-year term of service on October 30, 1861. The men of the company called themselves the "Norway Wolf Hunters." They were also known as the "Waupun Company" because so many of its members were from Waupun.
Lars was mustered into Federal service at the rank of Private (Menig) on December 8, 1861, at Camp Randall near Madison, Dane County, WI. At the time the Army recorded him as being a 20 year old unmarried resident of Oconomowoc. On January 1, 1862, Lars was appointed to the rank of "1st Sergeant" (Oversersjant) of Company D. This was the highest non-commissioned officer (NCO) rank in a Civil War company. The 1st Sergeant was responsible for running the company for its officers, which were at that time: Captain Campbell, its commander; 1st Lieutenant Christian E. Tandberg, third in command.
After almost 3 months at Camp Randall learning to be a soldier, 1st Sergeant Nelson left there on March 2, 1862, with his company and regiment to join the war. He is believed to have participated in the successful siege of Island No. 10 on the Mississippi River in Tennessee and the surprise raid on Union City, TN, in March and April 1862. He must have done well as 1st Sergeant because he was commissioned as "1st Lieutenant" (Premiérløytnant) of Company D by the Governor of Wiconsin on April 30, 1862, to rank from April 20, 1862. This was a double jump in rank. 1st Lieutenant Nelson was officially mustered into the army at that rank on his 21st birthday. He filled the vacancy created when 1st Lieutenant Skofstad was promoted to replace Captain Campbell who had resigned his commission and returned home.
On June 11, 1862, Company D was one of 8 of the regiment's 10 companies that boarded steamboats and sailed away from Island No. 10 to take part in the Army's summer campaign through Tennessee, Mississippi, and Alabama. In August and September Lieutenant Nelson participated in the grueling 400-mile forced march retreat with U.S. Major General Don Carlos Buell from Iuka, MS, up to Louisville, KY, with the last 2 weeks being on half rations and with very little drinking water.
Lieutenant Nelson would have been present at the October 8, 1862, fighting Perryville, Boyle County, KY, which is also called the Battle of Chaplin Hills. This was the 15th's first big battle, but it emerged without any fatalities. Starting in November 1862, Lieutenant Nelson was assigned to served as the 15th's Acting Quartermaster. As a result he is believed to have been with an Army supply wagon train in Nashville, TN, during the nearby December 30-31, 1862 Battle of Stones River, which was also called the Battle of Murfreesboro. It was there that the 15th first suffered serious battle casualties, and was cited for bravery.
The 15th camped in the Murfreesboro area for the next 6 months, except for 2 weeks in February when it was sent to Franklin, Williamson County, TN. The following is from Buslett's 1894 history of the 15th and describes something that resulted from the fighting at Stones River:
"After the battle General Rosecrans issued an order to the various regiments' commanders to submit to headquarters a list of one sergeant, two corporals and four or five privates in each company (altogether no more than six from each company), who had shown the greatest courage and ability during the battle. These would be entered on the Roll of Honor."
At the recommendation of the 15th commander, Colonel Hans C. Heg, and with the approval of U.S. Major General William S. Rosecrans, the men submitted were entered on the Roll of Honor for the 2nd Brigade, 1st Division, 20th Army Corps (Army of the Cumberland). Lieutenant Nelson was selected for the honor of commanding the 15th's special, one-time, roll-of-honor company of these men. This took place in early April 1863, after his return to duty with Company D the previous month.
Starting May 1, 1863, Lieutenant Nelson was appointed as the Acting Adjutant of 15th WI. This left Company D in command of 2nd Lieutenant Nels G. Tufte. Nelson was formally appointed as the Adjutant by the Governor of Wisconsin on June 3, 1863, at Murfreesboro, TN, to rank from May 27, 1863. Starting June 23, 1863, the regiment took part in the Tullahoma campaign led by U.S. Major General William S. Rosecrans. On July 3, 1863, the 15th went into camp at Winchester, Franklin County, TN, for 6 weeks.
On August 17, 1863, the 15th left Winchester to participate in what later became know as General Rosecrans' Chickamauga campaign. Adjutant Nelson is believed to have been present at the daring early morning crossing of the Tennessee River on August 28th, which the 15th led. He was present at the September 19-20, 1863, fighting at Chickamauga, GA — the second bloodiest battle of the war. There he was wounded in action during the vicious fighting near Viniard's Farm on the afternoon of the 19th. Some 63% of the 15th's soldiers who were at Chickamauga were killed, wounded, or taken prisoner, including every single one of its field officers.
Adjutant Nelson is believed to have been evacuated to an Army hospital in Chattanooga, TN, just before the Confederates laid siege to that city shortly after the battle. The siege resulted in severe shortages of medicine, food, and firewood which, together with cold, wet weather, caused much suffering, sickness, and death. Beginning October 23, 1863, Adjutant Nelson was granted a leave of absence to go home to Wisconsin to recover from his wounds.
While he was absent the 15th fought at Mission Ridge, which broke the siege and sent the Confederate Army into headlong retreat. The regiment was then engaged in almost non-stop marching and counter-marching all over eastern Tennessee throughout the winter of 1863/1864. By many original accounts, this was the worst period of the regiment's 3-year term of service. Poor rations, inadequate clothing and shelter, and unseasonably cold weather made these months nearly unbearable. Adjutant Nelson rejoined the 15th at some point during this period.
Starting in May 1864, the 15th participated in the famous Atlanta campaign led by U.S. Major General William T. Sherman which involved almost daily marching and/or combat for 4 months straight. The 15th's part in the campaign included fighting at Rocky Face Ridge, GA, in early May; the bloody Battle of Resaca, GA, on May 14-15; and the disastrous Battle of Pickett's Mill (often called Dallas or New Hope Church), GA, on May 27, 1864. There the 15th suffered 50% casualties, including 29 soldiers who were captured. Most of them ended up dying of malnutrition-related disease in the infamous Confederate prison camp at Andersonville, GA. The 15th also took part in the fighting at Kenesaw Mountain, GA, on June 23, and before Atlanta, GA, on July 22, 1864.
At the recommendation of the 15th's then commanding officer, Lieutenant Colonel Ole C. Johnson, Adjutant Nelson was commissioned on August 31, 1864, as the "Captain" (Kaptein) of Company D by the Governor of Wisconsin, with rank from the same date. He was then detached from the 15th to serve as the Aide de Camp on Brigade staff starting August 1864. On September 8, 1864, the Atlanta campaign ended when the city was occupied by Sherman's Army. Adjutant Nelson was then mustered in as Captain on September 23, 1864, at Atlanta, to date from September 15, 1864 (later amended to date from August 31).
After a rest following the capture of Atlanta, the 15th was briefly assigned to Provost (police) duty in Chattanooga in early October and Captain Nelson was put on special duty as Acting Post Provost Marshal for the city. The 15th proved ill-suited to police duty, so it was assigned to guard a railroad bridge at Whitesides, TN, a few miles outside of Chattanooga. Some of the 15th's soldiers felt that this was the easiest duty of their entire war service.
Captain Nelson was back with Company D on February 13, 1865, when most of its surviving members were mustered out of Federal service at Chattanooga upon the expiration of their 3-year terms of service. Captain Nelson mustered out with them.
After the war, Lars moved to Albert Lea, Freeborn County, MN, and then to Kasson, Dodge County, MN. There he opened a general store, a business that he pursued for many years. He also served various terms as the local postmaster, town clerk, village councilor, president of the council, president of the school board, and register of deeds. Lars was elected to a term in the Minnesota House of Representatives, and in 1880 was elected as a Republican presidential elector. He was raised in the Lutheran Church, but later attended the Episcopal Church. Lars was a member of the International Order of Odd Fellows (IOOF) and the Burnside Post of the Grand Army of the Republic (GAR).
Lars was married 3 times. His first wife bore him 2 children: Claude, born August 1, 1872 (died 11 days later); and Nora Lillian, born December 14, 1874. After his wife's death due to "consumption," Lars remarried. His second wife bore him a single child: Lewis B., born July 6, 1887 (died 4 weeks later), before herself passing away 1 year later. Lar's third wife bore him 2 children: Arthur B., born June 6, 1891 (died 2 months later); and Laura Irene, born March 7, 1893.
In 1901, Lewis Nelson was living at 214 East Mill Street in Owatonna, MN. It was there 5 years later that he passed away at age 65 of "heart disease." He was survived by his mother, his wife, and his 2 daughters. The following was in his obituary in the Dodge County Star Republican newspaper:
"Captain Nelson was amongst the most highly esteemed of our leading citizens. During his residence in Owatonna he took an active part in all matters pertaining to the welfare of the city, and his attitude was always public-spirited. His voice was one listened to with respect and his council had weight with our people. Personally he was of a most kindly disposition. As a business man he was upright and reliable. His qualities throughout were sterling, and his death is a great loss to the community and to his country."
Sources:  Det Femtende Regiment, Wisconsin Frivillige [The Fifteenth Regiment, Wisconsin Volunteers], Ole A. Buslett (Decorah, Iowa, 1894); Oberst Heg og hans gutter [Colonel Heg and His Boys], Waldemar Ager (Eau Claire, Wisconsin, 1916); Regimental Descriptive Rolls, Volume 20, Office of the Adjutant General State of Wisconsin (Madison, Wisconsin, 1885); Roster of Wisconsin Volunteers, War of the Rebellion, 1861-1865, Volume 1, Office of the Adjutant General State of Wisconsin (Madison, Wisconsin, 1886); Norwegian Immigrants to the United States. A Biographical Directory, 1825-1850. Volume Two 1844-1846, Gerhard B. Naeseth, 1997, Anundsen Publishing Co., Decorah, IA, pp. 177, 178, IDs 1208-1214; genealogical data from Mike Oiseth and Tove D. Johansen, Dick Lorenz, and Idella M. Conwell of the Dodge County Historical Society; Dodge County Star Republican (Kasson, Minnesota, August 23, 1906); Drangedal bygdebok (1924); History of Winona, Olmsted, and Dodge Counties (Chicago, IL, 1884).
When publishing material contained in this website (www.nagcnl.org) you are required to credit Norwegian American Genealogical Center (415 West Main Street, Madison, WI 53703-3116) as the source.