Ole Lenvig
15th Wisconsin Volunteer Infantry
The Scandinavian Regiment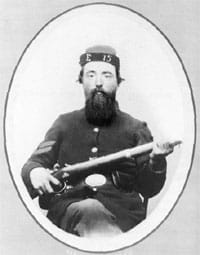 Database Record Change Request
| | |
| --- | --- |
| Name at Enlist | Ole Lenvig |
| Birth Name | Ole Petersen Lenvig |
| Other Names | Lemvig |
| Lived | 16 Apr 1829 – 27 May 1864 |
| Birth Place | Lenvig, Hafslo, Sogn og Fjordane fylke |
| Birth Country | Norway |
| Resident of Muster-In | Rushford, Fillmore County, MN |
| Company at Enlistment | E |
| Rank at Enlistment | Private |
| Muster Date | 20 Dec 1861 |
| Cause of Death | Killed in action |
| Death Location | Pickett's Mill, GA |
| Burial Location | Section A, Grave 855, Marietta National Cemetery, Marietta, GA |
| Mother | Marthe Johnsdatter |
| Father | Peder Olsen |
| Immigration | 19 Apr 1847 |
| Spouse | Ingeborg Gunleiksdatter Bringa |
| Spouse Lived | 5 Jun 1826-1 Aug 1901 |
| Married On | 02 Aug 1852 |
| Marriage Location | Dane County, WI |
Ole Lenvig was enlisted for a 3-year term of service in Company E of the 15th WI by Captain John Ingmundsen. Ole's half brother, Hans Lenvig enlisted in the same company. Ole was mustered into Federal service as a Private (Menig) on December 20, 1861 at Camp Randall near Madison, Dane County, WI. At the time he was 32 years old and was listed as not being married (in actuality, he was married to Ingeborg "Amy" and had 2 young daughters). The army recorded him as being 5 feet 6 inches tall with a light complexion, blue eyes, and dark hair. Ole worked as a shoemaker and his residence was listed as Rushford, Fillmore County, MN.
On January 1, 1862, Private Lenvig was appointed as a Corporal (Korporal) in Company E. After several months at Camp Randall learning to be a soldier, Corporal Lenvig left there in early March 1862 with his company and regiment to join the war. From then until October 1863, he was recorded as "present." As such he would have been at the successful siege of Island No. 10 on the Mississippi River in TN and the surprise raid on Union City, TN in March and April 1862. That summer, he would have been on the campaign through TN, MS, and AL. In August and September 1862, he would have been on the grueling 400-mile retreat with General Buell up to Louisville, KY, with the last 2 weeks being on half rations and short of water. He would have been present at the October 8, 1862 Battle of Perryville, KY, which is also called the Battle of Chaplin Hills. In late December he would have participated in the 15th's desperate charge upon a Confederate artillery battery at Knob Gap, TN, just south of Nashville. There the 15th captured a brass cannon. He would have also fought at the long, cold, wet, and bloody Battle of Stone River, TN, also called the Battle of Murfreesboro, at the end of December 1862. It is there that the 15th first suffered serious battle casualties and was cited for bravery.
On March 1, 1863, Corporal Lenvig was appointed as a Sergeant (Sersjant) in Company E. In August and September 1863, he would have participated in General Rosecrans' Chickamauga campaign, including the daring early morning crossing of the Tennessee River on August 28th, which the 15th led. Sergeant Lenvig was present with Company E at the September 19-20, 1863 Battle of Chickamauga, GA — the second bloodiest battle of the Civil War. He survived the vicious fighting around Viniard's Farm on the first afternoon, as well as the near capture of the regiment around midday on the 20th during Longstreet's Breakthrough. Some 63% of the 15th's soldiers who were at Chickamauga were killed, wounded, or taken prisoner. Sergeant Lenvig then served with the regiment during the Confederate siege of Chattanooga, TN, which began right after the battle. The siege caused severe shortages of food and firewood. Starting October 13, 1863, Ole served with the Union supply wagon train from Chattanooga, TN over the mountains to the Army supply base at Stevenson, AL and back again. By all accounts this was a challenging and dangerous assignment. He was back with his unit for November and December 1863 which included the 15th's heroic charge up Mission Ridge which broke the siege and forced the Confederate Army into headlong retreat.
Starting right after Mission Ridge the 15th was engaged in almost non-stop marching and counter-marching all over eastern TN throughout the winter of 1863/1864. By many original accounts, this was the worst period of the regiment's 3-year term of service. Poor rations, inadequate clothing and shelter, and unseasonably cold weather made these months nearly unbearable. Sergeant Lenvig was present at the beginning of General Sherman's famous campaign to capture Atlanta, GA. On May 11, 1864, his half-brother, Private Hans Lenvig, was killed in the successful attack on Rocky Face Ridge, GA. On May 27, 1864, the 15th took part in the disastrous Battle of Pickett's Mill, GA, which is often referred to in the original records as the Battle of Dallas or New Hope Church. There the 15th suffered fearful casualties, one of whom was Sergeant Lenvig. He was "wounded in bowels" and died later that day. His widow, Ingeborg "Amy" died on August 1, 1901 in Rushford, Fillmore County, MN. She is buried in Rushford Lutheran Cemetery.
Sources: Genealogical data from his great grandson, Doug Purdy; Sogn og Fjordane fylke, Hafslo, Ministerialbok nr. A 4 (1821-1834), Fødte og døpte 1829, page 46; Sogn og Fjordane fylke, Hafslo, Ministerialbok nr. A 15 (1836-1852), Utflyttede 1847, page 13; Det Femtende Regiment, Wisconsin Frivillige [The Fifteenth Regiment, Wisconsin Volunteers], Ole A. Buslett (Decorah, Iowa, 1894);  Norwegian Immigrants to the United States. A Biographical Directory, 1825-1850. Volume Three 1847-1848, Gerhard B. Naeseth, 2000, Anundsen Publishing Co., Decorah, IA, p. 57, ID 787 ; Civil War Compiled Military Service Records by Office of Adjutant General of the United States (Washington, DC); Regimental Descriptive Rolls, Volume 20, Office of the Adjutant General State of Wisconsin (Madison, Wisconsin, 1885); findagrave.com; 1900 Census, Roll: 763, Page: 7A, Enumeration District: 0036, FHL microfilm: 1240763.
When publishing material contained in this website (www.nagcnl.org) you are required to credit Norwegian American Genealogical Center (415 West Main Street, Madison, WI 53703-3116) as the source.