Samuel C. Johnson
15th Wisconsin Volunteer Infantry
The Scandinavian Regiment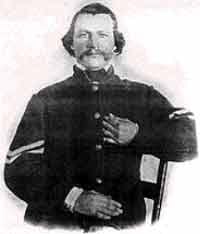 Database Record Change Request
| | |
| --- | --- |
| Name at Enlist | Samuel C. Johnson |
| Birth Name | |
| Lived | 27 May 1828 – 28 May 1878 |
| Birth Place | Smaaland |
| Birth Country | Sweden |
| Resident of Muster-In | Norway, Racine County, WI |
| Company at Enlistment | C |
| Rank at Enlistment | Corporal |
| Muster Date | 07 Feb 1862 |
| Death Location | Blair, Trempealeau County, WI |
| Immigration | late 1850's |
| Spouse | Maren Bruson Tytegraff |
Samuel C. Johnson was born on May 27, 1868 in Sweden. He immigrated to WI in the late 1850s.
Johnson enlisted in Company C of the 15th WI by Captain Fredrick R. Berg. Samuel joined up at Waterford, Racine County, WI on November 5, 1861 for a 3-year term of service. Company C was the regiment's Color Company, but the men called themselves the "Norway Bear Hunters." Samuel was mustered into Federal service as a Private (Menig) on December 2, 1861 at Camp Randall near Madison, Dane County, WI. At the time he was listed as 30 years old and not married. His residence was recorded as Norway, Racine County, WI. However, it is said that he was from Yorkville in Racine County.
On January 14, 1862, the men of the 15th WI were issued Belgian rifled muskets. On February 7, 1862, Private Johnson was appointed as a Corporal in Company C. After several months at Camp Randall learning to be a soldier, Corporal Johnson left there in early March 1862 with his company and regiment to join the war. From then until December 1862, he was listed as "present" with the 15th. As such he would have participated in the successful siege of Island No. 10 on the Mississippi River in TN and the surprise raid on Union City, TN in March and April 1862. That summer he would have been with the 15th on campaign through TN, MS, and AL. In August and September he would have participated in the grueling 400-mile retreat with U.S. Major General Don Carlos Buell up to Louisville, KY, with the last 2 weeks being on half rations and short of water.
Corporal Johnson would have been present at the October 8, 1862 fighting at Perryville, Boyle County, KY, which is also called the Battle of Chaplin Hills. While this was the 15th's first big battle, it emerged without any fatalities. On December 26, 1862, he would have participated in the 15th's desperate charge upon a Confederate artillery battery at Knob Gap, TN, just south of Nashville. There the 15th captured a brass cannon. Corporal Johnson fought at the long, cold, wet, and bloody Battle of Stone River, TN, also called the Battle of Murfreesboro, on December 30-31, 1862. It is there that the 15th first suffered serious battle casualties, and was cited for bravery. One of the casualties was Corporal Johnson, who was shot through the thigh on the first day of the battle.
The 15th camped in the Murfreesboro area for the next 6 months, except for 2 weeks in February when it was sent to Franklin, TN. From January 1863 until March 1863, Corporal Johnson was listed as "absent sick" in a hospital at Nashville, TN. He was then listed as being in Murfreesboro, TN in April 1863 and then "absent wounded" in Chicago, IL in May 1863. In June and July 1863, he was listed as being in Nashville "wounded." Starting sometime in August or September 1863, Corporal Johnson was recorded as being in Louisville, KY.
According to Buslett's 1894 history of the 15th WI, Corporal Johnson became "unfit for service" and was honorably discharged from the Army due to disability on April 15, 1864.
It is said that after being discharged Samuel Johnson lived for a time in Milwaukee, Milwaukee County, WI. In 1868, his daughter Matilda was born in Manistee, MI. In 1870, they were back living in WI, this time at Springfield in Jackson County. He died in 1878 in Blair, Trempealeau County, WI. Before he died, he and his wife had 4 children, 2 of whom lived: Matilda (later Mrs. J. E. Engstad of Grand Forks, North Dakota) and A. Hawkins of Halstad, MN.
Sources: Ole A. Buslett, Det Femtende Regiment, Wisconsin Frivillige [The Fifteenth Regiment, Wisconsin Volunteers] (Decorah, Iowa, 1894); Regimental Descriptive Rolls, Volume 20, Office of the Adjutant General of Wisconsin (Madison, Wisconsin, 1885); Roster of Wisconsin Volunteers, War of the Rebellion, 1861-1865, Volume I, Office of the Adjutant General of Wisconsin (Madison, Wisconsin, 1886); 1870 Census, Roll: M593_1718, Page: 415B, Image: 834, Family History Library Film: 553217; Michigan Births and Christenings Index, FHL Film #945509.
When publishing material contained in this website (www.nagcnl.org) you are required to credit Norwegian American Genealogical Center (415 West Main Street, Madison, WI 53703-3116) as the source.