James Overson
15th Wisconsin Volunteer Infantry
The Scandinavian Regiment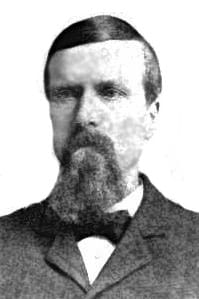 Database Record Change Request
| | |
| --- | --- |
| Name at Enlist | James Overson |
| Birth Name | Jens Olsen Rui |
| Other Names | Oversen, Roe |
| Lived | 23 May 1839 – 26 May 1901 |
| Birth Place | Ruii under Houkom, Kviteseid (Hvidesøe), Telemark |
| Birth Country | Norway |
| Resident of Muster-In | Norway, Racine County, WI |
| Company at Enlistment | C |
| Rank at Enlistment | Corporal |
| Muster Date | 2 Dec 1861 |
| Cause of Death | Bright's disease |
| Death Location | Shaw, Marion County, OR |
| Burial Location | Twin Oaks Cemetery, Turner, Marion County, OR |
| Mother | Ingeborg Tarjeisdatter Grotnes (Isabella Thompson) |
| Mother Lived | 1803- |
| Father | Ole Ouversen Ruii (Ole Overson Roe) |
| Father Lived | 1794-1856 |
| Immigration | 17 Aug 1843 |
| Spouse | Jeanette Clarissa Welch |
| Spouse Lived | 1853-1937 |
| Married On | 28 Sept 1870 |
| Marriage Location | Preston, Trempealeau County, WI |
Jens Olsen was born on the Ruii farm in Kviteseid parish, Telemark, and came to America with his parents and siblings on the Tecumseh.  He was enlisted under the name James Overson on November 5, 1861, by Captain Fredrick R. Berg for 3 year term of service in Company C of the 15th WI. He enlisted at Waterford, Racine County, WI. Company C was the regiment's color (flag) company, but its members called themselves the "Norway Bear Hunters."
James was mustered into Federal service at the rank of Corporal (Korporal) on December 2, 1861, at Camp Randall,  Madison, Dane County, WI. At the time the Army recorded him as being 23 year old unmarried resident of Norway, Racine County, WI.
On January 14, 1862, the men of the 15th WI were issued Belgian rifled muskets. After 3 months at Camp Randall learning to be a soldier, Corporal Overson left there on March 2, 1862, with his company and regiment to join the war. It is believed he was "present" with the 15th from then until September 1863. As such he would have participated in the successful siege of Island No. 10 on the Mississippi River in Tennessee, and the surprise raid on Union City, TN, in March and April 1862.
That summer Corporal Overson would have been with the 15th on campaign through Tennessee, Mississippi, and Alabama. In August and September he would have participated in the grueling 400-mile retreat with U.S. Major General Don Carlos Buell up to Louisville, KY, with the last 2 weeks being on half rations and short of water.
Corporal Overson is believed to have been present at the October 8, 1862, fighting at Perryville, Boyle County, KY, which is also called the Battle of Chaplin Hills. While this was the 15th's first big battle, it emerged without any fatalities. On December 26, 1862, he would have participated in the 15th's desperate charge upon a Confederate artillery battery at Knob Gap, TN, just south of Nashville. There the 15th captured a brass cannon. Corporal Overson is believed to have also fought at the long, cold, wet, and bloody Battle of Stones River, TN, also called the Battle of Murfreesboro, on December 30-31, 1862. It is there that the 15th first suffered serious battle casualties, and was cited for bravery.
The 15th camped in the Murfreesboro area for the next 6 months, except for 2 weeks in February when it was sent to Franklin, Williamson County, TN. Starting June 23, 1863, the regiment took part in the Tullahoma campaign led by U.S. Major General William S. Rosecrans. On July 3, 1863, it went into camp at Winchester, Franklin County, TN for six weeks.
On August 17, 1863, the 15th left Winchester to participate in General Rosecrans' Chickamauga campaign. Corporal Overson is believed to have been present at the daring early morning crossing of the Tennessee River on August 28th, which the 15th led. He was present at the September 19-20, 1863, fighting at Chickamauga, GA — the second bloodiest battle of the Civil War. During the vicious fighting around Viniard's Farm on the first afternoon he was wounded in action in the face and by a piece of cannon shell that struck his left ankle. Ager's 1916 regimental history of the 15th contains this about what happened.
"Corporal Jacob [sic] Overson took charge of Company C when Captain [Hans] Hanson fell; but he, also, was wounded and then Corporal [Albert] Emmonson took his place…"
Some 63% of the 15th's soldiers who were at Chickamauga were killed, wounded, or taken prisoner. That afternoon was the last time Corporal Overson actively served with the 15th.
Corporal Overson was probably treated briefly at the Federal Field Hospital at Crawfish Springs, GA. If so, he was removed from there before it was captured on the second day of the battle. It is known that he was treated for 3 days in an U.S. Army hospital in Chattanooga, TN, and then moved to an Army hospital in Stevenson, AL, where he was treated for 2 months. The quick move to Stevenson kept him from being trapped in Chattanooga when the Confederate Army laid siege to it starting a few days after the battle. After some 2 months at Stevenson, Corporal Overson spent several months recovering at an Army hospital at Nashville, TN, followed by a month at an Army hospital in Louisville, KY. From there Corporal Overson was transferred to the Harvey U.S. Army General Hospital in Madison, WI.
It was there on August 2, 1864, that Howard Culbertson, U.S. Army Surgeon in Charge of the hospital, signed Corporal Overson's "Certificate of Disability." It described his medical condition as follows.
"Shell fracture of several tarsal bones of left foot resulting in partial archylosis of tarsus. Cannot walk without pain. Foot still useless and will be until long after his term of service expires on the 2nd of December 1864…He is unfit for field or service in Vet. Res. Corps. Disability total."
Based on this Certificate, Corporal Overson was honorably discharged from the Army on August 9, 1864, at the Harvey Hospital. His certificate listed him as "5 feet 2 inches high," with "Fair complexion, Blue eyes, Light hair, and by occupation when enlisted a Farmer."
While James Overson told the Army that his forwarding address was Waterford in Racine County, WI, shortly after his discharge he settled in Blair, Trempeleau County, WI, where he lived and farmed for the next 22 years.
In 1867, WI Governor Lucius Fairchild, himself a distinguished Civil War veteran, honored James with a promotion to Brevet Captain in recognition of his actions at Chickamauga. The award citation read:
"In recognition of distinguished gallantry displayed by him at the battle of Chickamauga Ga. where his company being hard pressed and his captain having fallen he took position in front and encouraged his comrades to maintain their position in the fight. In this engagement Overson was severely wounded."
To see a copy of the original award certificate, click HERE.
James and his wife had 6 children, of which 3 survived: Clara, born February 6, 1873; Addie, born July 31, 1880; and Bessie, born June 16, 1885. He was granted a pension of $16 a month because of the wound to his left foot.
In 1894, James moved his family to Fairchild, Eau Claire, WI. Less than 2 years later he again moved his family, this time by railroad train across the continent to Shaw, OR. There he farmed until his death of "Bright's disease" just after his 62nd birthday. The following is from his obituary (date and source unknown).
"He had been a constant sufferer for some time and said he was ready to go at the Master's call."
Sources: Det Femtende Regiment, Wisconsin Frivillige [The Fifteenth Regiment, Wisconsin Volunteers] by Ole A. Buslett (Decorah, Iowa, 1894); Oberst Heg og hans gutter [Colonel Heg and His Boys] by Waldemar Ager (Eau Claire, Wisconsin, 1916); Register of Commissions by Brevet 1864-1870,(Madison, Wisconsin, not dated); Regimental Descriptive Rolls, Volume 20 by the Office of the Adjutant General State of Wisconsin (Madison, Wisconsin, 1885); and, Roster of Wisconsin Volunteers, War of the Rebellion, 1861-1865, Volume 1 by the Office of the Adjutant General State of Wisconsin (Madison, Wisconsin, 1886); Genealogical data from his great granddaughter, Sue Graber and from Tove D. Johansen; Kviteseid parish register #I 6, born and baptised, p. 34; Norwegian Immigrants to the United States. A Biographical Directory, 1925-1850. Volume 1, 1825-1843, Gerhard B. Naeseth, 2008, Anundsen Publishing Co., Decorah, IA, p. 278, ID 1500; Kviteseid Bygdesoge, Vol 1. Ættesoga, p. 204, Torjus Loupedalen, 1956.
When publishing material contained in this website (www.nagcnl.org) you are required to credit Norwegian American Genealogical Center (415 West Main Street, Madison, WI 53703-3116) as the source.