Christian O. Morbeck
15th Wisconsin Volunteer Infantry
The Scandinavian Regiment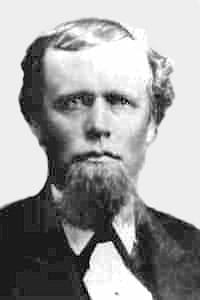 Database Record Change Request
| | |
| --- | --- |
| Name at Enlist | Christian O. Morbeck |
| Birth Name | Tobias Christian Olsen Østhassel |
| Other Names | Tobias Christian Morbeck, Charles Tobias Morbeck, |
| Lived | 25 Aug 1841 – 19 Jun 1908 |
| Birth Place | Vanse/Lista, Vest Agder fylke |
| Birth Country | Norway |
| Resident of Muster-In | Door County, WI |
| Company at Enlistment | F |
| 2nd Company | H |
| Rank at Enlistment | Private |
| Muster Date | 1 Mar 1862 |
| Cause of Death | Pneumonia |
| Death Location | Coeur d'Alene, ID |
| Burial Location | GAR Memorial, Forest Cemetery, Coeur d'Alene, ID |
| Mother | Elisabeth Tønnersdatter |
| Mother Lived | 1817- |
| Father | Ole Johannes Torjesen |
| Father Lived | 1811- |
| Immigration | 20 Apr 1848 |
| Spouse | Constance Caroline Anderson |
| Spouse Lived | 1852- 1936 |
| Married On | 11 Mar 1875 |
| Marriage Location | West Side Moravian Church, Green Bay, Brown County, WI |
Charly Morbeck was enlisted under the name of Christian O. Morbeck in Company F of the 15th WI by Lieutenant Kalenbach at Ephraim, Door County, WI on February 22, 1862. Charly and his uncle Reinart Morbeck had enlisted in Company F several months earlier.
Company F called itself "K.K.'s Protectors" in honor of the 15th's first Lieutenant Colonel Kiler K. Jones. It was also known as the "Valdres Company" because a large number of its members hailed from the Valdres region of Norway. Christian was mustered into the Federal Army at the rank of Private (Menig) for a 3-year term of service on March 1, 1862 at Camp Randall near Madison, Dane County, WI. The Army recorded him as being a 19 year old unmarried resident of Door County, WI.
After only 1 day at Camp Randall learning to be a soldier, Private Morbeck left there on March 2, 1862 with his company and regiment to join the war. From then until December 1862, he was listed as "present" with the 15th. As such he would have participated in the successful siege of Island No. 10 on the Mississippi River in TN and the surprise raid on Union City, TN in March and April 1862.
On June 11, 1862, Private Morbeck departed Island No. 10 by steamboat with most of the 15th. His uncle remained behind at Island No. 10, where he died of typhoid fever a few weeks later.
Private Morbeck spent the summer of 1862 campaigning through TN, MS, and AL with the 15th. In August and September he would have participated in the grueling 400-mile retreat with U.S. Major General Don Carlos Buell up to Louisville, KY with the last 2 weeks being on half rations and short of water.
Private Morbeck would have been present at the October 8, 1862 fighting at Perryville, Boyle County, KY, which is also called the Battle of Chaplin Hills. While this was the first big battle the 15th was in, it emerged without any fatalities.
On December 26, 1862, Private Morbeck participated in the 15th's desperate charge upon a Confederate artillery battery at Knob Gap, TN just south of Nashville. There the 15th captured a brass cannon. He then fought at the long, cold, wet, and bloody Battle of Stone River, TN, also called the Battle of Murfreesboro, on December 30-31, 1862. It was there that the 15th first suffered serious battle casualties, and was cited for bravery. One of these casualties was Private Morbeck, who was wounded in the left ankle by a gunshot on December 31st and taken as a prisoner of war.
Within a few days Private Morbeck was paroled by the Confederates and sent to a Federal Army hospital in Murfreesboro, TN. Torger Torgerson was in the same hospital, having also been wounded at Stone River. Christian recovered, but Torger died in early April 1863.
A week later Private Morbeck reported back to Company F. While he had been paroled (released), he had not been exchanged (formally traded for a Confederate who had been captured and paroled), so on June 27, 1863, he was ordered to Murfreesboro by U.S. Major General William S. Rosecrans. From there he reported to Camp Chase at Columbus, OH on July 17th, and then to Cincinnati, OH on the next day. On July 21st he was ordered to Benton Barracks near St. Louis, MO to await exchange.
It appears that Private Morbeck reported back to the 15th sometime in October 1863, when the regiment was located near Chattanooga, TN. At the time Chattanooga was under siege by the Confederate army. The siege resulted in severe shortages of medicine, food, and firewood which, together with cold, wet weather, caused much suffering, sickness, and death. The Confederate siege was finally broken by the Union Army's victorious charge up Mission Ridge on November 25, 1863, which the 15th took part in. Starting November 28, 1863, Private Morbeck is listed as being "absent sick" in Chattanooga.
Starting right after Mission Ridge the 15th was engaged in almost non-stop marching and counter-marching all over eastern TN throughout the winter of 1863/1864. By many original accounts, this was the worst period of the regiment's 3-year term of service. Poor rations, inadequate clothing and shelter, and unseasonably cold weather made these months nearly unbearable. Private Morbeck returned to the 15th sometime in early 1864 and was listed as "present" until August 1864. It is not clear how much he participated in the regiment's suffering in eastern TN that winter.
Starting in May 1864, the 15th participated in the famous campaign led by U.S. Major General William T. Sherman to capture Atlanta, GA. This campaign was marked by almost daily marching and/or combat for 4 months. The 15th's part included fighting at Rocky Face Ridge in early May; the bloody Battle of Resaca on May 14-15; and the disastrous Battle of Pickett's Mill (often called Dallas or New Hope Church) on May 27, 1864. There the 15th suffered 50% casualties, including 29 officers and enlisted men taken prisoner — most of whom later died horrible deaths in the notorious Andersonville Prison.
Private Morbeck would also have fought with the 15th at Kenesaw Mountain, GA on June 23 and before Atlanta on July 22. On August 4, 1864, Christian was sent to the Division Hospital by order of the 15th's Regimental Surgeon. He recovered in a few weeks and was then listed as "present" until he mustered out.
Following the capture of Atlanta in early September 1864, the 15th camped near there for several weeks, resting and refitting. On October 1, 1864, Private Morbeck was appointed as a Corporal (Korporal) in Company F by order of the 15th's commander, Lieutenant Colonel (Oberstløitnant) Ole C. Johnson. In early October the 15th was briefly assigned to Provost (police) duty in Chattanooga. This was followed by several months spent guarding a railroad bridge at Whitesides, TN near Chattanooga. Some of the 15th's soldiers felt that was the easiest duty of their entire war service.
On January 13, 1865, most of the survivors of Company F were mustered out of the Army at Chattanooga at the expiration of their 3-year terms of service. They were then sent home to WI. However, since Corporal Morbeck had joined up some 6 weeks after most of the men in the company, he was temporarily transferred to Company H of the 15th to serve out the rest of his term.
On February 13, 1865, the 15th ceased to exist when Company H, its last company, was mustered out at Chattanooga and most of its men sent home. Corporal Morbeck still had a few weeks left to serve, so he and others like him were transferred to the famous 24th WI Veteran Volunteer Infantry Regiment. Corporal Morbeck was finally mustered out of the Federal Army on March 13, 1865 at Huntsville, AL.
After the war, Charles Morbeck worked for a time as a store clerk in Green Bay, Brown County, WI. He then bought a sailboat and traded on Green Bay and the islands up around Door County for a few years. After getting married he moved to Astoria, OR and then back to Green Bay before settling in the Ingalls, in the Upper Peninsula of Michigan where he ran a general store. Charles is believed to have attended the 15th's annual reunion in 1896 at St. Paul, MN [to see a photo of his reunion ribbon, click HERE].
The 1900 census recorded Charles Morbeck, his wife, and 6 children as living in Coeur d'Alene, ID. In 1902, he applied for an Invalid's Pension, which was subsequently approved. His application stated he could not do manual labor because of his "gun shot wound, sciatica, catarrh bronchitis, disease of eyes, constipation, lumbago, rheumatism, and general disability" related to his military service. It is said that he retired in 1907, passing away a year later due to "Pneumonia." Constance died in 1936.
Sources: Genealogical data provided by Karen Morbeck Hayden; Det Femtende Regiment, Wisconsin Frivillige [The Fifteenth Regiment, Wisconsin Volunteers], Ole A. Buslett (Decorah, IA, 1894); Civil War Compiled Military Service Records, Office of Adjutant General of the United States (Washington, DC); Regimental Descriptive Rolls, Volume 20, Office of the Adjutant General State of Wisconsin (Madison, WI, 1885); Roster of Wisconsin Volunteers, War of the Rebellion, 1861-1865, Volume 1, Office of the Adjutant General State of Wisconsin (Madison, WI, 1886); Norwegian Immigrants to the United States. A Biographical Directory, 1825-1850. Volume Three 1847-1848, Gerhard B. Naeseth, 2000, Anundsen Publishing Co., Decorah, IA, pp. 160, 161, IDs 815, 816, 818;  Vanse parish register #A9, born and baptised, p. 88, #A10, in- and out-migrated, p. 391,  digitalarkivet.no; Listaboka II. Gard og Folk, Kåre Rudjord, 1981, page 676; Civil War Pension Index, Roll #T288_336; findagrave.com.
When publishing material contained in this website (www.nagcnl.org) you are required to credit Norwegian American Genealogical Center (415 West Main Street, Madison, WI 53703-3116) as the source.