Andrew Mikkelsen
15th Wisconsin Volunteer Infantry
The Scandinavian Regiment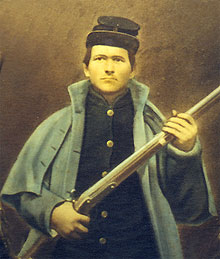 Database Record Change Request
| | |
| --- | --- |
| Name at Enlist | Andrew Mikkelsen |
| Birth Name | |
| Other Names | Michelson, Mickelson, Andreas Mikkelson |
| Lived | 07 May 1835 – 15 Aug 1904 |
| Birth Place | Heskestad, Rogaland |
| Birth Country | Norway |
| Resident of Muster-In | Waupun, Dodge County, WI |
| Company at Enlistment | D |
| Rank at Enlistment | Private |
| Muster Date | 8 Dec 1861 |
| Death Location | Frost, Faribault County, MN |
| Burial Location | Shelton (now South Blue Earth) Lutheran Church, Frost, MN |
| Mother | Gunhild Marie Tonnesdatter-Moen |
| Mother Lived | 1811-1882 |
| Father | Mikkel Andersen |
| Father Lived | 1795-1859 |
| Immigration | 1857 |
| Spouse | Anna Olson (Olsdtr) |
| Spouse Lived | 1847-1906 |
| Married On | 22 Dec 1868 |
| Marriage Location | Goodhue County, Minnesota |
Andreas Mikkelson was enlisted as Andrew Mikkelsen in Company D of the 15th WI by Captain Charles Campbell at Portage, Columbia County, WI on November 28, 1861 for a 3-year term of service. The men of the company called themselves the "Norway Wolf Hunters," but were also called the "Waupun Company" because so many of them were from Waupun in Dodge County, WI.
Andrew was mustered into Federal service at the rank of Private (Menig) on December 8, 1861 at Camp Randall near Madison, Dane County, WI. At the time he was listed as being 25 years old and not married. His residence was recorded as Lewiston, Columbia County, WI. The Army (as opposed to the state of Wisconsin) spelled his last name as Michelson.
On January 14, 1862, the men of the 15th WI were issued Belgian rifled muskets. On February 12, 1862, Private Mikkelsen was appointed as the Wagoner (wagon driver) of Company D. After 3 months at Camp Randall learning to be a soldier, Wagoner Mikkelsen left there on March 2, 1862 with his company and regiment to join the war. From then until December 1862, he was listed as "present" with the 15th. As such he would have participated in the successful siege of Island No. 10 on the Mississippi River in TN and the surprise raid on Union City, TN in March and April 1862. On April 7, 1862, the Confederate forces on Island No. 10 surrendered and the 15th spend the next 2 months there on guard duty.
Starting June 11, 1862, Wagoner Mikkelsen would have left Island No. 10 with 8 of the 15th's 10 companies to take part in a summer campaign through Tennessee, Mississippi, and Alabama. In August and September he would have participated in the grueling 400-mile retreat with U.S. Major General Don Carlos Buell up to Louisville, Kentucky, with the last 2 weeks being on half rations and short of water. Wagoner Mikkelsen would then have been present at the October 8, 1862, fighting at Perryville, Boyle County, Kentucky, which is also called the Battle of Chaplin Hills. While this was the 15th's first big battle, it emerged without any fatalities.
On December 26, 1862, the 15th noted that Wagoner Mikkelsen was "left with the baggage train at Nashville" Tennessee. While he was with the baggage wagon train, the 15th made a desperate charge upon a Confederate artillery battery at Knob Gap, Tennessee, just south Nashville. There the 15th captured a brass cannon. The 15th then fought at the long, cold, wet, and bloody Battle of Stone River, Tennessee, also called the Battle of Murfreesboro, on December 30-31, 1862. It is there that the regiment first suffered serious battle casualties, and was cited for bravery.
Wagoner Mikkelsen returned to the 15th sometime in January or February 1863 and was recorded as being "present" with the regiment until June 1863. The 15th camped in the Murfreesboro area for the next 6 months, except for 2 weeks in February when it was sent to Franklin, Tennessee. On June 20, 1863, Mikkelson was placed on "detached service" as a "provost guard" (military policeman) at the rank of Private by order of his brigade commander, Colonel Hans C. Heg. Starting June 23, 1863, the regiment took part in the Tullahoma campaign led by U.S. Major General William S. Rosecrans. On July 3, 1863, the 15th went into camp at Winchester, Franklin County, Tennessee for 6 weeks.
On August 17, 1863, the 15th left Winchester as part of Colonel Heg's Brigade to participate in General Rosecrans' Chickamauga campaign. Private Mikkelsen was still listed by the 15th as being on "Detached service" as of August 31, 1863. It is not known what part he may have played in the brigade's daring early morning crossing of the Tennessee River on August 28th, which the 15th led. It is also not known what role he played at the September 19-20, 1863 fighting at Chickamauga, Georgia — the second bloodiest battle of the Civil War. What is known is that he survived the fighting apparently unhurt. Some 63% of the 15th's soldiers who were at Chickamauga were killed, wounded, or taken prisoner.
In all likelihood, Private Mikkelsen would have served with the regiment during at least the latter part of the Confederate siege of Chattanooga, Tennessee, which began right after the Battle of Chickamauga. The siege resulted in severe shortages of medicine, food, and firewood which, together with cold, wet weather, caused much suffering, sickness, and death. The Confederate siege was finally broken by the Union Army's victorious charge up Mission Ridge on November 25, 1863, which the 15th took part in. Three days later Private Mikkelsen was listed by the 15th as "Left sick in Chattanooga…"
Starting right after Mission Ridge the 15th was engaged in almost non-stop marching and counter-marching all over Eastern Tennessee throughout the winter of 1863/1864. By many original accounts, this was the worst period of the regiment's 3-year term of service. Poor rations, inadequate clothing and shelter, and unseasonably cold weather made these months nearly unbearable. Private Mikkelsen experienced at least some part of this because he returned to the regiment sometime in January or February 1864, and was then listed as "present" until February 1865.
Starting in May 1864, Private Mikkelsen and the 15th participated in the famous campaign to capture Atlanta, Georgia led by U.S. Major General William T. Sherman. This campaign was marked by almost daily marching and/or combat for 4 months. The 15th took part in the fighting at Rocky Face Ridge, Georgia in early May; the bloody Battle of Resaca, Georgia on May 14-15; and the disastrous Battle of Pickett's Mill (often called Dallas or New Hope Church) on May 27, 1864. There the 15th suffered 50% casualties, including 29 soldiers captured (many of whom later died in the infamous Andersonville Prison Camp).
The 15th also fought at Kenesaw Mountain, Georgia on June 23; Atlanta on July 22; Jonesboro, Georgia on September 1; and Lovejoy Station, Georgia on September 4, 1864. After a rest following the capture of Atlanta in early September 1864, the 15th was briefly assigned to Provost (police) duty in Chattanooga in early October. This was followed by several months spent guarding a railroad bridge at Whitesides, Tennessee, near Chattanooga. Some of the 15th's soldiers felt their time there was the easiest duty of their entire war service.
Private Mikkelson was mustered out of Federal service along with most of the other surviving members of Company D on February 13, 1865 at Chattanooga, Tennessee upon the end of their 3-year terms of service. His official discharge certificate was signed by the 15th's commander, Lieutenant Colonel Lewis G. Nelson. The certificate noted that "Andrew Michelson" was born in "Norway" and stood "5 feet 4 1/2 inches high," and had a "Light complexion, Brown eyes, [and] Dark hair". At muster out the Army recorded that Andrew had drawn $74.67 worth of clothing since June 30, 1863 and was due $100 in bounty money for his original enlistment.
After being mustered out, the men of Company D were sent back to WI, paid off, and released to their homes. Andrew returned to his family in Lewiston, WI. Shortly thereafter he and his family moved to Goodhue County, MN for several years. There he married and then moved to Faribault County, MN, settling on a farm near Frost. Andrew and his wife had 7 children: Gunhild Marie, born May 17, 1869; Martha Olava, born January 20, 1872; Kristina (Christina), born January 31, 1874; Emma, born May 20, 1876; Jonas (John) Michael, born August 10, 1879; Lizabeth (Lizzie), born November 3, 1881; and Antonette (Nettie), born September 11, 1888. At one point Andrew and his family moved to Rake, Winnebago County, IA where they ran a restaurant for a year before returning to their farm near Frost.
In 1890 Andrew applied for an invalid's pension based on his being "Partially unable to earn support by reason of…Chronic Diarhoea, Rehuamatic affections." At the time of his death 14 years later at age 69, he was recorded as receiving a pension of $6 a month. The following is from Andrew Mikkelson's obituary in the Rake, IA newspaper.
"Andrew Mikkelson was one of the preservers of this union, having enlisted in the early part of the civil war in the 15th Wisconsin Regiment. His clothes were pierced three times by bullets in battle, but his body never got a mark. This all means the facing of many a sorm [storm] of bullets, it means the winning of many a hard fought battle, it means the endurance of many a hardship. It now means a union forever in seperable [sic], in the middle of this great North American continent."
Sources: Genealogical data from Andrew Mikkelson's great grandsons Dennis Gronfor and Gary Gronfor, and from Arden Rau Torkelson, the wife of Andrew Mikkelson's great grandson Andre Garman Torkelson; Civil War Compiled Military Service Records, Office of Adjutant General of the United States (Washington, DC); Civil War Compiled Veteran Pension Records, Pension Office, Dept. of the Interior (Washington, DC); Det Femtende Regiment, Wisconsin Frivillige [The Fifteenth Regiment, Wisconsin Volunteers], Ole A. Buslett (Decorah, Iowa, 1894); Roster of Wisconsin Volunteers, War of the Rebellion, 1861-1865, Volume I, Office of the Adjutant General State of Wisconsin (Madison, Wisconsin, 1886); Civil War Pension Index, Roll #T288_324.
When publishing material contained in this website (www.nagcnl.org) you are required to credit Norwegian American Genealogical Center (415 West Main Street, Madison, WI 53703-3116) as the source.