Joseph Mathiesen
15th Wisconsin Volunteer Infantry
The Scandinavian Regiment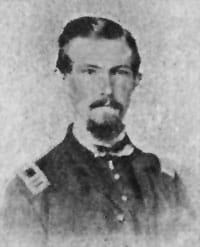 Database Record Change Request
| | |
| --- | --- |
| Name at Enlist | Joseph Mathiesen |
| Birth Name | |
| Other Names | Mathisen |
| Lived | 07 Jan 1840 – 28 Feb 1925 |
| Birth Place | Copenhagen |
| Birth Country | Denmark |
| Resident of Muster-In | Madison, Dane County, WI |
| Company at Enlistment | B |
| Rank at Enlistment | Lieutenant |
| Muster Date | 16 Nov 1861 |
| Death Location | Evansville, Douglas County, MN |
| Burial Location | Forest Hill Cemetery, Madison, Dane County, WI |
| Mother | Sofie |
| Father | Anders Matthiesen |
| Immigration | 1859 |
| Spouse | Judith Sophie Johnson |
| Spouse Lived | 1847- 1923 |
| Married On | 05 Feb 1865 |
| Marriage Location | Spring Prairie Lutheran Church, DeForest, Dane County, WI |
Joseph Mathiesen was born on January 7, 1840 in Copenhagen, Denmark. His parents were Anders Matthiesen and Sofie. He immigrated about 1859.
The American Civil War began just 2 years after Joseph Mathiesen arrived in the United States from his native Denmark. On April 14, 1861, U.S. President Abraham Lincoln issued a call for 75,000 troops to help put down the then-new Confederate armed rebellion. Three days later, Joseph volunteered for E Company of the 1st WI Volunteer Infantry Regiment. He served at the rank of Private (Menig) under the name "Joseph Matheson."
The 1st WI was mustered into the army for only a 3-month term of service because at that time the Federal government believed it could quickly suppress the rebels. In early June the 1st WI was sent to help protect Washington, D.C. On July 2, 1861, it took part in the Battle of Falling Waters near Martinsburg, VA (now WV). By August the 1st was back in WI where on August 17th its soldiers, including Private Matheson, were mustered out.
About a month after completing his term of service, Joseph learned of efforts to raise a regiment of Scandinavian-born men to serve in the war. He tendered his services and that fall he was recommended by Colonel Hans C. Heg, commander of that regiment, of the 15th WI, to be an officer in his unit. On November 13, 1861, WI Governor Randall commissioned Joseph Mathiesen as 1st Lieutenant (Løytnant) of the 15th's Company B for a 3-year term of service, with his rank to take effect from November 12, 1861.
The men of Company B called themselves the Wergeland Guards in honor of the famous Norwegian poet and writer, Henrik Wergeland. At the time the company was commanded by Captain George Wilson as third-in-command.
Lieutenant Mathiesen was mustered into Federal service on November 16, 1861 at Camp Randall near Madison, Dane County, WI. At the time he was recorded as being a 22 year old unmarried resident of Madison.
After 3 and a half months at Camp Randall learning to be an officer and getting his men trained as soldiers, Lieutenant Mathiesen left there on March 2, 1862 with his company and regiment to join the war. He then participated in the successful siege of Island No. 10 on the Mississippi River in TN, during late March and early April 1862. He also led his men during the successful surprise raid on Confederate Cavalry forces at Union City, TN in late March 1862. After the fall of Island No. 10 on April 8, 1862, he helped oversee the capture of Confederate prisoners and the re-building of fortifications on the island.
On June 11, 1862, Lieutenant Mathiesen departed Island No. 10 with his company to take part with the 15th in a summer campaign through TN, MS, and AL. Starting in late August and ending in late September 1862, he participated in the Army's grueling 400-mile forced march from Iuka, MS up to Louisville, KY. The last 2 weeks of this retreat, which was led by U.S. Major General Don Carlos Buell, were made on half rations and with little drinking water.
Lieutenant Mathiesen would have been present at the October 8, 1862 fighting at Perryville, Boyle County, KY (also called the Battle of Chaplin Hills). While this was the 15th's first big battle, it emerged without any fatalities.
At the recommendation of Colonel Heg, Lieutenant Mathiesen was commissioned as Captain (Kaptein) of Company B by the Governor of WI on December 18, 1862, to rank from November 1, 1862. He filled the vacancy created when Captain Johnson was promoted to the rank of Major (third-in-command of the regiment).
On December 26, 1862, Captain Mathiesen led his company in the 15th's desperate charge upon a Confederate artillery battery at Knob Gap, TN, just south of Nashville, TN. There the 15th captured a brass cannon. Captain Mathiesen then led his men during the long, cold, wet, and bloody Battle of Stone River, TN (also called the Battle of Murfreesboro), which took place from December 30, 1862 into early January 1863. It is there that the 15th first suffered serious battle casualties, and was cited for bravery. Company B suffered 2 men killed and 4 men wounded in the battle.
The 15th then camped in the Murfreesboro area for the next 6 months, except for 2 weeks in February when it was sent to Franklin, TN. Starting June 23, 1863, the regiment took part in the Tullahoma campaign led by U.S. Major General William S. Rosecrans. On July 3, 1863, the 15th went into camp at Winchester, Franklin County, TN for 6 weeks.
On August 17, 1863, the 15th left Winchester to participate in what later became known as the Chickamauga campaign. Captain Mathiesen was present at the daring early morning crossing of the Tennessee River on August 28th, which the 15th led. He also led Company B during the September 19-20, 1863 fighting at Chickamauga, GA — the second bloodiest battle of the Civil War. Captain Mathiesen survived the vicious fighting around Viniard's Farm on the first afternoon. He also survived the near capture of the regiment near Brotherton Field around midday on the 20th during what became known as Longstreet's Breakthrough. Some 63% of the 15th's soldiers who were at Chickamauga were killed, wounded, or taken prisoner. Of the 28-30 soldiers who were with Company B at the battle, 5 were wounded and 10 taken prisoner.
Captain Mathiesen then led his company's 15 survivors during the Confederate siege of Chattanooga, TN that began right after the battle. The siege resulted in severe shortages of food, firewood, and medicine which, together with cold, wet weather, caused much suffering, sickness, and death. The Confederate siege was finally broken by the Union Army's victorious charge up nearby Mission Ridge on November 25, 1863. Captain Mathiesen led Company B as the 15th stormed up the ridge.
Starting right after Mission Ridge, the 15th was engaged in almost non-stop marching and counter-marching all over Eastern TN throughout the winter of 1863/1864. By many original accounts, this was the worst period of the regiment's entire 3-year term of service. Poor rations, inadequate clothing and shelter, and unseasonably cold weather made these months nearly unbearable.
Starting in May 1864, the 15th participated in the famous campaign by U.S. Major General William T. Sherman to capture Atlanta, GA. Captain Mathiesen commanded Company B for the entire 4-month campaign, which was marked by almost daily marching and/or combat. The 15th took part in the fighting at Rocky Face Ridge, GA in early May; the bloody Battle of Resaca, GA on May 14-15; and the disastrous Battle of Pickett's Mill (often called Dallas or New Hope Church) on May 27, 1864. There the 15th suffered 50% casualties. At Pickett's Mill Company B lost 4 men killed or mortally wounded and 4 men wounded who survived.
The Atlanta campaign also saw the 15th involved in fighting at Kennesaw Mountain, GA on June 23, 1864; Atlanta on July 22; Jonesboro, GA on September 1; and Lovejoy Station, GA on September 4, 1864.
After a short rest following the capture of Atlanta in early September 1864, the 15th was briefly assigned to Provost (police) duty in Chattanooga at the beginning of October. This was followed by a month spent guarding a railroad bridge at Whitesides, TN near Chattanooga. Some of the 15th's soldiers felt that this was the easiest duty of their entire war service. During this time Captain Mathiesen was briefly absent from his company to oversee the retrieval of the regiment's baggage from Atlanta.
Captain Mathiesen was mustered out of Federal service with most of the rest of the survivors of Company B at the expiration of their 3-year terms of service on December 1, 1864 at Chattanooga, TN. However, their return to WI was delayed until the end of the month. This was due to the final offensive of the Confederate Army of the TN, which cut the railroad line from Chattanooga to Nashville that they needed to take to reach WI. Captain Mathiesen and his men were finally able to return home at the end of the month after the Confederates were defeated at Nashville and driven from the state.
Captain Mathiesen is said to have survived his war service without being sick, wounded, or captured.
After the war Mathiesen, returned to Madison, WI where he got married to Judith Sophie Johnson on February 5, 1865. He and his wife had 9 children, including Brithy/Betty (1866), Harve (1869), George (January 30, 1875), and Philip (May 20, 1880). Mathiesen became a successful businessman. In 1882, he moved his family to Evansville Township, Douglas County, MN. There he is said to have worked for the firm of Raiber & Company, and later as a cashier at the Bank of Evansville.
Mathiesen attended the last known reunion of the 15th WI, which took place on September 12-13, 1917 at Madison, WI. There he was photographed with his comrades under the memorial arch at Camp Randall.
Mathiesen died on February 28, 1925 in Evansville. Judith died two years prior. He and Judith are both buried in Forest Hill Cemetery, in Madison, Dane County, WI next to Judith's parents, Halvor and Bertha.
Sources: Genealogical data from Dee Anna Grimsrud, MLIS, CGRS; File 95-2113 compiled for H. Joseph Ferguson by the Norwegian American Genealogical Center (Madison, Wisconsin); Wisconsin State Journal newspaper (Madison, Wisconsin, January 2, 1924); Capital Times newspaper (Madison, Wisconsin, February 28, 1925); Danske I Kamp i og for Amerika, P. S. Vig (Omaha, Nebraska, 1917) with Mathiesen biographical information translated by Anders Rasmussen; Oberst Heg og hans gutter [Colonel Heg and His Boys], Waldemar Ager (Eau Claire, Wisconsin, 1916); Regimental Descriptive Rolls, Volume 20, Office of the Adjutant General State of Wisconsin (Madison, Wisconsin, 1885); Roster of Wisconsin Volunteers, War of the Rebellion, 1861-1865, Volume 1, Office of the Adjutant General State of Wisconsin (Madison, Wisconsin, 1886); 1880 Census, Roll: 1421, Family History Film: 1255421, Page: 133C, Enumeration District: 075; 1900 Census, Roll: 762, Page: 4A, Enumeration District: 0034, FHL microfilm: 1240762; 1920 Census, Roll: T625_828, Page: 9A, Enumeration District: 30, Image: 467; findagrave.com.
When publishing material contained in this website (www.nagcnl.org) you are required to credit Norwegian American Genealogical Center (415 West Main Street, Madison, WI 53703-3116) as the source.