John T. Rice
15th Wisconsin Volunteer Infantry
The Scandinavian Regiment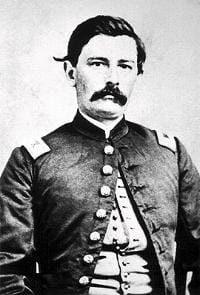 Database Record Change Request
| | |
| --- | --- |
| Name at Enlist | John T. Rice |
| Birth Name | John T. Rice |
| Lived | 24 May 1839 – |
| Birth Place | Waterford, Racine County, WI |
| Birth Country | USA |
| Resident of Muster-In | Waterford, Racine County, WI |
| Company at Enlistment | C |
| Rank at Enlistment | Second Lieutenant |
| Muster Date | 19 Nov 1861 |
| Mother | Orilla Caldwell |
| Father | Ira Rice |
| Father Lived | 17 Sep 1812- |
| Spouse | Helen Amelia Boughton |
| Spouse Lived | 20 Aug 1844- |
| Married On | 11 Apr 1866 |
| Marriage Location | Racine, Racine County, WI |
John T. Rice was born in May 24 1839, the son of Ira Rice and Orilla Caldwell of Waterford, WI. Ira was a farmer and attorney, born in Oswego Co., NY to Abel and Louis. He came to Racine County in May 1836. John was "the first white boy born in the town of Waterford."
At the recommendation of Colonel Hans C. Heg, commander of the 15th WI, John T. Rice was commissioned by WI Governor Randall for 3 years service as the 2nd Lieutenant of Company C of the 15th. The commission was dated December 28, 1861, to rank from November 19, 1861. The men of the company called themselves the Norway Bear Hunters and was the regiment's color (flag) company. John was mustered into Federal service as a 2nd Lieutenant (Løytnant) on January 11, 1862 at Madison, WI. At the time he was 22 years old and not married. His residence was listed as Waterford, Racine County, WI.
Again at the recommendation of Colonel Heg, 2nd Lieutenant Rice was commissioned 1st Lieutenant of Company C by the Governor of WI on June 23, 1862, to rank from June 12, 1862. He was mustered in at that rank on May 7, 1862, to date July 9, 1862, at Murfreesboro, TN. Rice was left sick at Nashville, TN December 26, 1862 to January 2, 1863, where he is believed to have been during the Battle of Stone River, TN.
Starting May 2, 1863, Lieutenant Rice was assigned as the 15th's Acting Quartermaster by Lieutenant Colonel Ole C. Johnson, who was then commanding the regiment. During the Battle of Chickamauga, Lieutenant Rice took command of Company C after Captain Hans Hanson was captured on the first afternoon of the battle on September 19, 1863. Rice then led the company for the remaining day of fighting. Lieutenant Rice was then on sick leave from November 11, 1863 to December 1863. At the recommendation of Major George Wilson, who was then commanding the 15th, the Governor of WI commissioned 1st Lieutenant Rice as the Captain (Kaptein) of Company C. Rice was mustered into Federal service at that rank on April 20, 1864, to date from April 7, 1864, at McDonald's Station, TN. He was on leave of absence from November 10, 1864.
Captain Rice mustered out of Federal service with most of the rest of the survivors of Company C on December 31, 1864, at Chattanooga, TN, at the expiration of his 3-year term of service.
After the war, he was the vice president of the State Bank of Waterford, WI. He married Helen Amelia Boughton on April 11, 1866. She was born Clyde, Wayne County, NY, the daughter of William and Diana A. Boughton. John and Helen had 4 children: Nettie Mabel (born 3/3/1867), Edith Estell (9/19/1868), Cora Helen Rice (4/2/1872), and Evelyn Belle (11/6/1876).
Sources: Oberst Heg og hans gutter [Colonel Heg and His Boys] by Waldemar Ager (Eau Claire, WI, 1916); Regimental Descriptive Rolls, Volume 20, by the Office of the Adjutant General State of Wisconsin (Madison, WI, 1885); and, Roster of Wisconsin Volunteers, War of the Rebellion, 1861-1865, Volume 1, by the Office of the Adjutant General State of Wisconsin (Madison, WI, 1886); 1880 census, Roll: 1443, Family History Film: 1255443, Page: 521A, Enumeration District: 170; 1900 census, Roll: 1814, Page: 13A, Enumeration District: 0049, FHL microfilm: 1241814; 1920 Census, Roll: T625_2011, Page: 6B, Enumeration District: 34, Image: 635; Waterford : stories of our village and its busy life, Waterford, Wisconsin (1923); The History of Racine and Kenosha Counties, Wisconsin (Western Historical Company: 1879), p.679; Boughton Family: Descendants of John Boution, by James Boughton (J. Munsell's Sons: 1890), p.466; Wisconsin Marriage Records, Batch # M00328-3, GS Film # 1275504.
When publishing material contained in this website (www.nagcnl.org) you are required to credit Norwegian American Genealogical Center (415 West Main Street, Madison, WI 53703-3116) as the source.