Syvert Pederson
15th Wisconsin Volunteer Infantry
The Scandinavian Regiment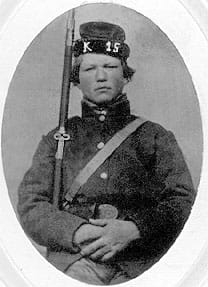 Database Record Change Request
| | |
| --- | --- |
| Name at Enlist | Syvert Pederson |
| Birth Name | Sjul Petersen Fjøslien |
| Other Names | Siver Pederson |
| Lived | 13 Sep 1846 – 05 Sep 1864 |
| Birth Place | Rollag parish, Buskerud fylke |
| Birth Country | Norway |
| Resident of Muster-In | Winneshiek County, IA |
| Company at Enlistment | K |
| Rank at Enlistment | Private |
| Muster Date | 11 Feb 1862 |
| Cause of Death | Scurvy |
| Death Location | Andersonville Prison, Macon County, GA |
| Burial Location | Grave 7893, National Cemetery, Andersonville, GA |
| Mother | Turi Sjulsdatter Fjøslien |
| Mother Lived | 7 Mar 1816-22 Oct 1854 |
| Father | Peder Gundersen Blekeberg |
| Father Lived | 3 Oct 1813-1849 |
| Immigration | 1849 |
Sjul Pedersen was born on the Fjøslien farm, Rollag parish, Buskerud. He immigrated with his parents and sisters arriving in New York City on the Embla July 6, 1839
He enliststed as Sivert Pederson on January 25, 1862, under 1st Lieutenant Ole Peterson for 3 years service in Company K of the 15th WI. Company K called itself  "Clausen's Guards" in honor of the 15th's first Chaplain, Claus L. Clausen. Sivert was mustered into Federal service as a Private (Menig) on February 11, 1862, at Madison, WI. At the time he was 16 years old and not married. His residence was listed as Winneshiek County, IA.
Private Pederson was absent from Company K on Provost Marshall (military police) duty from October 27, 1862, until sometime in November 1862. He was back with his company in time to participate in the long, cold, wet and bloody Battle of Stones River, TN, also known as the Battle of Murfreesboro, which ran from late December 1862, into early January 1863. The following is from Buslett's 1894 history of the 15th WI:
"After the battle General Rosecrans issued an order to the various regiments' commanders to submit to headquarters a list of one sergeant, two corporals and four or five privates in each company (altogether no more than six from each company), who had shown the greatest courage and ability during the battle. These would be entered on the Roll of Honor."
Private Pederson's name was submitted from Company K in response to this order and he was subsequently entered on the Roll of Honor for the 2nd Brigade, 1st Division, 20th Army Corps for his actions in the battle.
On August 17, 1863, the 15th left Winchester, TN, to participate in General Rosecrans' Chickamauga campaign. Private Pederson is believed to have been present at the daring early morning crossing of the Tennessee River on August 28th, which the 15th led. He was present at the September 19-20, 1863 Battle of Chickamauga, GA — the second bloodiest battle of the Civil War. He survived the vicious fighting around Viniard's Farm on the first afternoon of the battle. However, he was taken prisoner during the near capture of the regiment around midday on the 20th near Brotherton Field during what is now known as Longstreet's Breakthrough. Some 63% of the 15th's soldiers who were at Chickamauga were killed, wounded, or taken prisoner.
Some 11 months after his capture Private Pederson died of Scorbutus (Scurvy) while being held in the notorious Andersonville prison camp.
After the war Sivert Pederson received further recognition of his actions at Stones River. In 1867, Wisconsin Governor Lucius Fairchild, himself a distinguished Civil War veteran, honored Sivert with a promotion to Brevet Captain, retroactive to December 31, 1862. His award citation reads:
"In recognition of distinguished gallantry displayed by him at the battle of Stone River Tenn. under the following circumstances: The right wing to which the 15″ Wis belonged was forced to retreat some distance. In this retreat the men became scattered and the rebel cavalry followed up their advantage and captured many prisoners. Pederson was commanded by rebel cavalryman with some rebel comrades near him to surrender but seeing some of our cavalry advancing from the woods and encouraged thereby refused and fired at the rebel and killed him. By his coolness on this occasion he not only saved himself but also saved several who were near him. He was afterwards captured and died at Andersonville after his regiment was mustered out of the service."
Sources: Det Femtende Regiment, Wisconsin Frivillige [The Fifteenth Regiment, Wisconsin Volunteers],  Ole A. Buslett, 1894, Decorah, IA; Register of Commissions by Brevet 1864-1870 (Madison, Wisconsin); Regimental Descriptive Rolls, Volume 20, Office of the Adjutant General State of Wisconsin (Madison, Wisconsin, 1885); and Roster of Wisconsin Volunteers, War of Rebellion, 1861-1865, Volume 1, Office of the Adjutant General State of Wisconsin (Madison, Wisconsin, 1886); Norwegian Immigrants to the United States. A Biographical Directory, 1825-1850. Volume Four 1849, Gerhard B. Naeseth and Blaine Hedberg, 2008, Anundsen Publishing Co., Decorah, IA, p. 86, IDs 1078-1082.
When publishing material contained in this website (www.nagcnl.org) you are required to credit Norwegian American Genealogical Center (415 West Main Street, Madison, WI 53703-3116) as the source.