John Johnson
15th Wisconsin Volunteer Infantry
The Scandinavian Regiment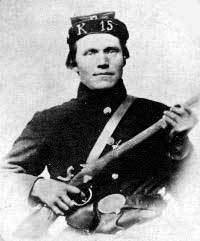 Database Record Change Request
| | |
| --- | --- |
| Name at Enlist | John Johnson |
| Birth Name | John Johnsen Thoe |
| Lived | 13 Mar 1837 – 27 May 1864 |
| Birth Place | Aasen undre Aabøe, Hjartdal, Telemark |
| Birth Country | Norway |
| Resident of Muster-In | Worth County, IA |
| Company at Enlistment | K |
| Rank at Enlistment | Private |
| Muster Date | 11 Feb 1862 |
| Cause of Death | Killed in action at Pickett's Mill |
| Death Location | Pickett's Mill, GA |
| Burial Location | Grave A-118, National Cemetery, Marietta, GA |
| Mother | Anne Olsdatter |
| Father | John Christiansen |
John Johnson joined the 15th WI at Worth County, IA on December 28, 1861 for a 3-year term of service. He was one of 5 men enlisted by Reverend Claus L. Clausen of the Six Mile Grove Lutheran Church in Mower County, MN. Reverend Clausen had previously been commissioned as Chaplain of the 15th by WI Governor Randall at the recommendation of the 15th's commanding officer, Colonel Hans C. Heg.
John Johnson and others accompanied Chaplain Clausen down to Camp Randall near Madison, Dane County, WI where they joined Company K of the 15th. The men of the company called themselves "Clausen's Guards" in honor of the 15th's Chaplain. Most of the company's members were from Scandinavian communities in MN and IA, with the rest from WI. Company K was commanded by Captain Mons Grinager, with 1st Lieutenant Ole Peterson as second-in-command, and 2nd Lieutenant Olaus Solberg as third-in-command.
John was mustered into Federal service at the rank of "Private" (Menig) on February 11, 1862. At the time he was listed by the army as being a 25 year old unmarried farmer residing in Worth County, IA. Private Johnson he was listed as having been 5 feet 8 inches tall, with a light complexion, blue eyes, and blond hair.
After on a few weeks at Camp Randall learning to be a soldier, Private Johnson left there on March 2, 1862 with his company and regiment to join the war. From May 1862, until October 1863, he was listed as "present". It is not clear from army records if he participated in the successful siege of Island No. 10 on the Mississippi River in TN and the surprise raid on Union City, TN in March and April 1862. However, starting June 11, 1862, he would have left Island No. 10 to go on summer campaign with the 15th through TN, MS, and AL.
In August and September Private Johnson would have participated in the grueling 400-mile forced march retreat from AL up to Louisville, KY. The latter part of the march, which was led by U.S. Major General Don Carlos Buell, was made on half rations and with very little drinking water. Private Johnson would have been present at the October 8, 1862 fighting at Perryville, Boyle County, KY, which is also called the Battle of Chaplin Hills. While this was the 15th's first big battle, it emerged without any fatalities.
On December 26, 1862, Private Johnson would have participated in the 15th's desperate charge upon a Confederate artillery battery at Knob Gap, TN, just south of Nashville. There the 15th captured a brass cannon. He would have also fought at the long, cold, wet, and bloody Battle of Stone River, TN, also called the Battle of Murfreesboro, on December 30-31, 1862. It is there that the 15th first suffered serious battle casualties, and was cited for bravery. Amongst the casualties were 3 of the 4 men he had enlisted with: Corporal Knud Amundson, Private Sever Larson, and Johannes Martinson.
Private Johnson would have been with the 15th while it camped in the Murfreesboro area from January to June 1863, except for 2 weeks in February when it was sent to Franklin, TN. Starting June 23, 1863, he would have taken part with the regiment in the Tullahoma campaign led by U.S. Major General William S. Rosecrans. Starting July 3, 1863 the 15th went into camp at Winchester, Franklin County, TN for 6 weeks.
On August 17, 1863, the 15th departed Winchester to take part in what was later know as General Rosecrans' Chickamauga campaign. Private Johnson would have been present at the daring early morning crossing of the Tennessee River on August 28th, which the 15th led. He was present at the September 19-20, 1863, fighting at Chickamauga, GA — the second bloodiest battle of the Civil War. There he survived the vicious fighting around Viniard's Farm on the first afternoon, as well as the near capture of the regiment around midday on the 20th during Longstreet's Breakthrough. Some 63% of the 15th's soldiers who were at Chickamauga were killed, wounded, or taken prisoner. Amongst them was Private Ole T. Mork, who was captured there. He was the one men that Private Johnson had enlisted with who had not already become a casualty.
Private Johnson reflected on the Battle of Chickamauga in a letter he wrote dated November 15, 1863:
"I received a visit from a bullet that went through my trousers below the knee, without harming me. Yes it is a great favor of God our father, who delivers us in such dark moments, when bullets rain over us like a hailstorm, and we have a mighty army to fight against".
Private Johnson would have then served with the regiment during the Confederate siege of Chattanooga, TN, which began right after the battle. On October 13, 1863, he and most of the rest of the 15th's remaining soldiers were detached from the regiment and assigned as Guards with the Army supply wagon train from Chattanooga over the mountains to the Federal supply base at Stevenson, AL, and back. By all accounts this 2-week trip was physically challenging and dangerous. Private Johnson was again listed as "present" with the regiment, this time from November 1863 until May 1864. The siege of Chattanooga ended with the victorious Union charge up Mission Ridge that the 15th took part in on November 25, 1863, which Private Johnson would have taken part in.
Starting right after Mission Ridge the 15th was engaged in almost non-stop marching and counter-marching all over eastern TN throughout the winter of 1863/1864. By many original accounts, this was the worst period of the regiment's 3-year term of service. Poor rations, inadequate clothing and shelter, and unseasonably cold weather made these months nearly unbearable.
Starting in May 1864, the 15th participated in the famous campaign to capture Atlanta, GA. This campaign was led by U.S. Major General William T. Sherman and was marked by almost daily marching and/or combat for 4 months straight. It included fighting at Rocky Face Ridge, GA in early May and the bloody Battle of Resaca, GA on May 14-15, where Private Johnson was wounded in action. In a letter dated May 22, 1864, he wrote:
"I must let you know that in this battle I was struck by an enemy bullet in the shoulder, but it did not do much damage. I am almost good as new, which surely I must thank the good God for."
On May 27, 1864, the 15th fought in the disastrous Battle of Pickett's Mill, GA (often referred to as Dallas or New Hope Church). There the regiment suffered 50% casualties, one of whom was Private Johnson. In his military service records there are multiple references to his having been killed in action on May 27th, including a final statement on him dated September 1864, that is signed by his company commander, Captain Mons Grinager. However, the records also include a memorandum from the Prisoner of War records that lists him as having been held in the infamous Andersonville Prison in GA. The memorandum does not tell when he was held or what happened to him while there. In the absence of other collaborating evidence, it seems probable the memorandum refers to a different soldier and that Private John Johnson of Company K of the 15th WI died at Pickett's Mill as reported.
Sources: Genealogical data provided by Gene Estensen and Anne Wagn; LDS film #0126945 item 1 page 69; Civil War Compiled Military Service Records by Office of Adjutant General of the United States (Washington, DC); Det Femtende Regiment, Wisconsin Frivillage [The Fifteenth Regiment, Wisconsin Volunteers] by Ole A. Buslett (Decorah, Iowa, 1895); and, Roster of Wisconsin Volunteers, War of the Rebellion, 1861-1865, Volume I, Office of the Adjutant General State of Wisconsin (Madison, Wisconsin, 1886).
When publishing material contained in this website (www.nagcnl.org) you are required to credit Norwegian American Genealogical Center (415 West Main Street, Madison, WI 53703-3116) as the source.