Osmund Johnson
15th Wisconsin Volunteer Infantry
The Scandinavian Regiment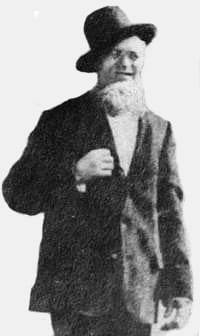 Database Record Change Request
| | |
| --- | --- |
| Name at Enlist | Osmund Johnson |
| Birth Name | Osmund Jansen Tvedt |
| Other Names | Oemund Johnson, Ole Johnson |
| Lived | 23 Feb 1827 – 1 Oct 1906 |
| Birth Place | Tvedt, Rogaland |
| Birth Country | Norway |
| Resident of Muster-In | Town of Holt, Fillmore County, MN |
| Company at Enlistment | K |
| Rank at Enlistment | Private |
| Muster Date | 11 Feb 1862 |
| Death Location | Peterson, Fillmore County, MN |
| Burial Location | Elstad Lutheran Church Cemetery near the Town of Highland, Fillmore County, MN |
| Mother | Valborg Osmundsdatter |
| Father | Jan Eivindsson |
| Immigration | 1854 |
| Spouse | Barbro Kjeldsdatter Nådeøen |
| Spouse Lived | Mar 1826- |
| Married On | 21 Apr 1854 |
| Marriage Location | Norway |
Osmund Johnson was enlisted for a 3-year term of service in Company K of the 15th Regiment of WI Infantry Volunteers by "M. Jenson" in Fillmore County, MN on February 11, 1862. At the time he was working a 266-acre farm in Section 22 of Holt Township, Fillmore County. The men of Company K called themselves Clausen's Guards in honor of the 15th's first Chaplain, Claus Lauritz Clausen. Osmund was mustered into Federal service as a Private (Menig) on February 11, 1862 at Camp Randall near Madison, Dane County, WI. At the time he was 34 years old and married. His wife, Barbro, also immigrated in 1854. His residence was listed as Fillmore County, MN.
Left behind sick at Mississippi River Island No. 10 on June 11, 1862. Sick in Bardstown, KY on October 7, 1862.
Private Johnson was captured on December 31, 1862, at the long, cold, bloody Battle of Stones River, TN, also known as the Battle of Murfreesboro. For a time he was confined as a prisoner of war in Libby Prison at Richmond, VA. By March 1863, he had been released and was in a Federal parole camp at St. Louis, MO. After being formally exchanged, he returned to the 15th.
Private Johnson was captured again during the September 19-20, 1863, fighting at Chickamauga, GA — the second bloodiest battle of the war. On the afternoon of the 19th the regiment was hotly engaged with Confederate troops in a densely wooded area near Viniards Farm when the 15th was unexpectedly fired upon from behind by Federal troops who mistook it for an enemy unit. Unable to stop the friendly fire, the 15th's commander, Lieutenant Colonel Ole C. Johnson, ordered his men to scatter to escape the deadly crossfire. It is said that Private Johnson was wounded in the back of the head, knocked unconscious, and taken prisoner during this incident. A slightly different version of his capture appeared in Ager's 1916 history of the 15th WI:
"Osmund was taken prisoner at Chickamauga. The regiment came under double attack, because an advancing Northern division, not knowing that the Fifteenth Wisconsin Regiment stood in the line of fire, began to fire upon it in the belief that they were enemy troops; and the regiment was shattered. So Osmund went in the wrong direction and came to a breastwork, which he could not cross. He ran along side of it for a while. When the Southern troops came to it he threw himself down on the ground and pretended that he was dead, having daubed himself in the face with blood. In the meantime it was clear that he was only pretending to be dead, and they took him prisoner."
The 15th reported Private Johnson as "missing in action" the next day. He was subsequently transported by railroad to a prison in Richmond, VA. A few weeks later the Confederate government informed Federal authorities that he was a prisoner of war. On December 12, 1863, he was sent by railroad to a prisoner of war camp at Danville, VA.
In February 1864, Private Johnson was transported to the infamous Andersonville Prison Camp in GA. Food there was scarce and often of very poor quality. Osmund later reported receiving meat with worms in it. Cooking utensils were also in short supply. It is said he was reduced to using his cap as a mixing bowl; when it developed holes he used his only remaining shoe. Not surprisingly, Osmund began to suffer from scurvy due to the poor rations, and from rheumatism due to exposure. On August 6, 1864, he was admitted to the prison hospital where 3 out of 4 patients died. Somehow he survived it and returned to the prison on September 8, 1864.
After surviving 8 hellish months in Andersonville, Private Johnson was transferred in November 1864 to a prison in Millen, GA. Some 4 months later he was finally released to Federal authorities at Jacksonville, FL on April 29, 1865 several weeks after the war had ended. Private Johnson arrived by steamboat at Camp Parole in Annapolis, MD on May 17, 1865. From there he went by railroad train to Benton Barracks, near St. Louis, MO on May 25, 1965. He was then transferred to Madison, WI and honorably discharged from the Army on May 30, 1865. This was over 3 and a half months after the expiration of his term of service and the muster-out of the 15th's last companies. Osmund was described as being very skinny and unable to stand due to the effects of scurvy. He is one of the very few 15th soldiers who survived such a long stay in Andersonville. As a result of his experience as a prisoner, it is said he believed virtually everything was edible and thus could not tolerate hearing complaints about food.
After his discharge, Osmund Johnson returned home to his family in MN. There he discovered his wife thought he had died in prison and was preparing to remarry. In 1871, Osmund was granted U.S. citizenship. In 1880, he and his wife were living in Holt, Filmore, MN.  In 1888, after a great deal of legal paperwork, he began receiving a $12 per month disability pension in compensation for diseases of the gums and legs due to scurvy suffered while a prisoner. This was later increased to $24 per month. In 1900, they were living in Whalan, Fillmore, MN. In 1896, he had a small farm in Sections 26 and 35 of Holt Township, Fillmore County, MN. Sometime after 1900 he retired in the town of Whalen in Fillmore County, MN. Osmund took part in the next-to-the-last reunion of the 15th WI, which was held in St. Paul, MN.
Osmund was 79 years old when he passed away at the home of his son. He was survived by: his wife Barbro; his son John O., who was born November 25, 1855; and his 2 daughters, Christina Canfield and Clara J. Keifer. In his obituary, the Lanesboro, MN, newspaper described Osmund Johnson as,
"one of the most highly respected citizens of this county."
Osmund Johnson was a brother of Knud Johnson of B Company of the MN 1st Regiment of Artillery.
Sources: Darrrel Johnson, An untitled biography of Osmund Johnson (Minnesota, 1999); Rogaland fylke, Årdal i Hjelmeland, Klokkerbok nr. B 2 (1816-1841), Fødte og døpte 1827, p. 34; Rogaland fylke, Årdal i Hjelmeland, Ministerialbok nr. A 8 (1842-1861), Inn- og utflyttede 1855, p. 230; Oberst Heg og Hans Gutter [Colonel Heg and His Boys], Waldemar Ager (Eau Claire, Wisconsin, 1916); Civil War Compiled Military Service Records, Office of Adjutant General of the United States (Washington, DC); Regimental Descriptive Rolls, Volume 20, Office of the Adjutant General State of Wisconsin (Madison, Wisconsin, 1885); Roster of Wisconsin Volunteers, War of the Rebellion, 1861-1865, Volume 1, Office of the Adjutant General State of Wisconsin (Madison, Wisconsin, 1886); 1880 Census, Roll: 619, Family History Film: 1254619, Page: 228A, Enumeration District: 070, Image: 0338; 1900 Census, Roll: 763, Page: 9A, Enumeration District: 0027, FHL microfilm: 1240763.
When publishing material contained in this website (www.nagcnl.org) you are required to credit Norwegian American Genealogical Center (415 West Main Street, Madison, WI 53703-3116) as the source.