Carl Torbjornsen
15th Wisconsin Volunteer Infantry
The Scandinavian Regiment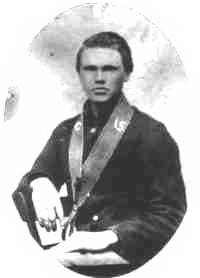 Database Record Change Request
| | |
| --- | --- |
| Name at Enlist | Carl Torbjornsen |
| Birth Name | Carl Olsen Leine |
| Other Names | Carl Torbenson |
| Lived | 25 May 1843 – 19 Jul 1925 |
| Birth Place | Sauland Parish, Hjartdal, Telemark |
| Birth Country | Norway |
| Resident of Muster-In | Muskego, Waukesha County, WI |
| Company at Enlistment | C |
| Rank at Enlistment | Private |
| Muster Date | 14 Feb 1862 |
| Death Location | Bellingham, Whatcom County, WA |
| Burial Location | Bayview Cemetery, Bellingham, Whatcom County, WA |
| Mother | Anna Johannesdatter Bergen |
| Mother Lived | 1812-1896 |
| Father | Ole Torbjornsen Leine |
| Father Lived | 1804-1876 |
| Immigration | 1847 |
| Spouse | Anne Nelson (Aasne Nielsdatter) |
| Spouse Lived | 1840-1925 |
| Married On | 12 Nov 1868 |
| Marriage Location | Eureka, Dakota County, MN |
Carl Torbjornsen was enlisted by Captain Fredrick Berg in Company C of the 15th WI. Carl joined up on November 22 or 28, 1861 at Madison, Dane County, WI for a 3-year term of service. Company C was the regimental Color Company, but its members called themselves the "Norway Bear Hunters."
Carl was mustered into Federal service at the rank of Private (Menig) on February 14, 1862 at Camp Randall near Madison, WI. At the time he was recorded as being 19 years old and not married. He was listed as having "blue eyes, brown hair, a fair complexion, and standing 5 feet 10 inches tall." His residence was listed as Muskego, Waukesha County, WI, and his occupation as a farmer.
On January 14, 1862, the men of the 15th WI were issued Belgian rifled muskets. After less than 3 weeks at Camp Randall learning to be a soldier, Private Torbjornsen left there on March 2, 1862 with his company and regiment to join the war. From then until June 30, 1862, his whereabouts were not recorded. It is believed that he was with the 15th. As such he would have participated in the successful siege of Island No. 10 on the Mississippi River in TN and the surprise raid on Union City, TN in March and April 1862.
From June 1862 until September 1863, Private Torbjornsen was listed as "present" with the 15th. Starting June 11, 1862, he would have been with the regiment on summer campaign through TN, MS, and AL. In August and September he would have participated in the grueling 400-mile retreat with U.S. Major General Don Carlos Buell up to Louisville, KY, with the last 2 weeks being on half rations and short of water.
Private Torbjornsen would then have been present at the October 8, 1862 fighting at Perryville, Boyle County, KY, which is also called the Battle of Chaplin Hills. While this was the 15th's first big battle, it emerged without any fatalities. On December 26, 1862, he would have participated in the 15th's desperate charge upon a Confederate artillery battery at Knob Gap, TN just south of Nashville. There the 15th captured a brass cannon. Private Torbjornsen fought at the long, cold, wet, and bloody Battle of Stones River, TN, also called the Battle of Murfreesboro, on December 30-31, 1862. It was there that the 15th first suffered serious battle casualties, and was cited for bravery. One of those cited was Private Torbjornsen. The following is from Buslett's 1895 history of the 15th WI:
"After the battle General Rosecrans issued an order to the various regiments' commanders to submit to headquarters a list of one sergeant, two corporals and four or five privates in each company (altogether no more than six from each company), who had shown the greatest courage and ability during the battle. These would be entered on the Roll of Honor."
At the recommendation of the 15th's commander, Colonel Hans C. Heg, Private Torbjornsen was entered on the Roll of Honor for the 2nd Brigade, 1st Division, 20th Army Corps.
Private Torbjornsen camped with the 15th in the Murfreesboro area for the next 6 months except for 2 weeks in February when it was sent to Franklin, Williamson County, TN. Starting June 23, 1863, the regiment took part in U.S. Major General William S. Rosecrans' Tullahoma campaign. On July 3, 1863, the 15th went into camp at Winchester, Franklin County, TN.
On August 17, 1863, the 15th left Winchester to participate in General Rosecrans' Chickamauga campaign. Private Torbjornsen is believed to have been present at the daring early morning crossing of the Tennessee River on August 28th, which the 15th led. He was present at the September 19-20, 1863, fighting at Chickamauga, GA — the second bloodiest battle of the Civil War. Some 63% of the 15th's soldiers who were at Chickamauga were killed, wounded, or taken prisoner. There during the vicious fighting near Viniard's Farm on the afternoon of the first day Private Torbjornsen received a "gunshot wound in the right arm below the elbow which carried away a portion of the bone and severed the cords of the right arm."
Private Torbjornsen was then absent from the 15th until sometime in mid-July 1864. He spent the period recovering from his wound as well as from "fever" and "Chronic Diarrhoea." He was treated in Army hospitals at the cities of Chattanooga and Nashville in TN, then Jeffersonville, IN, and finally Madison, WI. He was in Madison from May 16 until July 6, 1864, when he was officially "Returned to duty, cured." Private Torbjornsen was then listed as "present" with the 15th until December 1864.
When Private Torbjornsen returned to the 15th was about half way through the campaign to capture Atlanta, GA, which was led by U.S. Major General William T. Sherman. This campaign was marked by almost daily marching and/or combat from early May to early September 1864. Private Torbjornsen may have rejoined the regiment in time to take part in its fighting before Atlanta on July 22, 1864. It is likely he was with the 15th when it fought at Jonesboro, GA on September 1, 1864 and Lovejoy Station, GA on September 4, 1864.
After a rest following the capture of Atlanta in early September 1864, the 15th was briefly assigned to Provost (police) duty in Chattanooga at the beginning of October 1864. This was followed by several months of guarding a railroad bridge at Whitesides, TN near Chattanooga. Some of the 15th's soldiers felt was the easiest duty of their war service. On November 7, 1864, Private Torbjornsen was appointed to the rank of 3rd Corporal (Korporal) of Company C.
On December 31, 1864, Corporal Torbjornsen was mustered out of Federal service with most of the surviving members of Company C in Chattanooga at the expiration of his 3-year term of service. At the time the Army noted that he had drawn $70.20 worth of clothing since June 30, 1863, had last been paid on August 31, 1864, and was owed $100 of enlistment bounty. Corporal Torbjornsen was paid off and sent back to WI.
After the war Carl Torbjornsen farmed in Eureka Township, Dakota County, MN where he married and raised 5 children to adulthood. It is said that Carl helped search for Jesse James and his gang after they attempted to rob a bank in Northfield, MN. In 1887, Carl moved his family to Minot, ND where he operated a boarding house. In 1904, he moved near Abbotsford, British Columbia, Canada, where he farmed for a few years. He then moved to Bellingham, WA, where he farmed and then retired.
Sources: Civil War Compiled Military Service Records by Office of Adjutant General of the United States (Washington, DC); Det Femtende Regiment, Wisconsin Frivillige [The Fifteenth Regiment, Wisconsin Volunteers] by Ole A. Buslett (Decorah, IA, 1894); Regimental Descriptive Rolls, Volume 20, Office of the Adjutant General State of Wisconsin (Madison, WI, 1885); and Roster of Wisconsin Volunteers, War of the Rebellion, 1861-1865, Volume 1, Office of the Adjutant General State of Wisconsin (Madison, WI, 1886); genealogical data provided by Craig Torbenson; Norwegian Immigrants to the United States. A Biographical Directory, 1825-1850. Volume Three 1847-1848, Gerhard B. Naeseth, edited by Blaine Hedberg, 2000, Anundsen Publishing Co., Decorah, IA, p. 70, ID 947.
When publishing material contained in this website (www.nagcnl.org) you are required to credit Norwegian American Genealogical Center (415 West Main Street, Madison, WI 53703-3116) as the source.