Johannes Tysdahl
15th Wisconsin Volunteer Infantry
The Scandinavian Regiment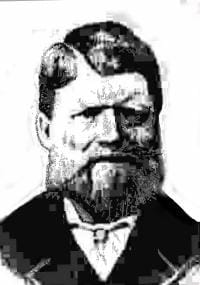 Database Record Change Request
| | |
| --- | --- |
| Name at Enlist | Johannes Tysdahl |
| Birth Name | |
| Other Names | Kysdahl |
| Lived | ca. 1813 – 1905 |
| Birth Place | Øvre Tysdal, Aardal, Stavanger (now Rogaland) |
| Birth Country | Norway |
| Resident of Muster-In | Perry, Dane County, WI |
| Company at Enlistment | E |
| Rank at Enlistment | Private |
| Muster Date | 28 Feb 1862 |
| Death Location | Walworth County, SD |
| Burial Location | Bethlehem Cemetery near Selby, SD |
| Immigration | 1856 |
| Spouse Lived | -1914 |
Johannes Tysdahl (sometimes spelled "Kysdahl") was enlisted in Company E of the 15th WI by Captain John A. Ingmundson at Dane County, WI on October 28, 1861 for a 3 year term of service. The men of the company called themselves "Odin's Rifles."
Johannes was mustered into Federal service at the rank of Private (Menig) on February 28, 1862, to date from December 8, 1861, at Camp Randall near Madison, Dane County, WI. At the time, the Army recorded him as being 44 years old and married. He was listed as having "blue eyes, sandy colored hair, a light complexion, standing 5 feet, 6 inches tall, and being a Laborer." His residence was recorded as Perry, Dane County, WI.
After several months at Camp Randall learning to be a soldier, Private Tysdahl left there on March 2, 1862, with his company and regiment to join the war. From then until November 1863, he was listed as "present." As such he would have participated in the successful siege of Island No. 10 on the Mississippi River in TN, and the surprise raid on Union City, TN, in March and April 1862.
Starting June 11, 1862, he left Island No. 10 with his and 7 other companies of the 15th to take part in a summer campaign though TN, MS, and AL. Starting July 15, 1862, Private Tysdahl was attached to the 15th Regimental Hospital as a "Nurse," a duty he would have for virtually the rest of his 3 year term of service.
In August and September, Private Tysdahl would have participated in the grueling 400-mile retreat led by U.S. Major General Don Carlos Buell from AL up to Louisville, KY, with the last 2 weeks being on half rations and short of water. Private Tysdahl would have been present with the hospital staff at the October 8, 1862 fighting at  Perryville, Boyle County, KY, which is also called the Battle of Chaplin Hills. Despite the fact that this was the 15th's first big battle, it emerged from the fighting without suffering a single fatality.
On December 26, 1862, the 15th made a desperate charge upon a Confederate artillery battery at Knob Gap, TN, just south of Nashville. There the 15th captured a brass cannon. It then participated in the long, cold, wet, and bloody Battle of Stone River, TN, also called the Battle of Murfreesboro, on December 30-31, 1862. It is there that the 15th first suffered serious battle casualties, and was cited for bravery.
The 15th camped in the Murfreesboro area for the next 6 months, except for 2 weeks in February when it was sent to Franklin, Williamson County, TN. Starting June 23, 1863, the regiment took part in the Tullahoma campaign led by U.S. Major General William S. Rosecrans. On July 3, 1863, the 15th went into camp at Winchester, Franklin County, TN for 6 weeks.
On August 17, 1863, the 15th left there to participate in General Rosecrans' Chickamauga campaign. Private Tysdahl is believed to have been present at the daring early morning crossing of the Tennessee River on August 28th, which the 15th led. He was also present at the September 19-20, 1863 fighting at Chickamauga, GA — the second bloodiest battle of the Civil War. It is not clear if he fought in the ranks or served at the Federal Field Hospital at Crawfish Springs. In either case, he survived the battle. Some 63% of the 15th's soldiers who were at Chickamauga were killed, wounded, or taken prisoner.
Private Tysdahl would then have served with the regiment during the Confederate siege of Chattanooga, TN, which began right after the battle. The siege resulted in severe shortages of medicine, food, and firewood which, together with cold, wet weather, caused much suffering, sickness, and death. The Confederate siege was finally broken by the Union Army's victorious charge up Mission Ridge on November 25, 1863, in which the 15th took part. Starting November 28, 1963, Private Tysdahl was "left sick at Hospt at Chattanooga, Tenn."
Starting November 28, 1863, the 15th was engaged in almost non-stop marching and counter-marching all over eastern TN throughout the winter of 1863/1864. By many original accounts, this was the worst period of the regiment's 3 year term of service. Poor rations, inadequate clothing and shelter, and unseasonably cold weather made these months nearly unbearable. Private Tysdahl returned to the 15th at some point prior to February 24, 1864, when he was listed as "left in Knoxville [Tennessee] sick." He returned to the regiment in March or April 1864.
Private Tysdahl then served with the 15th in the opening months of the famous campaign to capture Atlanta, which was led by US Major General William T. Sherman. This campaign was marked by almost daily marching and/or combat for 4 months. The 15th took part in the fighting at Rocky Face Ridge, GA in early May; at the bloody Battle of Resaca, GA on May 14-15; and at the disastrous Battle of Pickett's Mill (often called Dallas or New Hope Church), GA on May 27, 1864. There the 15th suffered 50% casualties, including 29 soldiers who were captured, most of whom later died of malnutrition-related diseases in the infamous Confederate prison camp at Andersonville, GA.
The 15th also took part in the fighting at Kenesaw Mountain, GA on June 23, 1864. On June 28, 1864, Private Tysdahl became sick and was "sent to Div. Hospital." According to his pension declaration, he subsequently served as "Head Nurse" in an Army hospital at Strawberry Plains, TN in November 1864. There Private Tysdahl was "attacked by a disease of the eyes and head and general prostration." He stated that he was then treated in an Army hospital at Nashville, TN in early December 1864.
Private Tysdahl was listed as "absent sick" at the muster out of Company E from Federal service on December 20, 1864 at Chattanooga, TN. Instead, he was "honorably discharged" at Madison, WI on January 27, 1865. At his muster out the Army noted he was due $100 in bounty money.
After mustering out, Johannes Tysdahl resided in the counties of Polk and Cass in IA, where he worked as a farmer. On January 27, 1883, Tysdahl filed a Declaration for Original Invalid Pension in order to secure a pension as a result of disabilities stemming from his military service. At the time, he was living in Franklin Township, Cass County, IA. There he married Martha, widow of another Civil War soldier, Roelof Johnson. In 1886, Tysdahl moved his family to Walworth County, SD, where he farmed. He passed away 19 years later.
Sources:  U.S. Wisconsin Adjutant General's Office; Ole A. Buslett, Det Femtende Regiment, Wisconsin Frivillige [The Fifteenth Regiment, Wisconsin Volunteers] (Decorah, Iowa, 1894); Roster of Wisconsin Volunteers, War of the Rebellion, 1861-1865, Volume I,  Wisconsin Adjutant General's Office (Madison, Wisconsin, 1886); genealogical data provided by Nathan Miller and Stein Auestad; Siguard Eikeland, Årdal, Volume II.
When publishing material contained in this website (www.nagcnl.org) you are required to credit Norwegian American Genealogical Center (415 West Main Street, Madison, WI 53703-3116) as the source.